Hundreds gather for anti-Trump protest
A man shouted into a megaphone: "Love trumps hate."
A crowd of 400 chanted back, "Love trumps hate!"
In the midst of the gathering at the Old Town Plaza, people stood illuminated in the dim light of the street lamps and waved signs that read "Not my president," "Bernie 2020," and "Pussy grabs back."
Protesters gathered on the chilly Friday night to express their dismay at Donald Trump's presidential election victory.
The two original organizers of the event stepped down at the last minute in the face of threats they received.
Both were teenagers.
"They stepped down because they were afraid," Djuan Wash, an activist who stepped up to help organize the event, said. "Trump supporters were threatening them. They were young and inexperienced and that's a lot to deal with."
Lingering around the edges of the main crowd, a much smaller group of counter-protesters stood in support of the president-elect. Police officers surrounded the area and kept vigilant eyes.
As a cry of "black lives matter" rang out over the megaphone, a counter-protester at the edge of the crowd shouted back, "All lives matter!" Propped up on the concrete base of a lamp post, another counter-protester held up a 'blue lives matter' flag.
WSU students in the main crowd were not angry with Trump supporters, but rather with the rhetoric used by the president-elect during his campaign.
"I think he appealed to fear and set up an 'us versus them' dynamic, and then said the solution was as easy as removing those people," said Alex Moore, who is double majoring in studio art and painting. "It's not correct. It's not healthy.
"I think a lot of good people voted for Trump. A big part of moving on is not blaming people. The reflex is always to brush all the supporters off as racist, and all that serves to do is put them on the defensive and affirm them in their beliefs."
Tye Mcewen, a graduate student in counseling, said she has no animosity for Trump voters.
"When we have a president who wins his elections by stepping on the backs of lesser people, we have a problem," she said.
Djuan Wash said the outcome of the election put people of color in an unsettling situation.
"We knew this is how America is," Wash said. "What this says to me is that white people need to have a conversation about race themselves."
Many people in the crowd felt targeted by the policies the president-elect and vice president-elect have proposed.
Counter-protesters said they were expressing their ideas peacefully, and didn't see any reason for marginalized groups to fear for their lives.
"We're being peaceful," Kyler Winn said. "We're not bashing them for being Hillary supporters."
Winn was forgiving of the president-elect's controversial comments about women.
"Have you ever said or done anything you regret?" Winn said. "What Trump said was ten years ago. I've said bad things about women. But I grow out of it and learn. If you've never been young and crazy you can't be old and wise. If I had billions, I'd probably be 70 before I grew out of that."
Other protesters disagreed with being told to accept a situation they see as precarious.
"When people tell you to get over it, it sounds like they're not listening," Alexis said. "People who tell you to get over it, it sounds like you're being oppressed. Like they're telling you who your master is."
View Comments(1)
About the Contributors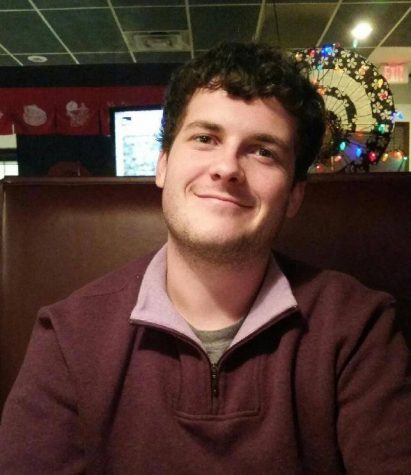 Nathan Davis, Former reporter
Nathan Davis was an inquisitive reporter and an exceptional friend. He died in 2017. He studied nursing at Wichita State and had the intention to switch...
Jenna Farhat, Former news editor
Jenna Farhat was the news editor of The Sunflower. Farhat majored in creative writing.