Volleyball takes early exit in NCAA Tournament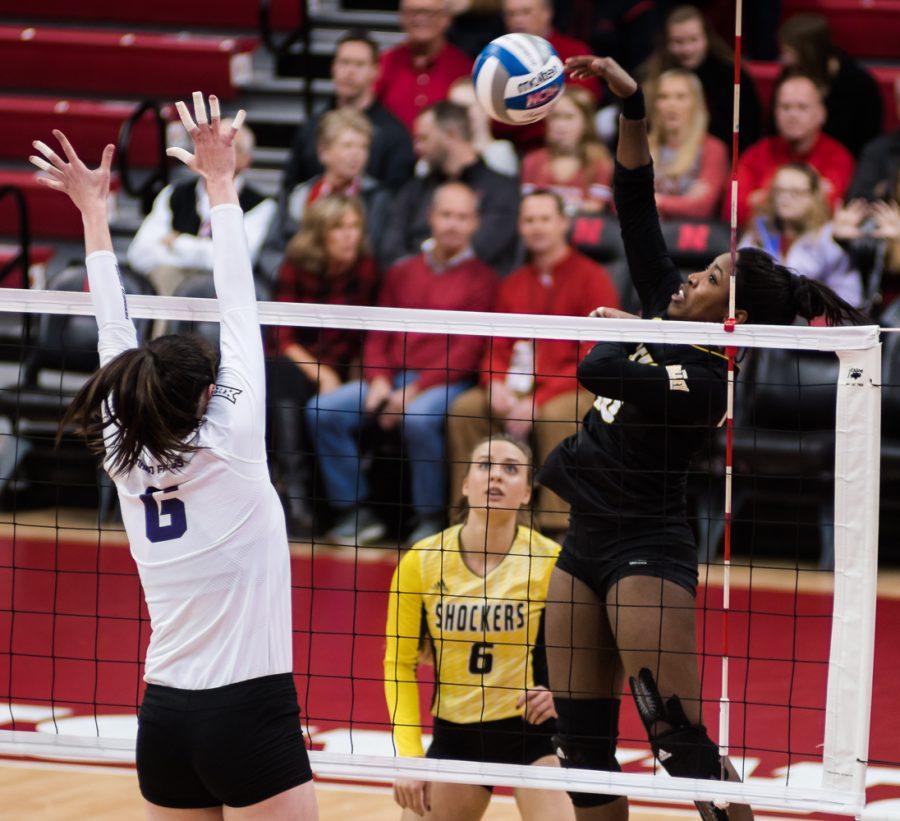 Coach Chris Lamb talks about the season-ending loss to TCU
LINCOLN, NEBRASKA— Wichita State was on a nine-game winning streak and coming off a Missouri Valley Conference Tournament Championship heading into their NCAA Tournament first round matchup against TCU. The Horned Frogs took away what the Shockers liked to do that got them in 10  NCAA Tournaments, holding WSU down to .188 hitting percentage.
TCU scored 62 kills and hit .282 in their three winning sets as the Shockers' season ended with a 3-1 loss on Friday night.
"We know that they play in a tough conference and played a very good schedule," senior Dani Mostrom said. "We just did our best, especially when we played out of system."
TCU took an early 6-4 lead in the first set after three serving errors by WSU. Two attack errors pushed TCU's lead 13-8 before junior Emily Hiebert set up a pass to senior outside hitter Jody Larson to rally some momentum.
Hiebert went back to score off a service error before setting up junior Mikaela Raudsepp, who was playing with a sprained ankle, to cap off a 4-0 scoring run and cut the deficit 17-16. The Horned Frogs came out of a timeout going on a 6-0 scoring run with five kills and a service ace by Kayla Scheevel.
Taking advantage of WSU's seven attack errors and four service errors, TCU hit .333 off 12 kills with no errors to take set one 25-17.
Using five kills and a service ace, TCU moved ahead 7-3 to start the second set. Kills from Hiebert and sophomore Tabitha Brown cut the Horned Frogs' lead 12-11 until Larson swung it down on TCU's side of the net to tie up the second set.
The Shockers took an 18-16 lead after kills from Hiebert and junior Abbie Lehman, but TCU scored four straight points to erase WSU's lead to go up 20-18. The Shockers tied it up at 21, scoring off a kill from Lehman and a Horned Frogs' attack error.
The Horned Frogs came scored two straight kills until Brown scored two consecutive kills to tie knot it up at 23. TCU ended set two 25-23 to go into the locker room with a 2-0 lead in the match.
"Things could have gone either way with the number of (offensive) attempts," Brown said. "On a lot of out of system things, you have to learn how to be able to score on those."
Two double blocks by Hiebert and Lehman ended TCU's early 4-0 scoring run in the third set. Brown's scored two kills to give the Shockers back the lead, setting up three more WSU points off two TCU attack errors and a double block from Larson and Lehman.
WSU managed to get their largest lead of the match by leading 14-8 in the third set before TCU went on an 8-0 scoring run to move ahead 19-17. The Shockers stopped the bleeding by scoring off a kill from Hiebert and a double block by Larson and Lehman.
Brown and Lehman gave WSU two double blocks on the front line to give the Shockers a 21-19 lead. Raudsepp and Lehman later scored kills to make it set point, allowing Larson to score a kill to cap off a 25-22 victory in set three.
"I thought things were going right in the second set," head coach Chris Lamb said. "Game 3, I said we could do some of those things."
The Horned Frogs once again took an early lead in set four, taking an 8-5 lead. WSU cut the deficit to one off a kill from Brown and Lehman, but TCU scored three consecutive kills to extend the lead 14-10.
Two kills and an attack error by Brown pushed TCU to a comfortable lead 19-13 before scoring two more to go up 21-15. Lehman scored on a kill before TCU came back to score two kills to move ahead by seven.
"We left a lot of digs out there in set four," Lamb said. "The scramble play digs that we didn't make were killers. That happens."
A kill from Larson and a solo block by senior Katy Dudzinski cut the deficit 23-19 before the Shockers committed two attack errors to give the Horned Frogs a 25-20 set four and match victory.
Brown led all with 18 kills and Jody Larson had a double double of 21 digs and 11 kills along with adding eight assists. Hiebert had a double double performance of 38 assists and 18 digs, adding eight kills off .389 hitting.
Lehman added 10 kills while Mostrom came up with 29 digs. Raudsepp added eight kills and junior Gabi Mostrom came up with 14 digs in WSU's finale.
The Shockers finished the year with a 24-8 record.