Pflugradt: Daishon Smith is Wichita State's only true point
Daishon Smith makes the plays in crunch time; deserves the starting roll of point guard.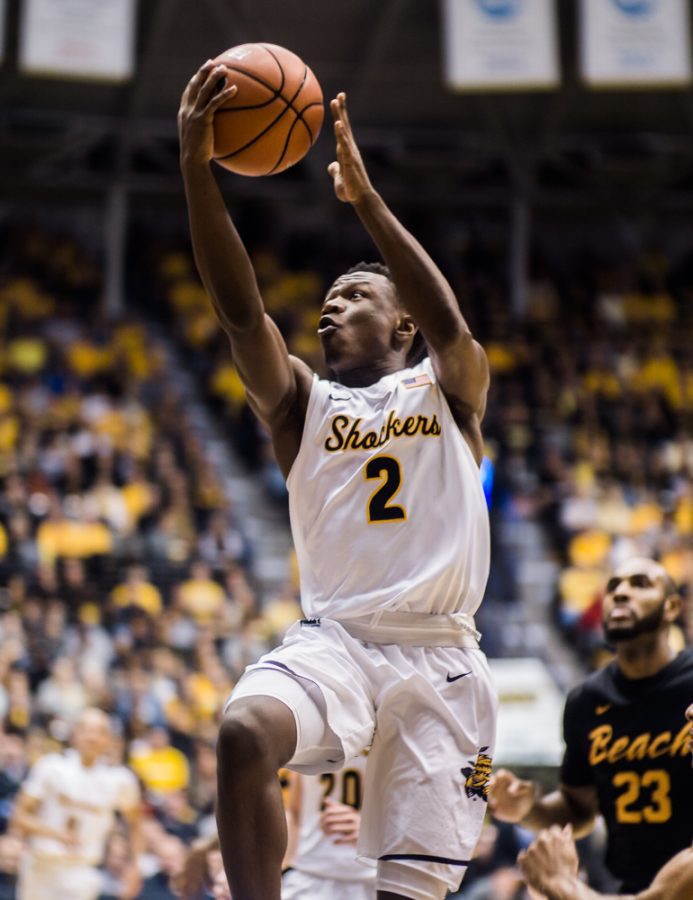 Even as insider to Gregg Marshall's program, Wichita State junior Zach Brown falls in line with the rest of the Shocker faithful wondering who will take charge for the Shockers are in a tight spot.
"Let's see what happens when we get to the point when we have to make the plays in crunch time," Brown said.
Crunch time came on Saturday in the Moby Arena against Mountain West opponent Colorado State.
But crunch time for Wichita State isn't the final possession of the game. And it's not in the second half, either.
For Wichita State, crunch time starts at the tip.
In one month of play, WSU has learned not to let any early lead slip away.
Remember the near-comeback against Louisville? What about the miraculously almost-successful rally against Tom Izzo's Michigan State?
In crunch time, Gregg Marshall went with junior college transfer Daishon Smith.
Tuesday, against D-II opponent, Southern Nazarene — a nearly meaningless, what may as well be called a public exhibition game — Marshall did some tinkering with the lineup. But on Saturday, Marshall revealed whether the tinkering was all for show or not.
Hint, it wasn't.
Conner Frankamp switched out of the starting lineup for Smith's second straight start. And it couldn't come at a moment too soon.
Smith churned the offense to a fast start propelling the ball into the hands of junior Darryl Willis for a dunk. Smith collected two of his four assists in the first half; and as he was on the court, Wichita State picked up the pace.
Frankamp doesn't belong as the point guard.
It's a tough time when you lose a point guard. Wichita State lost two.
When two-time Missouri Valley Conference Player of the Year Fred VanVleet wasn't running the system, fellow All-American Ron Baker was.
Frankamp, when on the floor, would slide into the shooting guard position. So when Marshall needed a point guard, No. 33, unfittingly, was the first to take the floor.
Frankamp, the City League's all-time leading scorer, is good at creating his own offense. His numbers protecting the ball speak for themselves, too.
He does the things Wichita State needs him to do — as long as that doesn't include running the point.
Frankamp isn't a point guard. Smith is.
Smith is vocal. He can guard for his position. He gets his teammates involved. He can control the offense. And he's learning the system more quickly than many would probably have expected him to.
His teammates recognize that.
"Daishon is very surprising," teammate Markis McDuffie said.
Smith scored nine points on Saturday, scoring two three-pointers on three attempts. He added three more points from the free throw line.
Smith led Frankamp in minutes for the second straight game.
Against No. 10 Louisville, Frankamp played 34 minutes, a game-high. He shot seven attempts; three fell. He dished out a single assist and never made it to the free throw line.
Smith was limited to 13 minutes in that game, and while on the floor he connected on his only attempt, a deep three. He also recorded an assist.
In the third-place game against No. 24 Michigan State, Frankamp started. He missed all six of his shots, four from three-point range. He tied Landry Shamet for a team-high 27 minutes.
A lone assist, one rebound and two mere free throw shots was all Frankamp could do against the Spartans.
Smith, however, tried to resurrect a 22-point deficit with a team-high 16 points. His four makes and four free throws came too late in the game. 
The Shockers, who average nearly 50 points from their bench, may have a depth problem; they don't have a point guard problem.
Frankamp? Smith? Freshman C.J. Keyser? Freshman Austin Reaves?
At point guard, none hold a candle to Smith at this point.
Wichita State was victorious in their first true road game against Colorado State. The Shockers forced 19 turnovers, and outlasted a the hot-hand of a guard who shot 5-6 from three-point land by countering with 13 of their own (76.5 percent).
KenPom rates Wichita State No. 22 in their latest series of rankings, but their system doesn't allow the Shockers much room for comfort as it lists them as No. 204 in strength of schedule.
With Big 12 foes Oklahoma and Oklahoma State locked into the Shockers' calendar, there's no time to spell any error.
At this point in the season, there's no reason to question a position so pivotal.
Wichita State called for a point guard and Smith delivered.
The nation's best road team for the last seven seasons, Wichita State, improved to an 81.7 percent road winning percentage Saturday. 
These hostile road tests, including Colorado State's impressive white-out, call for a strong leader.
End all questions. Smith is this team's one and only true point.
About the Writer
Evan Pflugradt, Sports Editor
Evan Pflugradt is the former Sports Editor of The Sunflower.

Pflugradt past served as the publication's Editor in Chief, Opinion Editor and a reporter....