A decade of excellence: Gregg Marshall reflects on 10 seasons at Wichita State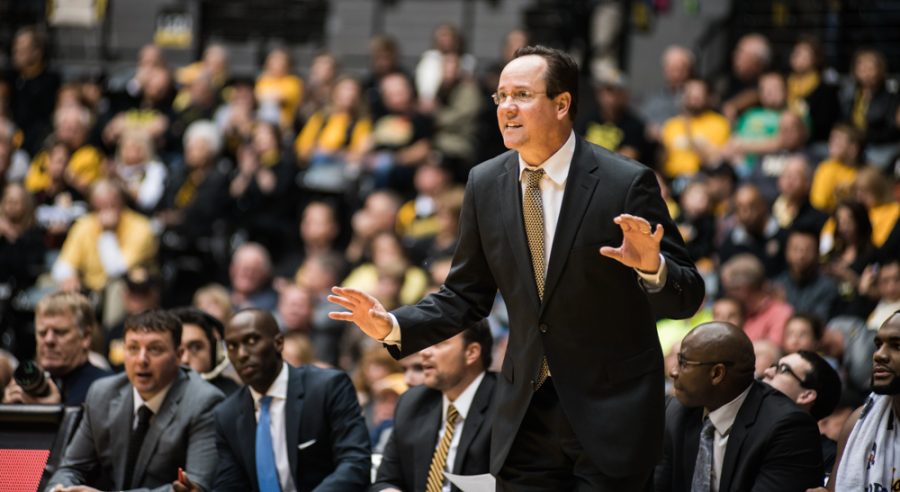 Gregg Marshall is an antsy man.
Sitting on the couch in his office in Charles Koch Arena, Marshall continually rubs his legs and kneads his hands.
He paces the room more than once.
His body language is erratic.
His dedication to Wichita State is not.
Marshall is in his tenth year as head coach of Wichita State men's basketball program. During that time frame, Marshall has become Wichita State's winningest coach with 230 wins, beating out Ralph Miller's 220.
Marshall said taking the Shockers as far he could was a goal of his from day one.
"A friend of mine, Dick Dameron, he had a conversation with me when I was first hired," Marshall said. "I told him I wanted to have the best basketball program we can have, and I want to take as many people along with me as I can. Hopefully we've done that and can continue to do that."
But Marshall said this success can't be measured by him alone.
"I've had some great players for nine straight years, and wonderful assistant coaches," Marshall said. "Those guys – Earl Grant, Greg Heiar – don't get enough credit."
Marshall is quick to recognize his bonds with his assistant coaches, but more recognizable are his relationships with his players – most recently Ron Baker and Fred VanVleet.
"I've had some very special relationships with guys over the years, starting with my first point guard Tyson Waterman," Marshall said. "I was very close with him at Winthrop. What's really cool is to see how many of our players now, Toure' Murry, Garrett Stutz, that first recruiting class, guys come back. They come back to Wichita every summer. I see them, spend time with them, get to catch up. I see not only how their pro careers are going, but also their lives.
"Any time I can lend an ear or give a little council, I'm very proud to be asked to do that."
Marshall admitted that while he has a bond with each of his players, he hasn't had any standouts like VanVleet or Baker yet this year.
"They're good people," Marshall said. "They listen. They want to please. But they're still – we have no idea what our rotation's going to be, who our five are going to be.
"I'm sure there will be someone who stands out, and I'll have to dig a little deeper into them and form that special bond."
But Marshall said he likes all the guys he gets to coach at WSU, a factor helping to keep him at this university.
Marshall said the administration has always been good to the program and given him what he needs to be successful, another factor.
He also said his family likes Wichita.
"There's a lot of people who think the grass is greener on the other side," Marshall said. "Why mess with a good thing?"
Reflecting on his ten years, Marshall said he's unsure of his legacy.
"I think that's to be determined with what we do going forward," Marshall said. "Other people determine your legacy. We've had a good run. Hopefully we can continue to play some high level basketball and do it with the right people.
"I'm really proud that, for the most part, these guys have gotten degrees, handled their business like professionals off the court and become champions. We've had 25 of the 28 seniors that have played for us play professional basketball."
Marshall said there's an accomplishment many people wouldn't think of that he's proud of – of the seniors who have played for him, there have been only three who haven't got degrees.
Marshall wants success from himself and his players. Marshall said fear of failure drives him.
"I wasn't born with a silver spoon in my mouth," Marshall said. "I didn't have the most talent as a basketball player, the size, athleticism – any of those things. So I had to work a little harder to find success and care more. That's been my drive. It's always been there. I'm highly competitive.
"The knowledge to have to overcome lack of talent or size or skill combined with the competitive nature that I have, that's been the combination that's propelled me."
Marshall said as the season gears up, he hopes the students are ready to support the team.
"We want to see that student section filled. There's only 1100 seats. It needs to be filled each and every game. As a young person you don't realize how fleeting this college time is and what a great time it can be. Our basketball team is going to give maximum effort each and every game.
"We're going to wear Wichita State on our chest. Hopefully the students can come and have a great time, meet new friends and help support a program that is doing all they can to represent us in a first class way."
About the Writer
Andrew Linnabary, Digital Managing Editor
Andrew Linnabary is the 2018-2019 Digital Managing Editor of The Sunflower.

He is a senior studying journalism and minoring in English. Linnabary is...