Shamet's threes; Nurger's post production bring Shockers to 4-0 Valley start
Landry Shamet sinks five three-pointers to lead Wichita State to victory at Northern Iowa.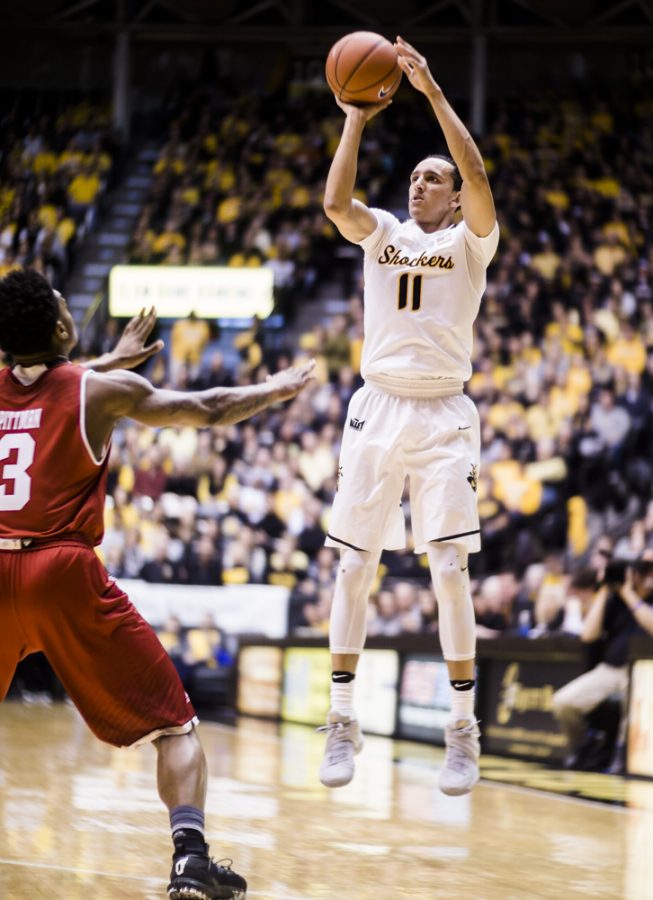 Entering Sunday, Northern Iowa was the only team in the Missouri Valley Conference to hold a winning record against Wichita State — Gregg Marshall's group was 36-2 against the rest of the competition.  When they last met, the Panthers ended the Shockers' weekend in St. Louis at the MVC Tournament. Weeks before, they knocked off the Shockers' nation-leading home winning streak.
Hidden in the history of the record, however, was a stat that showed when the Shockers lived by the three, they won. WSU had averaged 47.8 percent from three-point land in the two wins, and less than 20 percent in the three losses.
WSU redshirt freshman Landry Shamet may have taken that message to heart; he sank his first three-point attempt two minutes into the game as the Shockers ran out to an early lead.
Shamet kept them coming with three more threes in the first half and another in the second. He led scorers with 17 points, scoring 14 of his in the first half. He connected on his first four attempts.
The Shockers rolled to victory, improving to 4-0 in the Missouri Valley. For the fifth consecutive year, they have ran to a perfect 4-0 start in conference play.
WSU shot 4-6 from three-point range in the second half, after shooting 50 percent on 14 attempts in the first. They finished shooting 55 percent from deep.
With fouls spread to the Shockers' Shaq Morris, Rashard Kelly and Darral Willis, Jr. early in the first half, junior forward Rauno Nurger filled out the majority of minutes in the front court. Nurger scored 13 points on 6-7 shooting.
Nurger pulled a double-team after continuing to beat down the Panthers with a strong left-handed hook shot, opening up the guards around the perimeter. After drawing the double-team, Nurger stepped out to the perimeter and dropped a three-pointer of his own.
UNI's Jeremy Morgan was assisted off of the court early into the first half due to a rolled ankle after going for a rebound against sophomore forward Markis McDuffie. Morgan was held to 15 points; he was defended by McDuffie and teammate Zach Brown in the second half. They limited the star forward from igniting a comeback, despite UNI pulling the lead down to as little as two points in the second half. 
By halftime, WSU led by seven,  had 10 assists on 14 baskets, was shooting 48 percent from the paint and 50 percent from the three.
About the Writer
Aliyah Funschelle, Sports Reporter
Aliyah Funschelle was a sports reporter covering men's basketball for The Sunflower. She's a junior studying sports management at Wichita State, and currently...