Beach: Baker shining for Knicks
Ron Baker, former All-American guard for Wichita State, is taking on a significant role for the New York Knicks.
Knicks' coach Jeff Hornacek has found the value in Baker, who recently earned the full contract for his rookie season. 
He's now played in 16 games and is averaging more than 10 minutes per game. He scores an average of 3.4 points per game to go along with 1.3 assists and 1.6 rebounds. It may not sound like much, but Baker has provided a certain spark his team.
The Knicks have struggled as of late, losing 10 of their last 13 games after opening the season on a high note.
Starting point guard Derrick Rose missed a game for without cause, and there has even been some chatter about potentially moving on from star forward Carmelo Anthony. Now what do you do when a potential "superteam" isn't meshing well and can't find a way to win?
Your answer: turn to a motivated rookie without an NBA ego to provide key minutes and fight to stay in the league. Baker posted a career-high 13 points in a blowout loss to Golden State on Dec. 15.
His hot streak and regular time in the rotation really started on Jan. 6 when the Knicks had lost six straight and traveled to Milwaukee to take on the Milwaukee Bucks.
Rose went down with an injury late in the third quarter and rather than turning to typical backup point guard Brandon Jennings Hornacek put Baker on the floor in a tight game.
The move paid off. The Knicks snapped their losing skid with some late fourth quarter offense led by Baker. He finished with six points and four assists in 12 minutes of play. He also sunk all four of his free throw attempts.
The Knicks have continued to lose games, dropping five of their last six since the win over Milwaukee. Baker, however, has played in four of those six contests averaging 12.5 minutes.
On Monday, he scored twelve points on four three-pointers in a one point loss to the Atlanta Hawks. He's officially a regular in the highest level of basketball and he's even got some praise from his superstar teammates.
"Major minutes (for Baker). Big minutes,"Anthony said to the New York Daily News. "One of the biggest reasons we came up with this victory tonight. For him to not play the whole game and be playing any game lately, for him to come in to give major minutes and be a big part of what we are doing out there, he showed something tonight."
The former Shocker is enjoying his time in the league and willing to do whatever he can to help his team win even if it means sitting on the bench and cheering on his team, but he is glad to shine on the court when given the opportunity.
"To be in a game that's tight like that, it gets the nerves going a little bit," Baker told the New York Daily News after the Jan. 6 win over the Bucks. "But to get this game under my belt and get my first true win as an NBA player when I'm in the game, it feels good."
Leave a Comment
About the Writer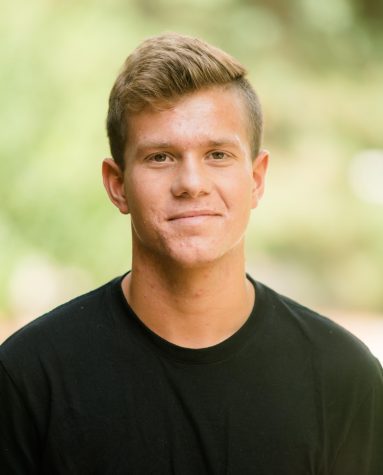 Nick Beach, Former reporter
Nick Beach served as a reporter for The Sunflower. Beach served as a sports reporter and columnist, as well as a movie critic. Beach is from the coastal...