Shockers sweep projected Valley winner to open conference play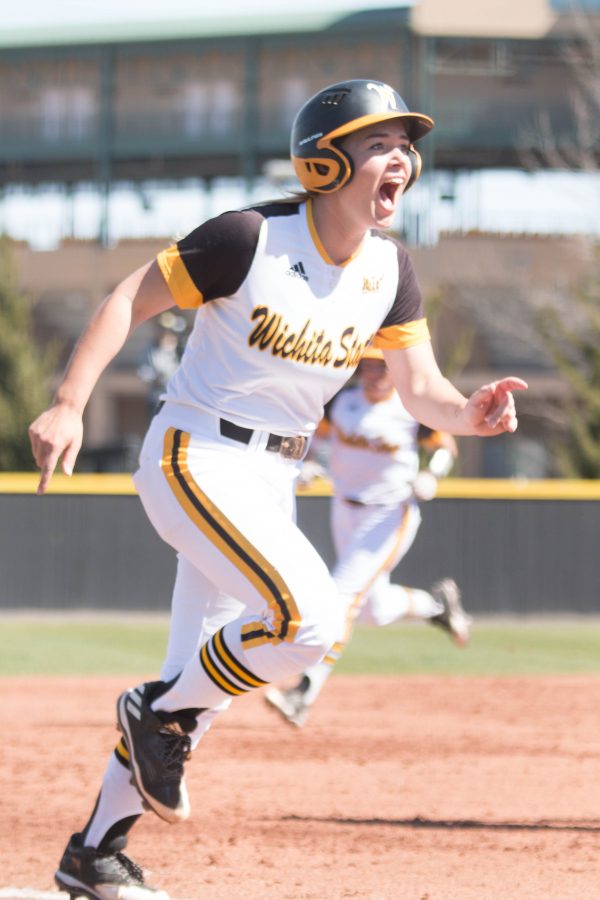 Fresh off a heartbreaking extra innings loss to LSU, Wichita State began conference play by defeating the preseason projected Missouri Valley Conference champion, Drake, twice Saturday afternoon at Wilkins Stadium.
Squaring off against the Bulldogs for the first time since their victory in the MVC championship game last May, WSU cruised to a 10-0 run rule decision in game one, needing just five innings to finish off the Bulldogs.
Freshman catcher, Madison Perrigan got the scoring started in the first inning with a two-run double to right field, and an error on the second baseman allowed her to score the third run.
A six-run second inning broke the game open for WSU, highlighted by a grand slam from sophomore Laurie Derrico.
"Honestly I just wanted to get a base hit," Derrico said. "I've come up a lot of times with bases loaded and I've failed, so that time I just wanted to keep my swing short and move up the runners and it worked out."
The Shockers had added another run in the third to reach double digits before senior starting pitcher Katie Malone even allowed a baserunner.
No more scoring would take place before the mercy rule ended the game, but the Shocker's second victory would not come as easily.
Drake pounced on senior starting pitcher Jenni Brooks to strike for two runs in the first inning. A leadoff single to start the third inning chased Brooks from the game as Malone, the game one winner, returned to the circle.
Malone surrendered a two-run home run to the Drake pitcher, Kailee Smith, and the Bulldogs would score once more in the fourth before Malone silenced them for good.
Down to their last eight outs, WSU began to rally.
With one out and runners on second and third in the bottom of the fifth, Derrico singled home junior Mackenzie Wright to put the Shockers on the scoreboard. Perrigan's fielder's choice plated another run to make it a three-run game.
Senior Macklin Hitz blasted a solo home run off of the scoreboard in left field to lead off the bottom of the sixth.  With the bases loaded and one out, heads up base running by Mackenzie Wright allowed her to score on a Derrico fielder's choice, and a single to left field by Perrigan completed the Shocker comeback.
Wright reached first base on an infield single with the score knotted up at five a piece.
Senior Kelli Spring dropped a perfectly-placed bunt, and the catcher's throw to first sailed into right field. Wright rounded third base as the throw came to the plate, skipping under the glove of the Drake pitcher.
Wright scored her fifth run of the day to seal the win.
Malone picked up her second win in two games, giving up only two earned runs in ten innings of work.
Malone, whose pitching held No. 13 LSU in check before her costly overthrow allowed them to score the winning run, was confident in her return to the pitching circle.
"Obviously LSU was very tough on me, but I just wanted to come back and dominate," Malone said.
"She threw a gem of a game against LSU, and you can't define that game by a bad throw that she made," head coach Kristi Bredbenner said. "She showed her resilience today."
Bredbenner was glad to see her team start off conference play with a pair of statement victories.
"Any time you get two wins against the team that was picked first in the conference, that's obviously some momentum for us moving forward," Bredbenner said.
WSU will go for the series sweep tomorrow at 11:00.
About the Writer
Matthew Kelly, Former Editor in Chief
Matthew Kelly is a former editor in chief and managing editor for The Sunflower.  Kelly graduated in 2020 with a bachelor's degree in political science...