Landry Shamet blocked at the buzzer, Wichita State falls to Kentucky
Wichita State had two 3-pointers blocked in the last 15 seconds of the game.
INDIANAPOLIS — Landry Shamet sank into a locker with his eyes glued to the floor. He sat without words as Miami's Angel Rodriguez ran away with a Fred VanVleet-led Wichita State team who finished short of the Sweet 16.
Shamet only played three games in 2015. He spent his freshman year sidelined with an injury outlasting the team's 2016 NCAA Tournament run.
For a season, his competitiveness overtook all emotions. Even his mother's comfort and assurance and reason couldn't override the guilt he carried. Nothing would relieve that burden. Not until he stepped back onto a basketball court in March.
Isaac Brown, Wichita State assistant coach, pulled Shamet in and said, "Next season starts now."
2016-17
Wichita State needed a leader. Shamet knew head coach Gregg Marshall wouldn't replace his veteran backcourt of All Americans Ron Baker and Fred VanVleet over night, but eventually, Shamet knew leaders would emerge.
Mid-season, Marshall pushed Shamet to run his offense. At the point guard, Shamet led Wichita State to 22 of 23 wins dating back to late December.
"I was starting to get really comfortable," Shamet said.
Friday, post victory over Northern Kentucky, Kentucky guards Isaiah Briscoe and Malik Monk said they were unfamiliar with the name "Shamet." They had yet seen his play before, let alone heard his name.
For four minutes Sunday, most of the country knew Shamet's name.
Sunday, the Shockers (31-4) met another 30-win team. Shamet's confidence was tested to the the highest level of play in his career.
Miscommunication between WSU's Zach Brown and Shamet led to a breakaway steal and dunk for Kentucky's De'Aaron Fox. Fox, with emphasis, flushed the dunk and ignited the Big Blue Nation as Kentucky pulled ahead to lead by seven points with four minutes left in play.
Shamet rushed up the court to challenge Fox; Shamet scored at the rim.
Still trailing by five points and running out of time, Shamet kept the ball in his hands and worked the ball up the court. In the right position, he pulled the trigger with Fox in his face. Fox was called for the foul while Shamet was in the shooting motion, and three made free throws erased Kentucky's lead down to two points.
Monk put Kentucky up five again with a three-pointer. Off a broken down offensive set with Shamet firing from deep late in the shot-clock,  Rashard Kelly pulled in the rebound and found Zach Brown for an open three-pointer.
Fox, working on Shamet, rushed down court for a one-handed slam dunk. Shamet, playing with four fouls, squared his feet to the basket and poised for the game's highlight reel three-pointer, putting the Shockers behind only a point.
Wichita State had their offense disrupted by pressure from Monk and Fox. With Monk in his face and time expiring, Wichita State forward Markis McDuffie fired an off-balance three-pointer. Monk blocked the shot.
Monk hit two free throws, and without a timeout for the game's final 55 seconds, Shamet tried to find space to hit the three-pointer to tie. Kentucky center Bam Adebayo followed Shamet and tipped the ball as it left Shamet's hand with two seconds on the clock.
"I just tried to stay aggressive and make my open looks and take advantage or whatever opportunity came," Shamet said. "Coach (Marshall) said late game execution was on him. It's on me. I'm the point guard.
"It was clear what we were supposed to do, I just didn't do exactly what we needed to do there down the stretch on a few possessions."
Teammate Daishon Smith watched on the sideline as Shamet nearly pulled the game into overtime.
"He showed how talented he was," Smith said, with tearful expressions. "He took talented shots, he penetrated, he did what he needed to almost pull out the win.
"We're sad — heartbroken. We had a team we really thought could go far."
No. 2 seed Kentucky advanced to the Sweet 16 by defeating the Shockers 65-62. Kentucky now owns a 2-0 series against Wichita State. The Shockers ended their perfect 3-0 record in the Marshall era against No. 2 seeds in the tournament.
"At the end of the day, we're going to continue to fight all the way to the last second," Brown said. "Wish things went different at the end, but that's how the game goes. You win some. You lose some. We'll be all right."
Leave a Comment
About the Contributor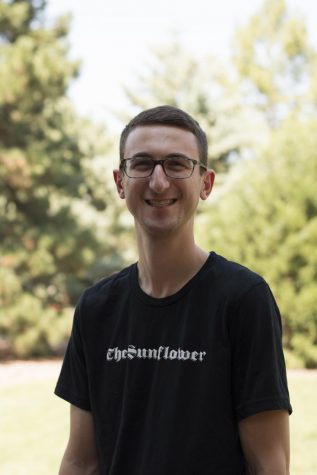 Evan Pflugradt, Former sports editor
Evan Pflugradt is the former sports editor of The Sunflower. Pflugradt past served as the publication's Editor in Chief, Opinion Editor and a reporter....