Estes keeps 4th District red, Thompson announces 2018 candidacy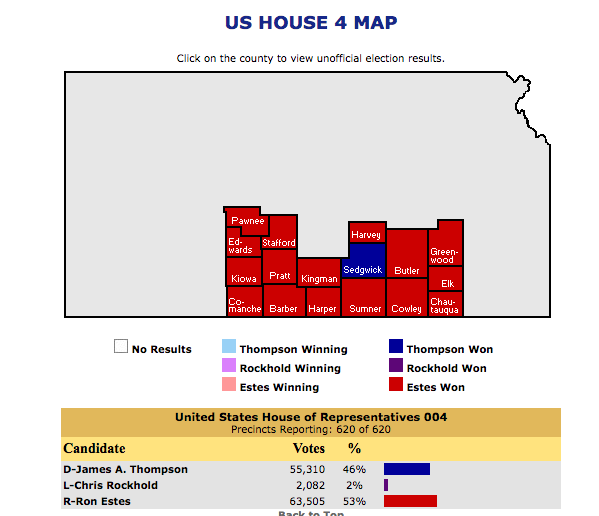 Congressman-elect Ron Estes garnered a victory by seven percentage points over Democratic challenger James Thompson in Tuesday night's Special Election for Kansas' 4th Congressional District.
Estes will represent Kansas in the U.S. House of Representatives before being up for reelection in the 2018 midterm election. He had been Kansas Treasurer since 2010.
As early as Tuesday night, voters knew who would challenge Estes in the next election: Thompson announced his intention to run again in November 2018.
Smaller victory
Republicans have represented the 4th District since 1995. During each election, they have largely won by double-digit margins. That was not the case with Estes' victory.
According to unofficial election results provided by the Kansas Secretary of State's website, Estes won with 63,505 votes to Thompson's 55,310. Estes received 53 percent of the vote, while Thompson received 46 percent, a margin of seven percentage points.
Libertarian Chris Rockhold took 2,082 votes, according to the unofficial election results, or 2 percent of the vote.
The District comprises 17 counties. Estes carried 16, while Thompson carried Sedgwick County.
In Sedgwick County, Thompson won with 41,293 votes to Estes' 39,419 and Rockhold's 1,347. That translates to a margin of 50 percent to 48 percent between Thompson and Estes.
Compared with Mike Pompeo, who Estes will replace in Congress, the victory margin was much smaller for the GOP. Pompeo was nominated and approved to be the director of the Central Intelligence Agency.
According to official election data from the 2016 General Election, Pompeo defeated Democratic challenger Dan Giroux 60.6 percent to 29.6 percent, a margin of 31 percent. Pompeo received more than 85,000 more votes than Giroux.
What's next
In his victory speech Tuesday night, Estes said what he saw coming out of Washington D.C. was not helping Kansans.
"We need to change that," he said. "We need to make America work for us."
Estes said he will advocate for a balanced budget amendment and for the repeal and replacement of the Affordable Care Act, also known as Obamacare.
"For too long, Washington hasn't worked for us," Estes said. "And we need to change that."
Gov. Sam Brownback now has to fill the role of state treasurer. He said Wednesday a "number of people" have applied for the job, putting their names forward and submitting their résumés.
"We will look to replace that position as soon as possible," Brownback said.
Thompson, meanwhile, is gearing up for another fight against Estes in 2018.
"I'm not going anywhere," he tweeted Tuesday night. "Kansas is worth fighting for. America is worth fighting for."
Thompson added that Democrats are the party of working people and must fight every battle, no matter the odds and to fight for the party's values.
"We were called a long shot from the start," he tweeted. "Nevertheless, we persisted and we shocked the nation. I don't regret it for a second."
Leave a Comment
About the Contributor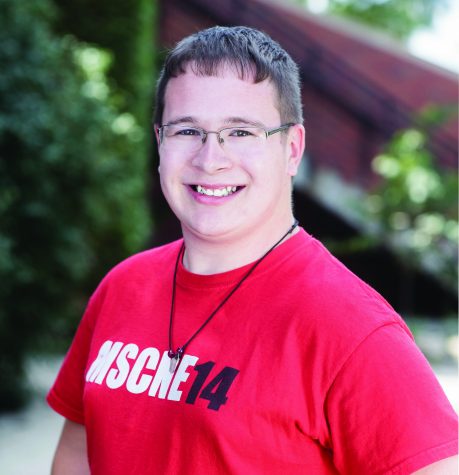 TJ Rigg, Former reporter/copy editor
TJ Rigg is a former employee of The Sunflower.