Student journalists get their hands dirty in the Flint Hills — and their feet
Students from the Elliott School of Communication have ventured into the Flint Hills to tell story of the Symphony in the Flint Hills and life on the Kansas prairie for the eighth year in a row.
Led by Amy DeVault and Kevin Hager, both journalism professors at the Elliott School, a dozen students enlisted in the Flint Hills Media Project summer class.
The class centers around the Symphony in the Flint Hills, which is an annual outdoor concert performed by the Kansas City Symphony that draws crowds of more than 7,000 people.
The class gives students the opportunity to gain real-life storytelling experience through immersing themselves in the project.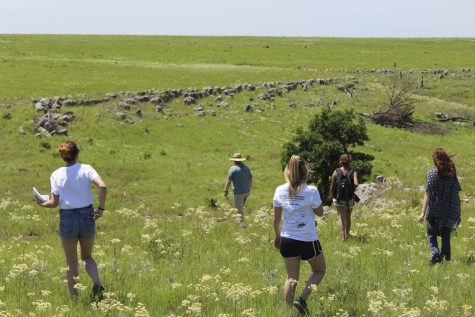 The outcome is a multimedia medley of video, photo, and written coverage of the symphony and life on the prairie. The stories are compiled annually into a magazine that prints in the early fall.
Students' photos, videos, and writings about the symphony were featured in four newspapers across the state this year, including The Wichita Eagle.
"It's nothing like any other class you would take," Lyndsey Edwards, an Elliott School graduate student, said.
The class forgoes a more traditional classroom setting and opts for a more hands-on learning encounter. "It's very much an apprentice model," DeVault said.
"We don't just tell (students) what to do, we model for them what to do. They can watch us take photos or interview people, which helps them learn how to do it," DeVault said.
"
You don't sit in a class and just listen to your teacher lecture."
— Lyndsey Edwards
"You don't sit in a class and just listen to your teacher lecture," Edwards said. "You actually go out into the field, get your hands onto a camera. You go out there and you just do it."
"In 2010, Les Anderson asked me if i would help him teach a summer class," DeVault said. "He had been to the event before and he realized that nobody was covering it. There were no stories about it in newspapers anywhere in the state.
"He thought it would be a cool thing to take a group of students out and have them do stories over it and send out to newspapers."
Anderson was an esteemed journalism professor at WSU. He died of a heart attack in 2011 after 34 years of teaching in the Elliott School.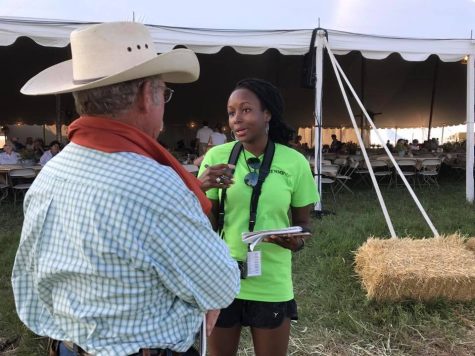 "(Anderson) taught me how to teach," DeVault said. "He's the one who I have learned that apprenticeship model from — just getting out there with your students and doing it."
Students are also intended to learn from one another, Hager said.
"We do our best to make sure there is a good videographer, a good still photographer, and a good writer in each of the groups," Hager said.
"Amy and I are out there, but we may be thirty miles from where they are," Hager said. "They need to rely on the people that are in their group."
Lyndsey Edwards said her classmates brought valuable knowledge of different areas of expertise to the learning experience.
"I'm more into video work while others aren't," Edwards said. "It's cool to be able to teach them, they teach me, and we learn from each other."
Ascha Lee, a senior majoring in journalism, picked up a professional camera for the first time on the Flint Hills. One of her photos ended up being published in the Emporia Gazette.
"I write, primarily," Lee said. "I had never been behind a camera before.
"
I feel more confident in my ability to be a journalist."
— Ascha Lee
"I feel more confident in my ability to be a journalist," Lee said.
Julian Liby, an Elliott School graduate student, said participating in the project helped him gain an appreciation for the Flint Hills and surrounding communities.
"I've seen the Flint Hills at 80 mph on my way to Kansas City or wherever, but I've never stopped and actually observed the Flint Hills."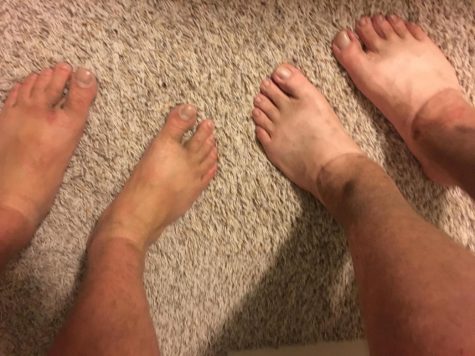 The Symphony in the Flint Hills draws people into the prairie every year to marvel at the scenery and spread a message highlighting importance of protecting the prairie, Liby said.
"All these people from these cities came together in a secluded area to show their appreciation for nature. They came together — 7,000 people in the middle of nowhere — to share that appreciation," Liby said.
The message of conservation is important to Ascha Lee, who grew up on a ranch in south-central Kansas.
"Experiencing (the Flint Hills) was a way for me to get back to my roots," Lee said. "I was able to really relate with a lot of the people that I met there. There's a special place in my heart for conservation and Kansas."
Hager said one of his favorite things about teaching the class is getting to know the students.
"There are good, hard-working, caring, responsible young people, and the world is gonna be okay," Hager said.
"These are good people who care about each other, and they care about the people they cover stories on."
———
Student work from the project can be viewed at its website: http://www.flinthillsmediaproject.com/
About the Contributors
Jenna Farhat, News Editor
Jenna Farhat is the News Editor of The Sunflower.

Farhat is a junior majoring in creative writing. After graduating, she plans to pursue a career in...
Matt Crow, Former Sports Editor
Matt Crow is the Sports Editor for The Sunflower. Crow is a senior at Wichita State majoring in communications with an emphasis is electronic media. He...