Sports world answers Houston coach's call to action
In disaster's wake, every little bit helps.
That's why the Shocker Men's Basketball team, along with nearly 500 other teams from across the nation, are sending shoes and shirts to University of Houston Men's Basketball Head Coach Kelvin Sampson to help those affected by Hurricane Harvey.
"I have had so many of my friends in the coaching profession text and call offering prayers and thoughts for all Houstonians," Sampson tweeted Monday. "They all ask what they can do to help. Well, I came up with something I think coaches at all levels can help with."
WSU and other schools — UCLA, Georgetown, Miami, Syracuse and hundreds more — were asked to send 10 pairs of shoes and 20 shirts. Sampson called upon all basketball coaches —boys' and girls' high school, men's and women's NCAA Division I, Division II and Division III and NAIA — to donate.
"All sizes and numbers will be accepted and greatly appreciated," a press release for the effort said.
The Shockers were quick to respond, tweeting out: "We've got boxes headed your way! #Houstonstrong" with an image of their gear Monday morning.
As of Wednesday morning, 495 schools, including 11 NCAA universities, had sent boxes. After the boxes arrive, Sampson and the men's basketball staff will work with officials from the Red Cross, Star of Hope, and Greater Houston Community Fund/Hurricane Harvey Relief Fund to distribute to those in need.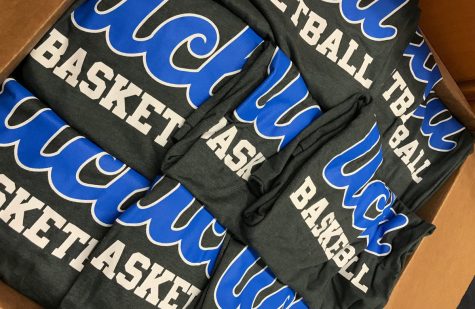 "All of our hearts go out to those in need during these devastating times," Sampson's tweet continued. "We will get everything to the right agencies to be distributed. Thank you and God bless you all. Please continue to keep Houston in your prayers."
Bryan Holmgren, WSU Men's Basketball Assistant Director of Media Relations said Sampson's request was happily met by the Shockers.
"We're a part of something much bigger that's going on," Bryan Holmgren said. "The fact that they're a part of our conference family makes it a little more personal, but we'd have been happy to help even if we weren't. We're just trying to help in a way that we can."
Information on how to donate can be found on Houston's website
The American and its member institutions will make a $100,000 donation to the @RedCross. #HoustonStrong

📝 https://t.co/Rx5Lu8yMzV pic.twitter.com/K5BHT5Y2h9

— The American (@American_Conf) August 29, 2017
About the Writer
Andrew Linnabary, Digital Managing Editor
Andrew Linnabary is the 2018-2019 Digital Managing Editor of The Sunflower.

He is a senior studying journalism and minoring in English. Linnabary is...