Current Wingnuts player passed up Red Sox gig to pitch at Wichita State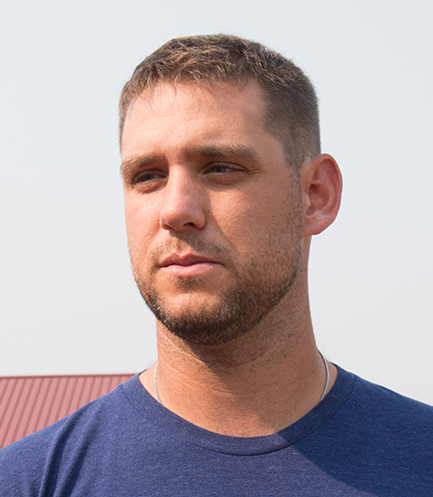 Jordan Cooper, a right-handed pitcher for the Wichita Wingnuts, has been in high demand from a young age.
In 2008, fresh out of high school, Cooper was drafted by the Boston Red Sox in the 17th round. Instead of signing, he decided to play for Wichita State, where he pitched for two years.
"I thought it was a better opportunity for me to go to school for a couple of years and develop under the best pitching coach at WSU, Brent Kemnitz," Cooper said. "It just made sense to me."
Cooper also had three or four friends he played summer ball with who were going to play at Wichita State.
"We lived at the baseball fields," Cooper said. "I made some of the best friends I have had at WSU and I still talk to them today."
Cooper played at Wichita State for the 2009 and 2010 season. As a freshman, Cooper had 15 appearances, starting 13 games. He went 8-6 with a 2.78 ERA, and pitched 97 innings with 91 strikeouts and three complete games.
In 2010, Cooper was named the Missouri Valley Conference's Pitcher of the Year with a 2.01 ERA.
After his sophomore year, Cooper was drafted by the Cleveland Indians in the ninth round of the MLB draft.
Cooper spent seven seasons with the Indians' farm teams, climbing as high as Triple-A Columbus, and going 33-38 with a 4.18 ERA in 157 appearances.
Cooper was released last May, and signed with the unaffiliated Kansas City T-Bones where he played for a season before ending up with the Wingnuts.
"[Playing for The Wingnuts] was the best opportunity. My wife and I just had a kid, a baby girl, so we wanted to stay close to home," Cooper said. "It made the most sense."
"The Wingnuts have been so good for so long — I wanted to be a part of that."
On Saturday, the Wingnuts advanced to the American Association championship series for the second straight season after defeating Gary SouthShore.
Leave a Comment
About the Writer
Aliyah Funschelle, Former sports Reporter
Aliyah Funschelle was a sports reporter covering men's basketball for The Sunflower. She studied sports management at Wichita State, and worked as a Campus...