Raudsepp racks up kills on and off the court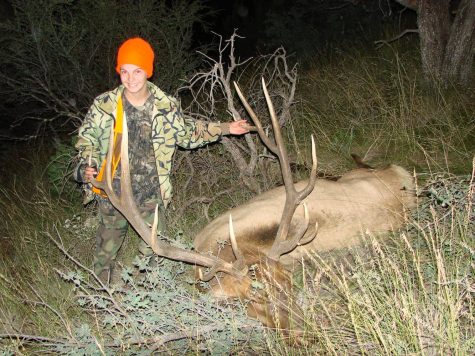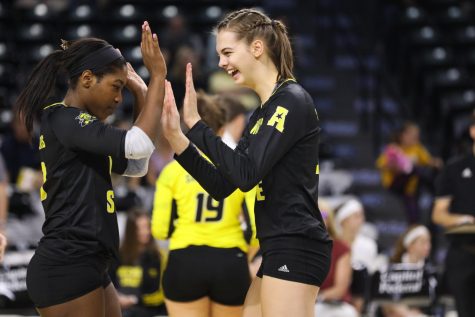 For Mikaela Raudsepp, senior outside hitter, volleyball season means learning, memories, and sacrifices — sacrifices such as going without hunting. Elk hunting, to be exact.
"Coach always tells me, 'Mik, I want some elk meat!'" Raudsepp said. "I go, 'Well then you gotta let me go. Sorry, can't be here.' August, September, October, I'm kind of out of commission."
Her dad is taking her on a December hunt in Oregon, her home state, as a celebration for finishing college.
She has plenty to celebrate: Her team is ranked No. 1 in the American Athletic Conference. She's representing Wichita State as the student ambassador for the American Athletic Conference Student-Athlete Advisory Committee. And she's almost done with her undergrad in biology, with plans to pursue physical therapy after. With all her time spent focused on volleyball and school, Raudsepp hasn't had time for elk hunting.
She's been hunting in Oregon about five times, but this will be her first tag hunt in college. Her last harvest hunt was in 2012. She's shot two elk — both in New Mexico, exact location undisclosed.
"I'd have to kill you if I told you because it's a family secret," Raudsepp said.
She shot her first elk left-handed, because of the terrain, the second right-handed.
She's spent time bird hunting in college, but she said she hates it — left handed shooting doesn't work because she shakes too much, and right-handed shooting doesn't work because she closes her right eye.
"If you're shooting a gun, you have to use the same eye as the hand that is pulling the trigger," Raudsepp said. "I could probably teach myself to shoot with both eyes open, but I haven't had enough time.
"When I'm in a clutch situation, the second I put the gun to my right side, I close my right eye and I get so frustrated that I can never shoot anything because it's already gone," Raudsepp said. "I'm proud of myself for sharing that flaw."
She's an ambidextrous shooter in timely situations, Raudsepp said, just not when bird hunting.
When she has time to set up, she has no problem, she said.
Hunting became a passion of hers because of her dad.
"Growing up, my sister was daddy's princess," Raudsepp said. "My brother was my dad's only son, so there you go. Hunting was a way for my dad and I to have a special connection.
"That connection is something I truly treasure."
Her dad is a man of "very, very few words," she said, but sit down and talk to him about hunting and you can't get him to stop.
"It's a side of him that I love," Raudsepp said.
Raudsepp said that, growing up, she couldn't wait for her dad to come home from a hunt.
"I'd run out to the truck and hold the big antlers off the back screaming, 'Daddy, take my picture, take my picture!'"
She went on her first hunt when she was about twelve.
"It was so cold," Raudsepp said. "I remember shivering the whole time. We didn't get close enough to shoot. If you did shoot, it was across the canyon, so you'd have to go all the way down and all the way back up carrying the meat.
"It wasn't successful, but I just remember getting up in the mornings and it being so cold and the big smile on my dad's face like, 'Are you ready?' 'Yes Dad, I'm ready — this is so exciting for me!' Because seeing how excited he was about it made me so happy."
About the Contributors
Andrew Linnabary, Digital Managing Editor
Andrew Linnabary is the 2018-2019 Digital Managing Editor of The Sunflower.

He is a senior studying journalism and minoring in English. Linnabary is...
Matt Crow, Former Sports Editor
Matt Crow is the Sports Editor for The Sunflower. Crow is a senior at Wichita State majoring in communications with an emphasis is electronic media. He...