Shockers finish 20-0 in conference; seniors say goodbye
Wichita State sweeps Memphis 3-0 to finish undefeated in The American.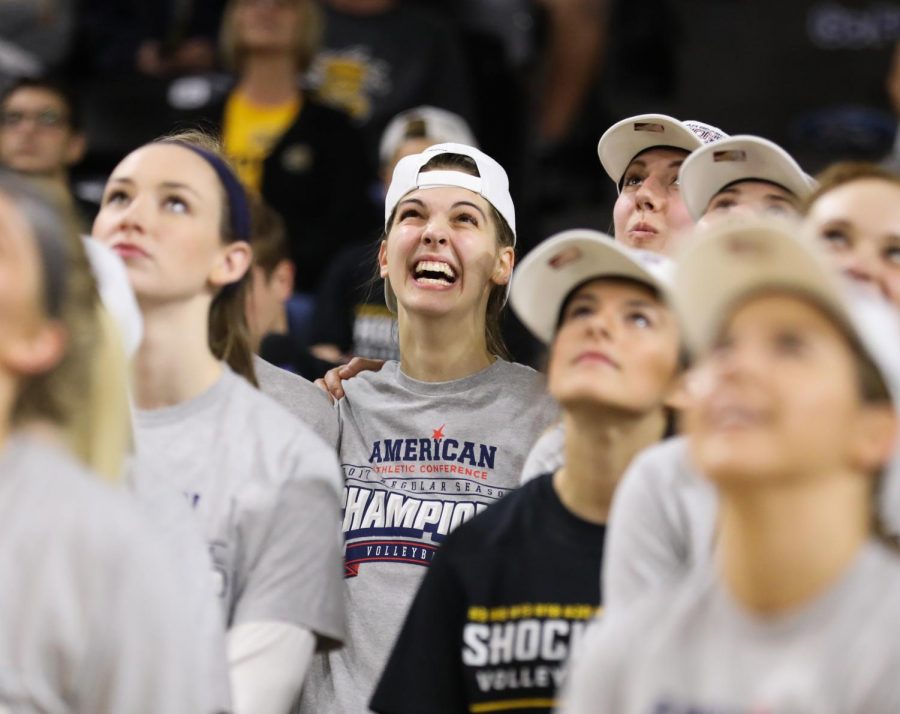 The Wichita State volleyball team finished their conference regular-season undefeated in The American with a sweep over Memphis.
"[Going undefeated in the conference] means a lot because we do have a lot of seniors and we know how hard it is to go undefeated in any conference," senior Hanna Shelton said. "That was our main goal from the beginning."
The Shockers finished their inaugural season 20-0 in The American.
"I think we were really motivated the entire time," Shelton said. "Especially because it's Wichita State as a whole the first season in the AAC."
The Shockers talked in the locker room before the first game and knew winning the conference was a goal they intended on reaching.
"We sat in the locker room before the season started and we looked at each other and were like 'We have an opportunity to do something big this year, we have the opportunity to go undefeated this season,'" senior Mikaela Raudsepp said. "I think that's the mindset we took in to each day of training all of the hard work paid off."
Friday's game against Memphis was also senior day for Mikaela Raudsepp, Gabi Mostrom, Emily Hiebert, Hanna Shelton, Abbie Lehman, Kara Maleski, and Jenny Whitledge.
"I'm going to miss every time we run out that tunnel and they say 'Here come your Wichita State Shockers' and this crowd in Koch arena…it just lights up," senior Abbie Lehman said. It's amazing and it's fun every single time."
Raudsepp, being from out of state, said the team and the fans made Wichita State her home away from home.
"I couldn't thank [the fans] enough. Being far from home has been really hard for me, it has been a challenge," Raudsepp said. "But I have a family here. They're in the stands every weekend and I am so thankful for that."
Along with the senior day ceremony, The Shockers were also presented with the AAC Regular-Season Conference Championship trophy and held the cutting of the net ceremony.
Wichita State has an automatic bid in the NCAA Tournament and will find out Sunday if they will host a regional.
"This team is always not satisfied, so we're like 'On to the next goal,'" senior Emily Hiebert said. "We're going to enjoy this but now we're ready to go do something in the NCAA tournament."
About the Contributors
Aliyah Funschelle, Sports Reporter
Aliyah Funschelle was a sports reporter covering men's basketball for The Sunflower. She's a junior studying sports management at Wichita State, and currently...
Matt Crow, Former Sports Editor
Matt Crow is the Sports Editor for The Sunflower. Crow is a senior at Wichita State majoring in communications with an emphasis is electronic media. He...