Grading Wichita State at midway through conference play
The Sunflower grades the Shockers now halfway through American Athletic Conference play. Plus, advanced metrics show where the Shockers rank among other AAC players.
Wichita State is two games behind Cincinnati for first place in the American Athletic Conference standings at the halfway mark in conference play. The Shockers split wins with Houston and defeated Central Florida and Connecticut; they've yet to play Cincinnati, who they'll compete with in a home-and-away, starting at Cincinnati later this month.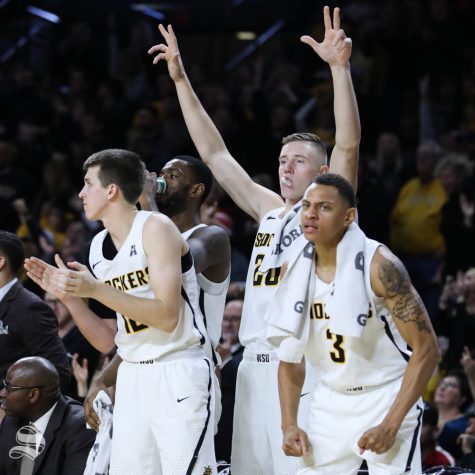 The Shockers play a rotation 10-deep, led by the productivity of point guard Landry Shamet and senior center Shaquille Morris. After dropping back-to-back conference games for the first time since the 2012-13 season, WSU head coach Gregg Marshall has experimented with different rotations, featuring Austin Reaves, who exploded for a career-high 23 points — all in the first half of Sunday's game against Tulsa. Reaves jumped into second in The American shooting 47 percent from three-point range after knocking in his first seven attempts from deep on Sunday — taking fourth in the school record books in three-point makes.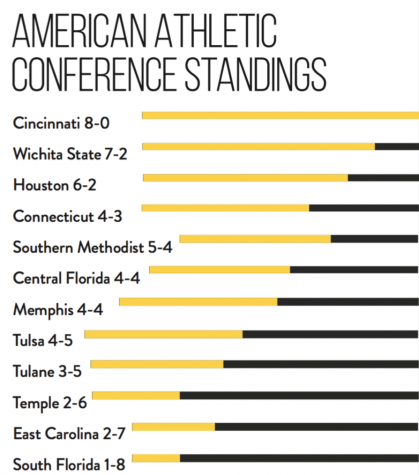 WSU ranks No. 19 in KenPom, No. 15 in offensive efficiency, and No. 75 in defensive efficiency. WSU forward Zach Brown asked teammates earlier this year challenged his teammates not to be Gregg Marshall's worst defensive team after the Shockers dropped back-to-back losses and allowing opponents to drop 70 points with ease. An increase in offensive production — 39 percent team three-point percentage (No. 36 in the NCAA) — has covered the Shockers' significant drop in defensive pressure, but this can't be the kind of productivity Marshall expected out his senior-led roster.
In short: WSU has been good, but not great.
Team grade: B+
Report Card (Player by Player)
Rashard Kelly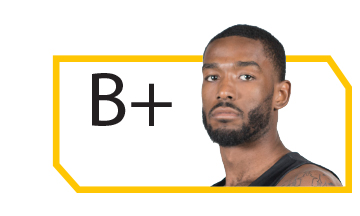 Summary: Rashard Kelly ranks fifth in the country among all players, in offensive rebounding efficiency. He has an average of 7.5 rebounds per game, and his willingness to compete for loose balls has eluded to a spark in the Shockers' offense. Sunday he had 11 rebounds — six on offense — in 26 minutes.
In spurts, Kelly has been proficient as a point-forward. He handed out eight assists against Tulsa. This performance, however, is an outlier as Kelly has just three games this season with five or more assists.
Where Kelly has struggled is at the free throw line where he shoots just a mere 59 percent. His willingness to share the ball has kept his totals low in the scoring column, where he's broken double-digits just twice this year.
Zach Brown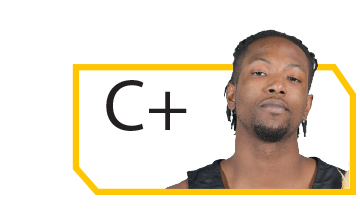 Summary: Zach Brown entered the season rated as one of the country's premiere defenders, and head coach Gregg Marshall showed confidence that Brown could guard any position from the point guard to the power forward. After battling an early-season knee injury, Brown hasn't played at full speed.
Junior Markis McDuffie and sophomore Austin Reaves have swapped Brown in the starting rotation in recent weeks. Brown has been a offensive liability in games against the zone, as team's tend to leave Brown open for the three-pointer. Brown hasn't been able to knock them down from deep, averaging just 32 percent from distance. For example, Southern Methodist left Brown open in the corner and he connected on one shot for five attempts.
Brown bounced back against Tulsa for 10 points and two three-pointers.
Samajae Haynes-Jones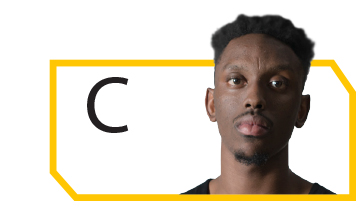 Summary: The transition from junior college to Division I hasn't come easy for Samajae Haynes-Jones.
Haynes-Jones has been held scoreless in four of the last five games. He's also scored a season-high 31 points in 26 minutes against Savannah State. His speed and ability to move laterally has broke the ankles of numerous defenders this year, but his inability to finish at the rim hasn't entirely made up for his lack of size.
Haynes-Jones had one assist and one turnover against Tulsa on Sunday.
Landry Shamet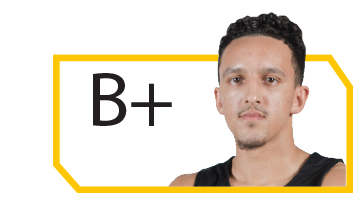 Summary: Landry Shamet is averaging 15 points per game on an average of nine shot attempts per game. He's struggled to come out of a slow shooting rut after shooting 20, 22 and 12 percent from the field in the last three games.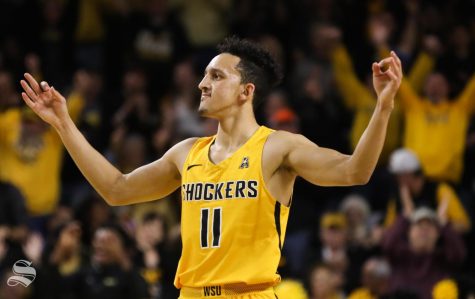 Shamet is 0-6 from three-point range in each of his last two outings, which is far off of his once 54 percent three-point shooting average. His season average is down to just 44 percent. Still, Shamet has found ways to pad the statsheet with a five-to-two assist-to-turnover ratio.
Shamet has drawn solid NBA attention with four 20-plus point performances and one 30-point outing in front of a gathering of NBA scouts, but his once first-round draft stock is dropping. Shamet has the tools to make a quick turnaround, but until then, he's well below his production level.  
Austin Reaves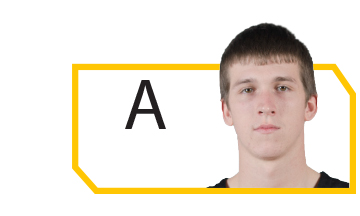 Summary: Austin Reaves shot lights out against Tulsa, hitting his first seven shots from three-point range. After his sixth shot, he threw up a heat check, and swished. Finishing with 23 points (all in the first half), Reaves jumped to second in The American in three-point shot percentage. His performance Sunday — a career-best — was reminiscent of his high school days where he would routinely score above 50 points, and once 73 points.
Reaves has bounced back and forth between point guard and shooting guard duties, and even the small forward during sets when the Shockers play a three-guard rotation, and in every scenario, he's been stellar.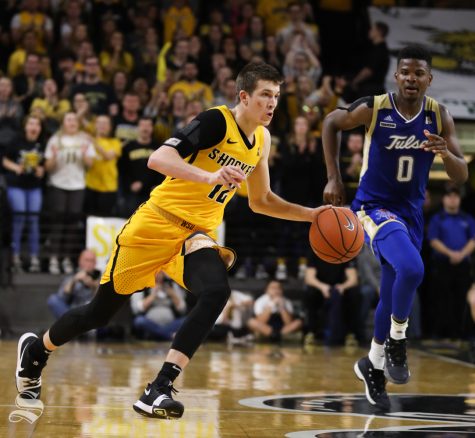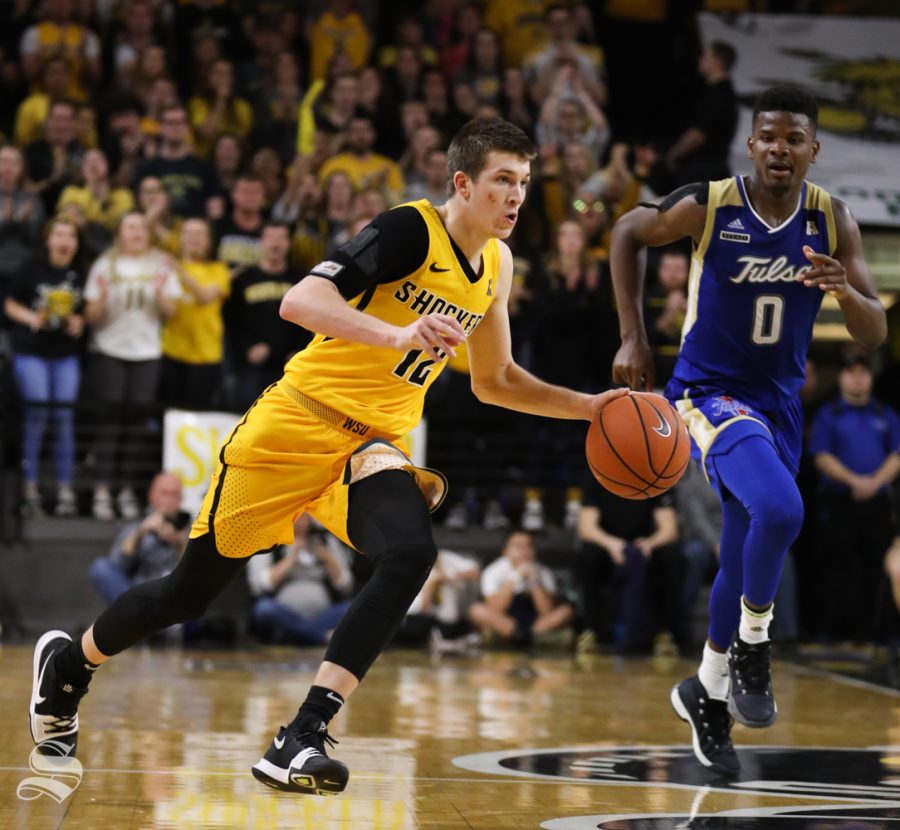 Reaves now leads the conference in offensive efficiency rating, and his 54 percent three-point shot percentage in conference leads the AAC. Where Reaves could improve is on ball-handling, where he posts a two-to-one assist-to-turnover ratio, but that's nitpicking.
On defense, Reaves takes pride in taking charges, where he averages at least one per game. If anything, Reaves could be more assertive on offense.
Rauno Nurger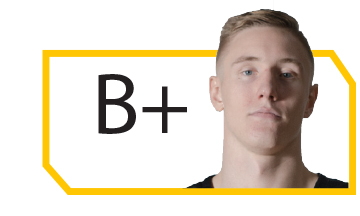 Summary: Rauno Nurger has topped double-digit figures in the scoring column five times this season. Against East Carolina, he posted 14 points on six-of-eight shooting in 15 minutes of action.
Nurger has improved his defensive rebounding abilities, and stayed steady at the free throw line where he's shot 90 percent on the season. Additionally, he's protected the ball, turning the ball over multiple times in just three outings this season. Nurger has learned to defend without fouling, where he's committed four fouls in just three outings.
Darral Willis, Jr.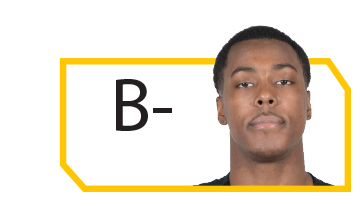 Summary: Darral Willis, Jr. finished with 15 points against Tulsa, eclipsing double-digits for the third time in the last four games. He's topped the mark 13 times this season, with his season high — 20 points — coming against Oklahoma.
Willis is averaging 56.5 percent on two-point shots, good for No. 11 in The American. Willis has four double-doubles this season, but where he's been deficient is in ball-handling where he's committed multiple turnovers in more than 60 percent of games this year. His free throw shot percentage is also slipping. He's down to just 64 percent from the charity stripe this year, down from 74 percent last season.
Shaquille Morris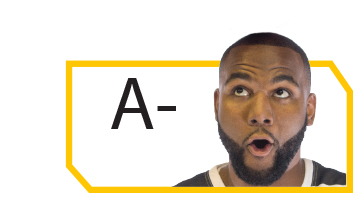 Summary: Shaq Morris has seen a drop in minutes this year, likely due to solid production out of Kelly, Willis, and Nurger. He played for 30 minutes against California and Southern Methodist, but has also played under 20 minutes for six games.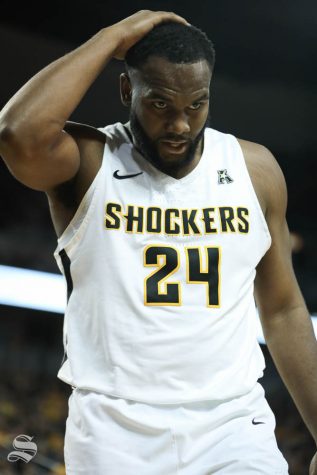 The Shockers are at an advantage when Morris is on the floor. He's added a added the ability to drop back for a three-pointer, where he's hit for 43 percent. He's at the top of his game when he can block shots; he ranks seventh in the conference in blocked shots.
Morris is averaging a career-high nine shots per game, and he's hitting more than 54.6 percent from the field.
Markis McDuffie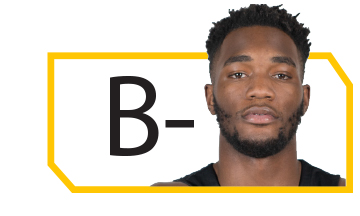 Summary: Markis McDuffie returned to action after missing the first 12 games while recovering from a stress fracture.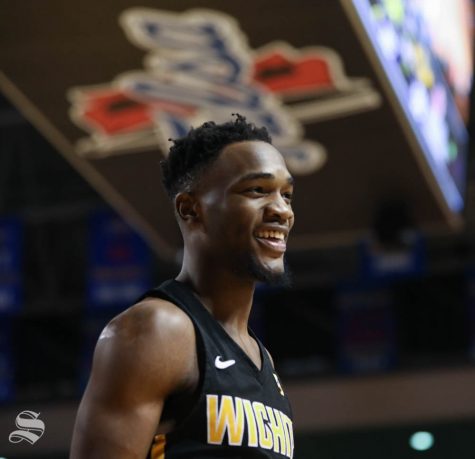 McDuffie has been streaky on the offensive end. He posted double-digits in four consecutive games, including an outing with four threes on the road against East Carolina. Outside of that, McDuffie has hit multiple threes in just one outing. On the season, he's shooting 32 percent from outside the perimeter.  
McDuffie, who led WSU in scoring and rebounding, has struggled to produce similar production numbers; averaging a mere four rebounds per game. Nine games in, McDuffie is still searching for a role.
Conner Frankamp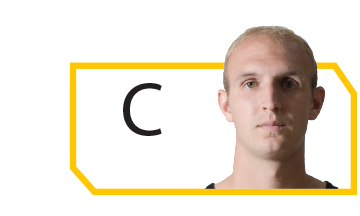 Summary: Conner Frankamp couldn't keep his streak for the games with a three-pointer alive on Sunday, dropping the streak at 40 games. He surpassed Steve Kerr's NCAA record for 38 consecutive games with a three-pointer.
Frankamp has dropped to 38.5 percent from distance, and Sunday he was held scoreless for the first time this year. He was 0-6 from the field and 0-5 from three.
Frankamp has taken care of the ball well and limited turnovers, but his lack of offensive production has made him more of a liability on the floor. He returned to the starting lineup on Sunday, but it wouldn't be unlikely for him to be swapped yet again in the near future.
Best in The American: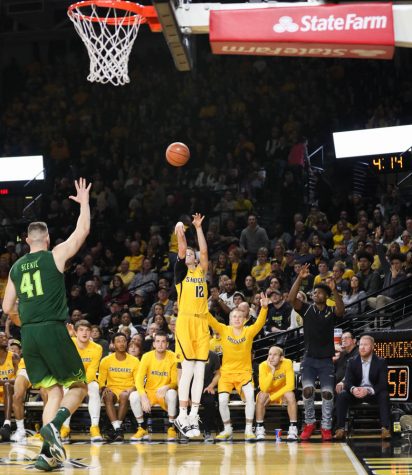 3-point shot percentage
Ben Emelogu – SMU – 53.7 percent

Austin Reaves – WSU – 47.1 percent

Cory Davis – Houston – 44.9 percent

Landry Shamet – WSU – 44.8 percent

Shake Milton – SMU – 43.4 percent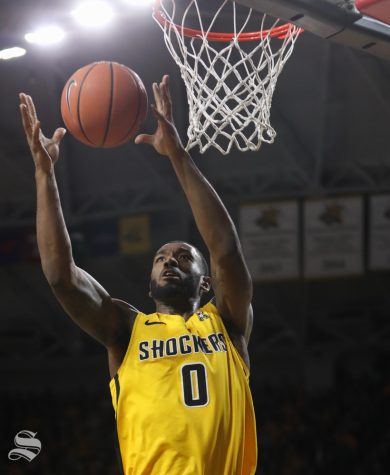 Offensive rebounding percentage
Rashard Kelly – WSU – 17.2 percent

Gary Clark – Cincinnati – 14.9 percent

Samir Sehic – Tulane – 14.1 percent

Tacko Fall (out) – UCF – 13.5 percent

Chad Brown – UCF – 13.2 percent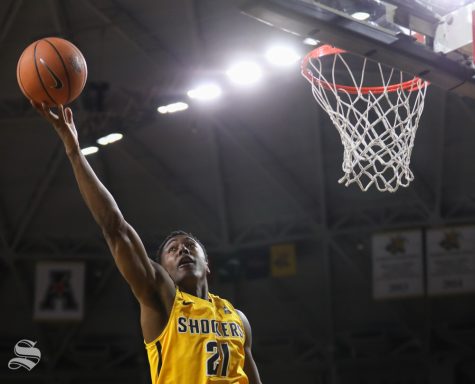 Defensive rebounding percentage
Darral Willis – WSU – 23.8 percent

Tacko Fall (out) – UCF – 23.6 percent

Gary Clark – Cincinnati – 22.4 percent

Tulio Da Silva – USF – 21.4 percent

AJ Davis – UCF – 21.2 percent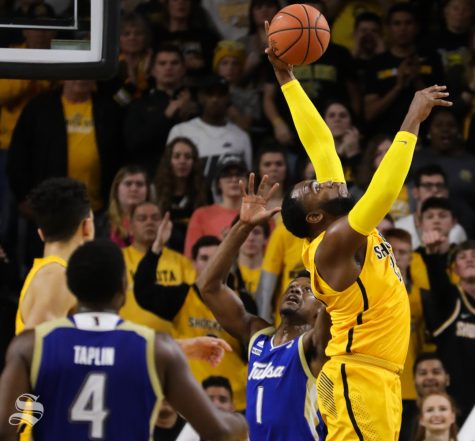 Two-point block percentage
Blake Paul – Tulane – 9.8 percent

Tacko Fall (out) – UCF – 9.43 percent

Shaquille Morris – WSU – 9.25 percent

Fabian White – Houston – 8.24 percent

Chad Brown – UCF – 7.40 percent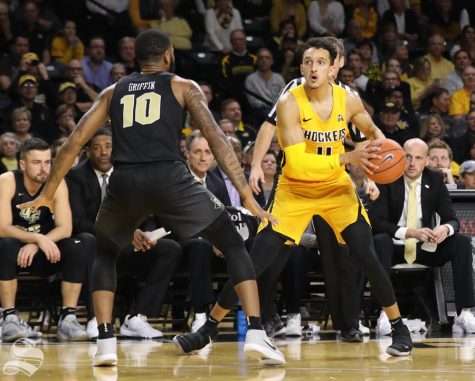 Assist Rate
Sterling Taplin – Tulsa – 33 percent

Isaac Fleming – ECU – 32.6 percent

Cane Broome – Cincinnati – 31 percent

Landry Shamet – WSU – 29.3 percent

Rob Gray – Houston – 27.8 percent
View Comments(1)
About the Contributors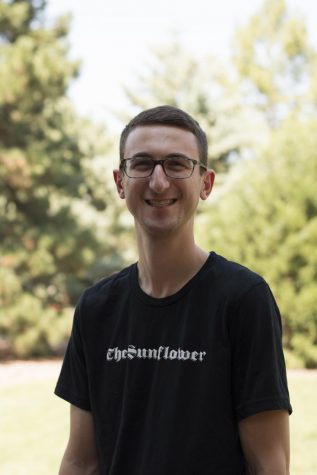 Evan Pflugradt, Former sports editor
Evan Pflugradt is the former sports editor of The Sunflower. Pflugradt past served as the publication's Editor in Chief, Opinion Editor and a reporter....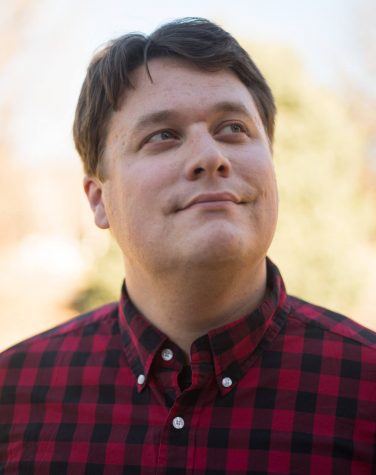 Matt Crow, Former Sports Editor
Matt Crow is the Sports Editor for The Sunflower. Crow is a senior at Wichita State majoring in communications with an emphasis is electronic media. He...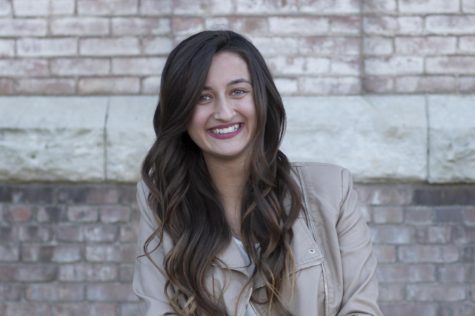 Selena Favela, Former photographer
Selena Favela is a former photo editor for The Sunflower. She majored in graphic design. She is from Wichita, Kansas.