NCAA Tournament: Seton Hall advances to second round game with Kansas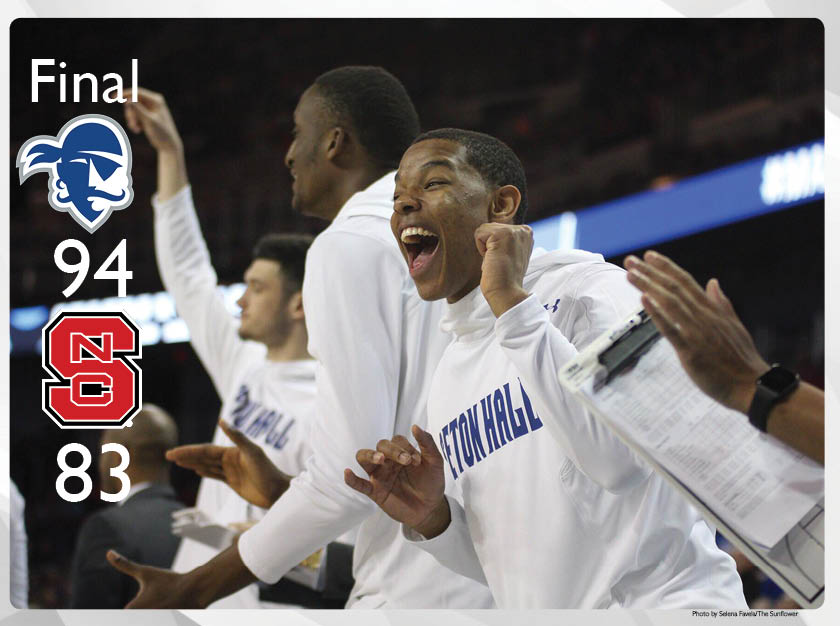 Wichita — No. 8 Seton Hall defeated No. 9 NC State in the first round of the NCAA Tournament. The Pirates will next face the No. 1 Kansas Jayhawks in the second round of the tournament on Saturday.
Khadeen Carrington, a senior, won an NCAA Tournament game for the first time in three consecutive tournament appearances. The Pirates claimed their first NCAA Tournament bracket in 14 years.
"We were due for one," Khadeen Carrington, a senior, said.
Carrington scored a game-high 24 points.
"Scoring wasn't on my mind much, my focus was securing the ball and taking what the defense gave me," he said.
The Pirates will play No. 1 Kansas for a spot in the East regional semifinals. Desi Rodriguez, a senior for Seton Hall, said he's watched a lot of Kansas this season.
"I've been scouting them myself all year," Rodriguez said. Seton Hall Coach Kevin Willard laughed, questioning Rodriguez's scouting report.
"I've watched them a lot this year, too," Carrington said. "I don't have a scouting report like Desi, but I've watched them a lot."
"Our hope is to keep knocking down teams," Rodriguez said.
Willard shared his respect for Kansas Coach Bill Self, adding that he has "unbelievable respect for him and his program."
"I have not watched Kansas one bit," Willard said. "It's just not what I do. This kind of year you get in a bunker and you huddle down. You know you're going to play the one seed. The one seed is a one seed for a reason. They have phenomenal players."
"When I watch them, I have unbelievable respect for them offensively.
"He doesn't play the same every year. They space it out and there's a lot more pick-and-rolls. I think the biggest thing, he's adapted to his personnel."