Unopposed SGA ticket hopes to combat apathy next year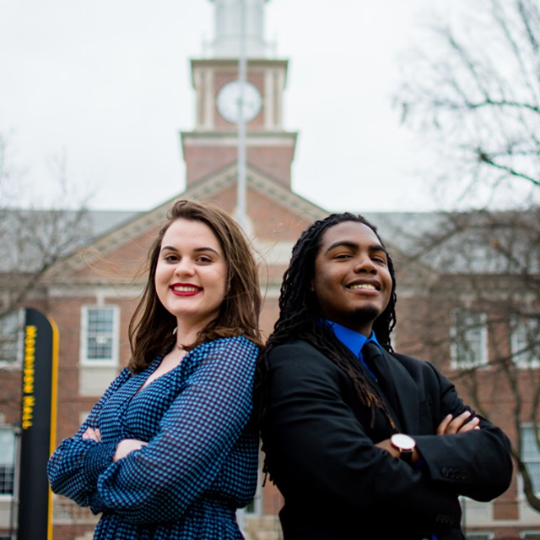 For the first time in 13 years, a single ticket is running unopposed for student government elections.
Liberal Arts and Science Senators Kenon Brinkley and Shelby Rowell lead "Revival," the unopposed ticket for upcoming student elections.
Brinkley, a sophomore majoring in Strategic Communication, serves as Revival's Student Body President candidate. His running mate Rowell, is a junior studying Political Science with a field major in French, Economics, and Communications.
"Our name, Revival, stems from the lack of passion and sense of apathy that we've seen during our tenure as senators this year," Rowell said.
That apathy can be seen in past year's elections. Last year, less than 20 percent of the student body voted in SGA elections. The year before that, 12.6 percent voted. This year, there's only one ticket running for the first time since 2005.
As an SGA Senator, Rowell has served on several committees, including those that deliberate over Student Fees and the Educational Opportunity Fund. Brinkley has served on the Organizational Outreach Committee, as well as the Diversity Task Force.
"The student body doesn't know what SGA is, what it does, or how to become involved with SGA," Rowell said. "To be blunt: this isn't [the students]' fault at all."
Rowell said it's SGA's job to make people care.
To address this, Rowell said that she would like to ensure that senators in the 61st session "have the tools they need to be proactive when it comes to solving problems on campus."
"Right now there is a common complaint of, 'SGA doesn't represent me'," she said. "We want to create workshops where students can come in to the office, … address their concerns, and write legislation alongside their senators."
An SGA survey conducted in the fall found that 4.17 percent of students felt SGA definitely represents their interests, while 11.54 percent felt SGA definitely does not. Another 17.95 percent felt SGA "probably" represents their interests. More than half of all respondents were unsure, saying SGA might or might not represent their interests, according to the raw data from the survey obtained through the Kansas Open Records Act.
"Students don't know that they can write legislation," Brinkley said, "that they can be a part of every senate committee even if they aren't senators themselves, or that they can attend every senate meeting we have."
"A successful term, to me, looks like more of the Body threading themselves within the proceedings of SGA year-round," he said.
Brinkley said that Revival was different from other tickets in the recent past because of a "level of respect and trust that we've established since inception."
"Our intentions are integrable and sincere, and showcase a variety of demographics that speaks for itself without even needing to campaign on the grand ideal of diversity," Brinkley said. "That's just who we are."
Rowell said that she would like to see student organizations partner with Senators to write legislation in the future.
Rowell said that this could "diffuse the power" and "create an SGA that is more representative of the student body, and that serves the student body to the best of its ability."
Within student government, Rowell said that apathy "manifested itself into incredibly poor retention rates."
"We made sure the candidates on our ticket were fully aware of the time commitment, the emotional impacts that come along with being a senator, and the expectations that we have going in to the next session," she said.
Rowell said that she saw themes of apathy in Revival serving as the sole ticket for student elections this year.
"There are plenty of capable people who could be running for student body president or vice president, but they chose not to," Rowell said. "We want to make SGA something students strive to serve on, we want to make SGA be an institution that students feel represented by and proud of, and we believe 'Revival' is the perfect name for that sentiment."
"The populations of WSU and the greater Wichita community have no shortage of potential, but apathy can serve as a blinder in that regard," Brinkley said.
"Purpose, persistence, and power are qualities that every Shocker is capable of," he said. "Too many of them that don't realize that yet, and we plan to fix that."
About the Contributor
Daniel Caudill, Editor in Chief
Daniel Caudill is the editor in chief for The Sunflower. A staffer at the paper since 2017, Caudill first covered Student Government Association and general...