#SaveStudentNewsrooms
Student media across the country threatened, especially in Kansas
They lock doors. They steal newspapers from racks. They shoot high school magazines with rifles. They set them on fire. They confiscate cameras. They threaten to pull funding.
"They" are censors, and you don't have to look far to find them.
Last spring, administrators locked Hutchinson Community College's student newspaper staff out of its newsroom after a series of articles exposing administrative and faculty bullying. This year, Butler Community College's student newspaper had copies stolen from the racks when they printed a story about a football player's arrest for murder in another state.
Eisenhower High students burned and shot copies of a student publication that featured an illustration of a Ku Klux Klan member as a Trump supporter. Shawnee Mission North student journalists had cameras confiscated by a principal for covering a protest with which he disagreed.
Emporia State's student government cut its student newspaper budget following an outstanding series of investigative stories uncovering sexual misconduct by a faculty member.
The examples listed above have all happened to student journalists and their publications in Kansas in the past year. But the problem is not unique to Kansas.
Student newsrooms across the country have come under increased threats this year, including The Sunflower, at a time when student newspapers are more important than ever to the communities they serve.
But why now? Student newspapers have always covered controversial subjects. They've always had a rebellious streak and exposed wrongdoing, propelled by a strong sense of justice. They've always pissed off administrators and student governments.
The question administrators and student governments across the country need to answer is why attempt to destroy something that's not broken — especially as its importance grows?
As professional newspapers struggle to gain a foothold in the marketplace of the 21st century, many are undergoing, or have already undergone, the same corporate transformation other industries made decades ago. The same goes for universities.
In some industries, like fast food, conformity maximizes efficiency and ultimately improves the product. For example, when McDonald's fries taste the same in Fresno, California, as they do in Wichita, that's good business.
But when a newspaper in Wichita is the same as the newspaper in Fresno, California, you can be sure readers in neither location are being properly served. When corporate owners demand the same conformity from newspapers as fast food restaurants, the consequences are dire.
Like newspapers, public universities are making a late transition from once-differing institutions to boxy, indifferent, bottom-line-obsessed corporate entities. As corporate universities become more alike, they must expend more money and effort on branding, insisting they're different from their competition — similar to the Cola Wars between Pepsi and Coke.
Student newspapers, protected by the First Amendment and relatively insulated by sustainable funding through student fees from the corporate forces hamstringing local newspapers, are caught in the middle of this madness.
But the sustainable funding that insulates student newspapers, like The Sunflower, from the corporate decisions diminishing local newspapers and universities across the country is in jeopardy. The First Amendment protections afforded student newspapers, too, have come under threat.
Student newspapers are now at a crossroads: do they continue bravely and independently serving their readers free from corporate influence and brand-building demanded by their intersecting industries — higher education and newspapers — or do they conform, sell their souls, and help build the brand of their schools in exchange for student fees.
For The Sunflower, this crossroads was clearly laid out in an email from an administrator. It was said we could not operate "without bias or control from anyone" because we receive student fees.
The answer for The Sunflower, and other ethical student newspapers across the country, is simple. A newspaper functioning as a public-relations arm of the university, suppressing confrontational coverage and giving a false impression of reality, is worse than no newspaper at all.
Student newspapers serve a vital role in our democracy and occupy a special place in our society that allows the truth to determine its coverage — not its profitability. In these tough times for student journalists, The Sunflower supports all student publications as they fight for their right to report the truth.
———
#SaveStudentNewsrooms
Leave a Comment
About the Writer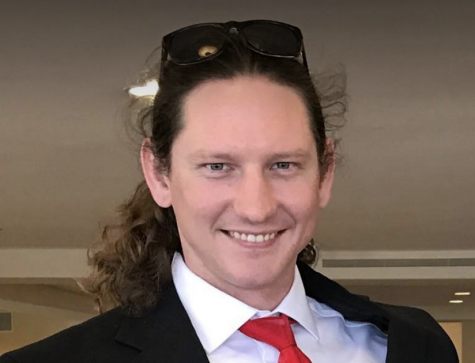 Chance Swaim, Former Editor in Chief
Chance Swaim was the Editor in Chief of The Sunflower from fall 2017 to spring 2018.

Swaim was a graduate student in the English Department working...