Antebellum literature presentation coming to campus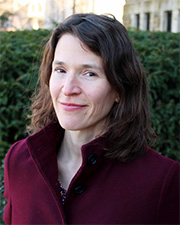 Kansas University's Laura Mielke, an associate professor and published author, will give a presentation on her soon-to-be released book on anti-slavery discourse in pre-Civil War era America.
The presentation, hosted by Sigma Tau Delta, will take place at 3 p.m. on Friday in Lindquist Hall Room 112.
Aside from her work as a professor at KU, Mielke's work has been widely distributed in the realm of early American literary criticism. Past publications of Mielke's include theses on early American captivity narratives, and examinations of Nathaniel Hawthorne and antebellum theatrical criticism.
Mielke's newest book, "Eloquence: Theatre, Violence, and Anti-Slavery Speech in the Antebellum U.S.," will present readers with a contemporary perspective on pre-civil war abolitionism in literature.
Sigma Tau Delta Adviser Rebecca Bechtold commented on the importance of Sigma Tau Delta's Speak Series and how students stand to benefit from attending.
"We want to show undergraduates a professional in literature," Bechtold said. "Even if they don't have a background in literature. Hopefully students will get a more in depth understanding of early American literature and how it helped shape the culture and society."
Sigma Tau Delta President Victoria Stewart said that Mielke's presentation could be a positive experience for those students outside the realm of the English department.
"This is different than the exposure they have had so far in college," Stewart said.
She mentioned that students outside the liberal arts college tend to have little exposure to literature outside of the core academic curriculum.
"I think this is an interesting opportunity for students to see what professors of English 101 and English 102 actually do in the field," Stewart said.
She noted that Friday's speaker series would be an opportunity to learn about literature firsthand.
"Students can ask questions of Dr. Mielke about her experiences as an author and a scholar," Stewart said.
Along with teaching at KU and authoring works of literary criticism, Mielke said she enjoys studying antebellum-era literature.
Mielke notes in her Kansas University faculty profile:
"I have found American Literature . . . to be a treasure trove of case studies."
View Comments (1)