Swaim, Sunflower win Betty Gage Holland Award
The Sunflower and former editor in chief Chance Swaim have been awarded the 2018 Betty Gage Holland Award for investigative reporting on enrollment, student housing, and a university investigation into the former student body president.
The award, which recognizes journalists and their publications for "distinguished service to honor and protect the integrity of public dialogue on America's college campuses," is co-sponsored by the James M. Cox Jr. Institute for Journalism Innovation, Management and Leadership at the University of Georgia Grady College and the Student Press Law Center (SPLC).
Both Swaim and The Sunflower received $1,000 from the sponsors.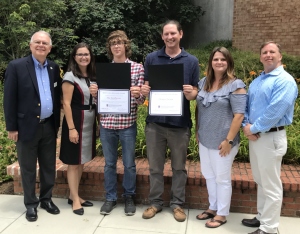 Swaim addressed a group of journalists gathered for the Management Seminar for College News Editors in Athens, Georgia — encouraging them to take their role as watchdogs for their universities seriously.
"You have to keep things in mind all the time about what's going on on your campus — who's the benefactor of each university decision?" Swaim said. "Because people don't just do things. There's always a reason something is being done, and it's usually money."
Sunflower adviser Amy DeVault praised Swaim for his inquisitive nature and dedication to research.
"These stories did not land in Chance's lap," DeVault said. "He's an incredibly good reporter, and what that means is he does his research."
"You have to have the curiosity and the skepticism to be able to find these kinds of stories."
Frank LoMonte, senior legal fellow at the SPLC and director of the Brechner Center for Freedom of Information at the University of Florida, said The Sunflower's coverage goes above and beyond college journalism.
"The Sunflower's commitment to no-holds-barred investigative reporting is doubly impressive in the face of bare-knuckled threats and intimidation by Wichita State's top administrators."
"By looking under the hood, by questioning those assumptions, by crunching their own numbers, these folks did the highest duty of investigative journalism — they held power accountable."
About the Contributor
Matthew Kelly, Former Editor in Chief
Matthew Kelly is a former editor in chief and managing editor for The Sunflower.  Kelly graduated in 2020 with a bachelor's degree in political science...