Linnabary: At Sugarland, the show's a party, and the duo's the soundtrack
Dang, that's a lot of drunk white chicks.
That was my first thought as I left the Sugarland concert at Intrust Bank Arena Saturday night, a two-hour set that touched on all their hits, past and present.
Sugarland, a country duo consisting of lead singer Jennifer Nettles and vocalist and guitarist Kristian Bush, started the show silhouetted behind a curtain. It dropped, and they immediately broke into the title track from their 2018 album, "Bigger."
The music sounded a lot like how Nettle's sparkling tights looked — fun, loud, sugary. Sugarland makes country-tinged pop music, a style of music which, like too much sugar, can get old quick.
But for someone who had only heard "Stuck Like Glue" before Saturday (and binged as many songs as I could in preparation), I didn't feel sick to my stomach an hour into the set. In fact, I was enjoying myself.
There was the moment the stadium came together singing "Stay," one of Sugarland's biggest hits, taking the reins from Nettles as they sang: "I'm so tired of bein' lonely/Don't I give you what you need?"
There were the couples dancing, laughing and singing through "Stuck Like Glue," toasting bottles of Bud Light and kissing while Nettles flailed her arms to her music.
And, in one of the few instances where the music wasn't doing the talking, the crowd laughed as Bush talked to a man in the crowd dressed in shorts and a white T-shirt: "You in the white T-shirt — you look like you didn't plan on being here. You look like someone made you come here. Your girl made you come here?
"Well, that's what Sugarland is all about."
It was a fun set with big hits, low stakes, and a lot of bad dancing.
I felt sad when I noticed the girl who I thought was Sugarland's biggest fan — who stood screaming the words to each song she knew — was gone before the halfway mark of the set. And it was upsetting to see the two 20-something dudes next to me leave minutes after asking if I was enjoying the show, though I could understand, if their whispers of a friend outside receiving a MIP were true.
Sugarland's music is like a party, so it made sense. People were coming and going. Emotions could overtake at one moment, replaced with dancing the next. Everyone was having fun. And just like any good night, through it all, the music — in this case, infectious, bubblegum country music — was the highlight.
Leave a Comment
About the Writer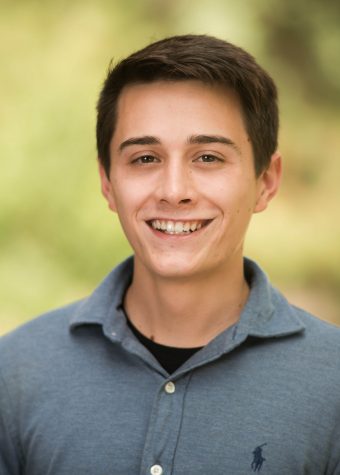 Andrew Linnabary, Former digital managing editor
Andrew Linnabary was the 2018-2019 Digital Managing Editor of The Sunflower. He studied journalism and minored in English. Linnabary is from Wichita, Kansas.