Lamb's long road trip to build 3 years of competitive scheduling
Volleyball opens conference play with its home-opener Friday.
Chris Lamb has had his team on the road for four weeks, competing in tournaments in Virginia, Utah, Nebraska, and Texas. Lamb sacrificed hosting events with sub-par competition to compete with teams like Brigham Young, Stanford, and Creighton — teams that are No. 1, No. 2, and No. 10 in the AVCA Coaches Poll.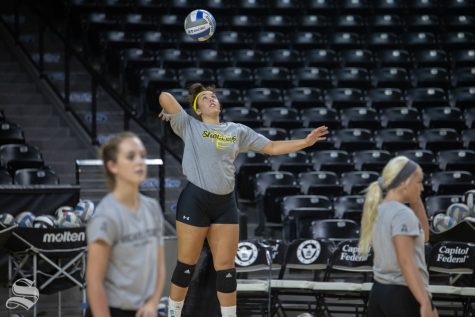 "I don't say that I'm looking to get the girls on the road for a month straight, but I like how I negotiate things," Lamb said on his weekly coach's show Monday. "You're going to give a little to get a little — and more."
It's a risk-reward method, Lamb said. The payoff of an extended road trip will translate into top-tier non-conference opponents competing in Koch Arena.
Next year, WSU will host Virginia Commonwealth, Brigham Young, and Texas. The following season, they'll host Cal Poly and North Texas.
"You have to plan ahead to make things like that happen," Lamb said.
Lamb said "it's not worth it" hosting tournaments if opponents "don't bring some firepower with them."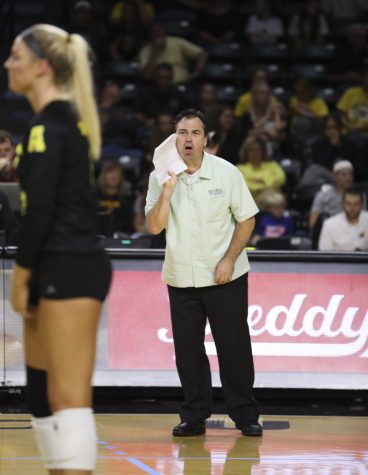 WSU has six losses on the season to pair with their five wins. Three of those losses are to teams ranked in the top-10 of the AVCA coaches poll. The other three are marginally outside the ranks.
"If you need to see wins on the scoreboard, maybe I'm not the guy for you," Lamb said. "I don't have to have that."
WSU received votes in the first four AVCA polls despite not having a signature win.
The Shockers will host Tulane at 7 p.m. Friday at Koch Arena. They'll play again at 1 p.m. Sunday against the Memphis Tigers.