Freshman overcomes Division I doubts, reaches new heights at Wichita State
Megan Taflinger keeps getting better.
Megan Taflinger didn't know if she would play collegiate volleyball, let alone at a Division I school.
Taflinger is from Leona Valley, a small California town outside of Quartz Hill, where she graduated high school. Growing up, she worked on cars, spent time with her family, and played volleyball.
Throughout high school, Taflinger bounced around — playing for five club teams in a matter of four years. She wanted to find the right fit that would get colleges interested in her.
"I just wasn't getting anywhere," Taflinger said.
She knew the level of volleyball she was playing at during that particular time wasn't high enough to get coaches' attention.
"Each year, I would change to try and find a team that was in the higher division, so coaches would come and watch me play," Taflinger said.
The constant change was difficult. Taflinger was never with the same girls. Building team chemistry was near impossible.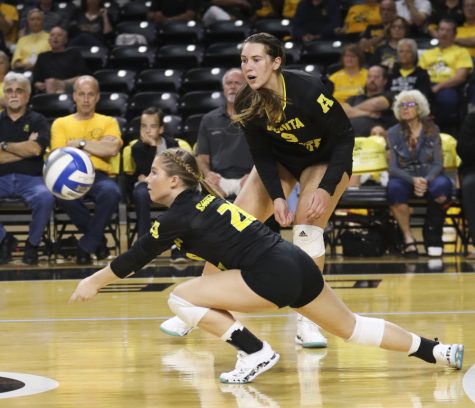 "It was difficult at that time," Taflinger said. "I was playing with girls that have been playing together for four or five years. I was just constantly being incorporated in every way possible to see if I could play well with them."
Taflinger was set on playing at a higher level.
"It could get frustrating from time to time, but it was worth it," Taflinger said.
She wasn't getting the offers she wanted. She drew offers mainly from Division II liberal arts schools. With her heart set on engineering, that wasn't going to work.
During a team camp at UCLA, Taflinger caught the eye of UCLA Assistant Coach Tony Ker. Ker, a close friend of WSU Assistant Coach Sean Carter, promptly called Carter, telling him about a girl he might like for his program.
Taflinger quickly committed to WSU.
After redshirting her freshman season, Taflinger has found success on a depleted WSU team. She recorded her first career double-double in a five-set victory over Tulane. She topped career highs in both kills (24) and digs (17) in five sets against Tulsa.
"Every day that goes by, Megan is a six-rotation player," WSU Head Coach Chris Lamb said. "You're just grooming a future star at Wichita State, and those are hard to come by."
WSU senior Kali Eaken praised Taflinger for her abilities in the front line.
"She makes my job easier," Eaken said. "She's not afraid to take a rip at it."
Taflinger continues to set new personal records, week by week. Her weekly improvements are boosting her confidence levels through the roof.
"Every time I play better than I did, it just brings more confidence in the fact that I belong out on the court," Taflinger said. "There's always that thought in the back on my head asking me if I'm good enough to play. Every time I get better, it reassures me that I should be out there."
Off of the court, Taflinger, who graduated from high school with a 4.7 GPA, shines in the classroom. She's a double major in biomedical and mechanical engineering.
"My dad is a mechanical engineer, and I grew up helping him work on cars and engines and I loved doing it," Taflinger said. "I really want to do well in school, and I want to do well in volleyball.
She said work ethic is key in both engineering and volleyball.
"It's all about working hard and getting the job done."