Injury-plagued Shockers force No. 1 Cincinnati to five sets
Wichita State is banged up.
Even though they beat East Carolina on Friday, the Shockers took some losses. Senior Kali Eaken suffered a knee injury in the first set against the Pirates. She didn't play Sunday, and had a brace on her knee. Megan Taflinger, who has become a key rotation player for the Shockers, didn't play Sunday after straining an abdominal muscle in Friday's game. Taflinger is listed as "day-to-day."
WSU's depleted rotation lost on Sunday to the American Athletic Conference's No. 1 team, Cincinnati.
Cincinnati entered with the nation's No. 1 hitter, Jordan Thompson. Thompson sat out last year for a redshirt season. Thompson had 44 kills in the Bearcats' five-set victory over the Shockers. Her 44 kills was a conference record, and record for most kills in Koch Arena history.
"We haven't seen that kind of heat since Stanford," WSU senior Tabitha Brown said. "And we won't see that kind of heat until we see them (Cincinnati) again."
Thompson, also leads the nation in kills and kills per set. She's been the AAC's offensive player of the week for six weeks, and was named the preseason player of the year.
"She's not the typical hitter you're used to," Brown said. "When you have a freak out there, you just have to do what you can do. You have to limit the mistakes."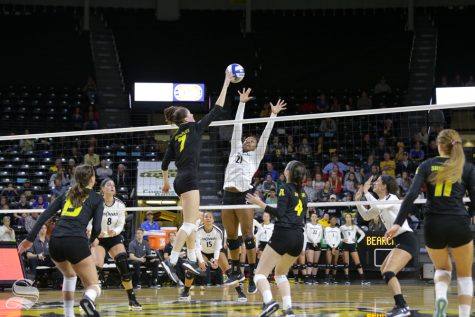 Too many mistakes down the stretch allowed Cincinnati to pull away late and win in five sets.
"We just need to focus on the little things," Giorgia Civita said. "We should get the easy balls, and the slow-moving ones. We just didn't do all of the little things right."
Even though the Shockers lost Sunday, the team showed a lot of promise going forward. Brown finished her day with a career-high 28 kills. Civita gathered 26 digs on the night as well.
WSU Head Coach Chris Lamb was most impressed with the play from Kora Kauling.
Kauling stepped up in place of the injured Eaken, and recorded career-highs in digs (11), assists (51), and kills (5).
"She stepped up huge for us today," Lamb said. "At the end of the day we have to find out if the 5-1 works.
"She did well, but we have to find two scorers behind the setter, and right now we can't find one."
Overall, Lamb is "really, really happy" to have battled the Bearcats the way that his team did Sunday.
"We had a lot in front of us today," Lamb said. "Given the circumstances, we put ourselves in a position to win.
"That is a nice thing to take away from this game, we just need to find more offense."
The Shockers (9-9, 4-3) are now sitting at fourth in the conference heading into next weekend's Texas road trip where they will take on Southern Methodist and Houston.
Leave a Comment
About the Contributor
Marshall Sunner, Sports Editor
Marshall Sunner is the Sports Editor for The Sunflower. Sunner is a sophomore majoring in communications with a journalism emphasis. He was born and raised...