Shockers use second half push to squeak by Division-II school  
Gregg Marshall didn't expect Tuesday's season-opener versus Catawba to be pretty.
"We were a little worse than what I thought we would be tonight," Marshall said.
A young Wichita State team — one of the youngest teams in the country — squeaked by Catawba, a Division II opponent from North Carolina.
Newcomers struggled to gather their footing in the nearly sold out game, while freshman Jamarius Burton put on a show.
Burton, a 6-foot-4 guard from North Carolina, recorded 16 points, five rebounds, and three assists all while only missing a single shot in the game. His only miss was partially blocked after leaving his hand.
"He's just got a very mature way about him, and not just in his basketball game," Marshall said. "He's really methodical, doesn't get sped up, and handles situations well. He's an old soul."
Burton led all scorers at the half where he scored 12 of his 16 points. The Shockers struggled in the first half, where they held a 34-31 lead at the break. WSU shot a low 39 percent in the half, and even worse from 3-point distance.
"I told them you're in a dog-fight and you've got 20 minutes to not be a national story," Marshall said.
Samajae Haynes-Jones, one of the team's two seniors, turned his game around in the second half. Haynes-Jones caught fire from behind the arc, and displayed an improved pull-up game, scoring 11 of his 19 points in the second period.
"That's me being a leader," Haynes-Jones said. "I have to pull these young guys together and just keep going throughout the game."
WSU scored 41 second half points to pull away from the Indians, eventually winning 75-64.
"My staff has a lot of coaching to do, and we have to get these guys to speed up on defense and rebounding, and slow down on offense," Marshall said. "It's just going to be a lot of work, and hopefully these kids will buy in to it."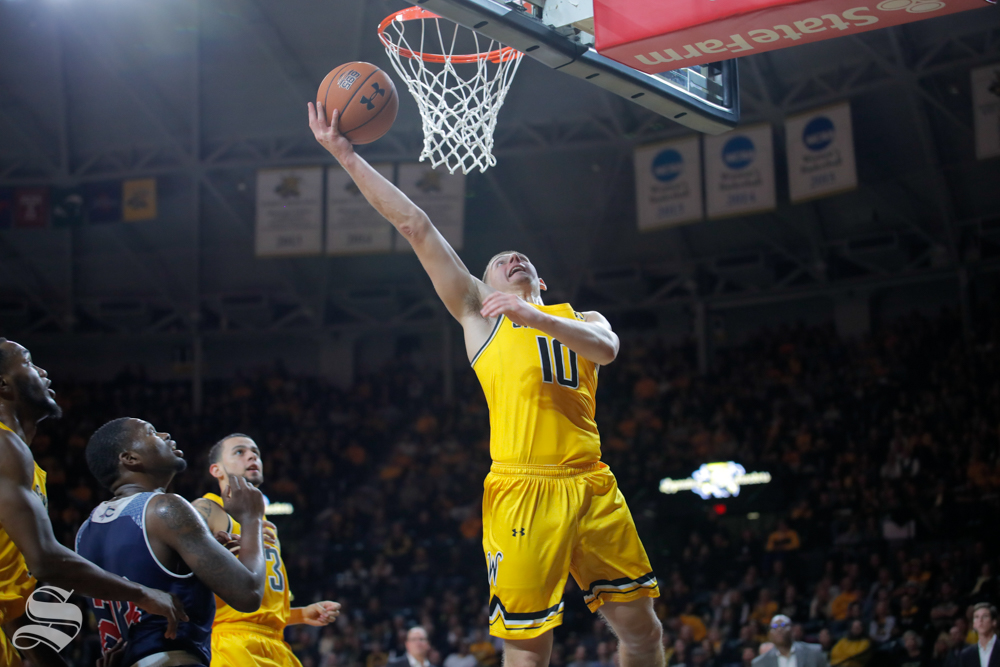 Joseph Barringhaus
Nerves played a factor for the newcomers tonight, some just handled them better than others.
"My biggest focus coming out was not even to focus on the crowd," Burton said. "That was my whole thing, I didn't even look at the crowd.
"I just tried to stay locked in and pay attention to my leaders and Coach Marshall."
WSU opens the regular season at home versus Louisiana Tech on Nov. 6 at Charles Koch Arena.
Hang on for a minute...we're trying to find some more stories you might like.
About the Writer
Marshall Sunner, Sports Editor
Marshall Sunner is the Sports Editor for The Sunflower. Sunner is a sophomore majoring in communications with a journalism emphasis. He was born and raised...