Question and answer with Kellen Marshall
Kellen Marshall, son of Men's Basketball Head Coach Gregg Marshall, is a business management senior. He is also an integral piece of the men's basketball team.
Kellen Marshall agreed to a question and answer with The Sunflower. Here are his responses.
Why'd you choose Wichita State?

My dad's team has always been a huge part of my life, and I wasn't ready to walk away from that. My freshman year was Fred (VanVleet) and Ron's (Baker) senior year, and to not be around two guys who are like my big brothers for their final year was something I just couldn't see myself doing.

What's your role on the team?

I help with scouting, breaking down game film, individual skill work, finding out the other team's play calls (during the game), and overseeing day-to-day operations of our manager staff.

What's it like working alongside your dad?

It's a blessing. The older I get, I know I will look back on all the time I get to spend with him helping his team as something that is really, really special. I learn so much every year, and every day.

What would you like to do post-graduation?

My plan as of now is to be a graduate assistant here at WSU and continue to help the team while I work my way up the coaching ranks, aspiring to follow the footsteps of my dad.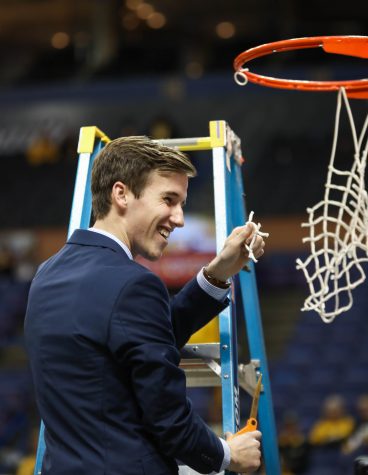 What's it like growing up with your dad being the basketball coach?

It is pretty cool. Sometimes I don't realize how much he means to the community, but when we are out in public and people come up to him just to show love and appreciation every single time, it is awesome. Sometimes I even get recognized by people I don't know — which is kind of weird but kind of cool — but it just shows how much Shocker Nation and the city of Wichita cares about our team.

Favorite basketball memory?

March 22, 2015. Wichita State 78 Kansas 65. Best day ever.

Favorite memory at Wichita State?

This is tough. … Fred, Ron, and Evan's senior day game and the celebration the rest of that day and night was awesome. But, I will have to say my favorite memory was the win at Cincinnati last year. That was a hell of a win over a really tough team in a daunting environment, and we celebrated accordingly in that locker room afterwards.

Favorite basketball player? Why?

I love Michael Jordan, he's the GOAT. His mental edge over every other basketball player ever is why his GOAT status will never change. Aside from him, though, I am a huge Paul Pierce guy. Always been a Celtics fan and you got to love "The Truth."

Who'd win on a game of one-on-one between you and your dad?

Depends on if fouls were called and what the game goes to. He is old but he has that old man strength. If it's a game to 5, he might win. If we go to 15, he would get worn out.

Favorite sports movie?
What's one thing about you that most people don't know?

I love to act, do impressions, all that stuff. And I can do magic tricks.

Who has been your favorite player to work with?

Bake (Ron Baker) is my dude. We still work out in the summer when he's back in town. It's been really cool getting to see how a pro works on his craft.
— Questions by Evan Pflugradt
Leave a Comment