Gregg Marshall: 'Worst officiating I've seen in a long time' following 2 game-changing technicals
Wichita State freshman Erik Stevenson looked Cincinnati's star player Jarron Cumberland in the eyes and muttered, "I'm not afraid of you."
The result changed the game.
Officials broke into the banter of the two heated teams, and assessed Stevenson with a technical foul for his comment. Stevenson solemnly walked to his coach, and told Gregg Marshall "I told him 'I'm not afraid of you.'" Marshall darted at the official. It took the entire bench to hold WSU's seasoned coach back.
Boom, another technical. Marshall's second of the year.
Marshall stayed in the ear of the official for all of Cincinnati's six free throws. For the time, coaching took a break. Marshall was livid, and he didn't want his message to go unnoticed. His comments continued for a series of ensuing possessions.
This series, reunited by the Shockers joining the American, has been testy. The last two games have each been decided by a sole possession — and last year that decided the conference champion.
Tensions were high. Words were exchanged. WSU caught the bad end of it all.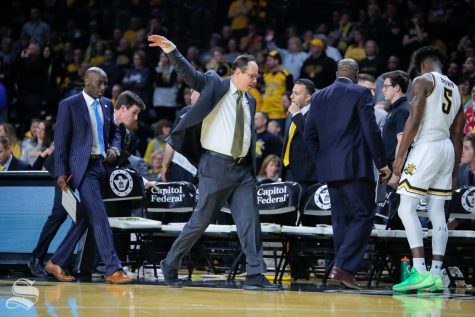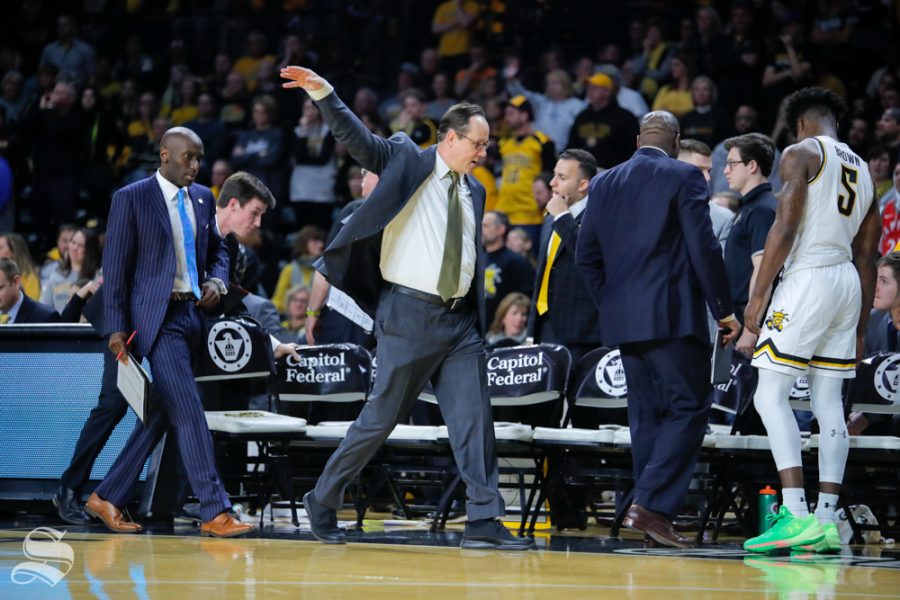 Cincinnati capped the win at the free throw line, where they lined up for 35 attempts. WSU had seven.
"That was the worst officiating I've seen in a long time," Marshall said at the conclusion of the game. "I felt like a road team inside Koch Arena."
WSU's sell-out crowd took notice to the foul disparity, as chants filled the arena.
Refs, you suck.
Refs, you suck.
Refs, you suck.
After knocking in those six free throws, Cincinnati had only time in their way. Run the clock down and win the game.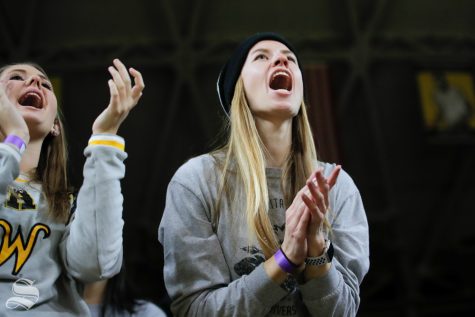 But for WSU, there were statements of the officiating to the final buzzer. With a too little, too late rally, the Shockers put pressure on the Bearcats in the backcourt. On an inbounds play, Cincinnati's Cane Broome was clearly trapped. Running out of time, he motioned for a timeout.
"Timeout. Timeout. Timeout."
The officials blew a whistle. Stevenson was charged for the foul, his third.
It just didn't make sense.
"We didn't even know how to feel after that game," WSU's Markis McDuffie said. "I thought we played our hearts out, but things just didn't go our way."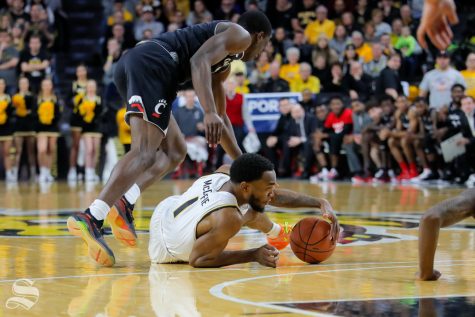 Leave a Comment
About the Contributors
Marshall Sunner, Sports Editor
Marshall Sunner is the Sports Editor for The Sunflower. Sunner is a sophomore majoring in communications with a journalism emphasis. He was born and raised...
Joseph Barringhaus, Sports Photo Editor
Joseph Barringhaus is the Sports Photo Editor for The Sunflower. Joseph is a senior at Wichita State majoring in marketing with a minor in communications....