Shockers continue to move up from the bottom of the American
Wichita State climbed back from a nine-point deficit in the second half before stealing a victory from Tulsa on Saturday.
Dexter Dennis put an exclamation point on the Shockers' best two-game stretch, with a highlight-reel worthy dunk in the final seconds of the game. In front of the home crowd, the Shockers turned a 180-degree difference from where they were a week before. Dennis made a season-high three three-pointers, and was arguably had the best play of a crowded list of guys who played at their best all season.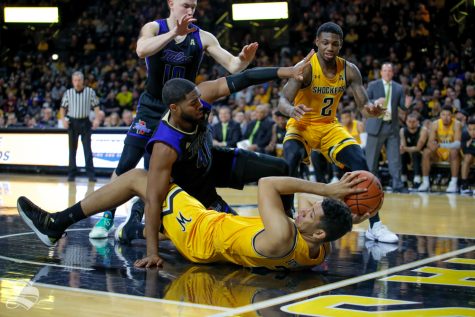 Markis McDuffie scored a game-high 27 points. Jaime Echenique has posted double-figures in consecutive games. He'd averaged just four points in the six games leading up to that point. Jamarius Burton is shooting 50 percent from three in the last three games, having hit just one in his six games prior.
"That was fun," WSU coach Gregg Marshall said. "That was some of the best basketball we have played."
Marshall said the team was "pursuing the basketball like it's a steak and we haven't eaten in a while."
The Shockers have a spark of confidence after a horrific start that included a 1-6 start to conference play and two of the program's worst offensive games in recent history. Still, it's now February and the program seeks its first road win of the season. They'll get that chance on Wednesday at East Carolina.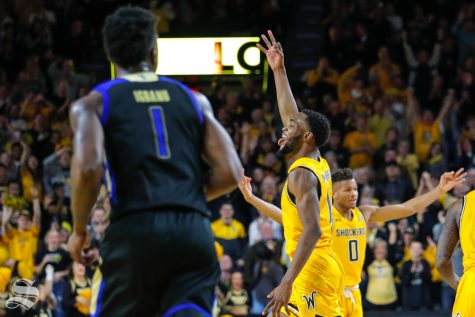 "We all know as a group, we haven't won a road game," McDuffie said. "My job, starting from now until that game, is to keep talking to these guys, letting them know this is big; we need this one."
The Pirates have a 2-7 conference record. That doesn't guarantee much, but it's an opportunity for the Shockers who are 0-6 on the road this season.
Should the Shockers win, they'll have the chance to carry a winning streak potentially through mid-February. With a top-10 strength of schedule, WSU's hardest games are behind them. The schedule opens up with Tulane, who is winless in AAC play, twice this month. They have Tulsa and Southern Methodist once more, too. And they're done with Houston and Central Florida, who remain near the top of the conference standings.
"We tend to get to a low-point," McDuffie said of the team's struggles on the road. "We need to stay together. We are getting a lot better right now, and I think we've got a chance to show a lot of improvement in this next road game."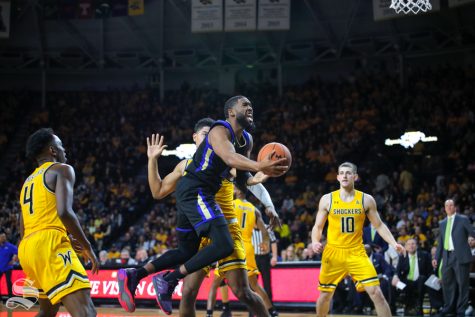 Leave a Comment
About the Contributors
Evan Pflugradt, Sports Editor
Evan Pflugradt is the former Sports Editor of The Sunflower.

Pflugradt past served as the publication's Editor in Chief, Opinion Editor and a reporter....
Joseph Barringhaus, Sports Photo Editor
Joseph Barringhaus is the Sports Photo Editor for The Sunflower. Joseph is a senior at Wichita State majoring in marketing with a minor in communications....