Gregg Marshall gives update on Asbjørn Midtgaard
Asbjørn Midtgaard is expected to play in Wednesday's game against East Carolina.
At one point in play Saturday against Tulsa, the Wichita State's lone 7-foot center took an elbow to the face and had his head snap back and hit the court. He did not return to play and stayed in the locker room for the remainder of the game.
Midtgaard has not been placed under concussion protocol, according to Wichita State coach Gregg Marshall.
"He's a smart guy. He answered all the questions correctly," Marshall said of Midtgaard's concussion protocol examination.
Midtgaard participated in non-contact drills on Monday and is said to have been integrated back to regular practice on Tuesday. Marshall said he expects Midtgaard to play Wednesday at East Carolina.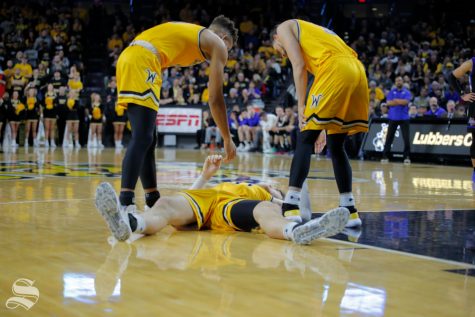 Midtgaard has taken on extended minutes as the team's relief forward, while junior forward Jaime Echenique continues to nurse an injured left foot. In the last six games, Midtgaard has averaged five points and nearly four rebounds in 16 minutes of play. Twice in that stretch, he's topped his career-high in points. Still, Marshall believes the colossal forward has had too gentle of an approach transitioning to American basketball.
"His mom is an awesome lady, but I think she told him to be gentle growing up," Marshall said on his weekly coach's show Monday. "He's got this gentle, kind heart."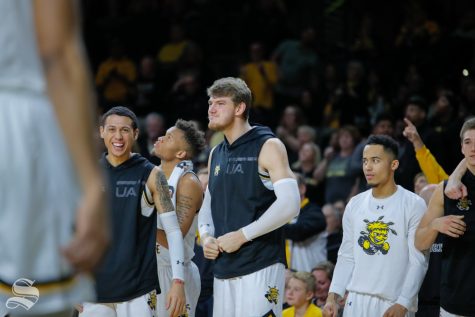 That play nice attitude hasn't translated well in the low-post, where Midtgaard has let scorers get and-one opportunities with light contact. Marshall has said he's had to stop practices in the last year-and-a-half to challenge Midtgaard to play the kind of "dirty" play one would expect from a 7-foot, 285-lb center.  Marshall said a little contact and a forward of Midtgaard's size would easily knock a player to the floor before he could get a shot up.
Marshall will look for ways to integrate Midtgaard in Wednesday's game against East Carolina, a game the Shockers would desperately like to win. It'll be the team's first road win of the season, should they pull it off. Though East Carolina is at the bottom of the conference with a 2-7 conference record, Marshall isn't exactly looking at the game as though it's in the bag.
"We can't look at anyone as the bottom of the standings because we're at the bottom of the standings," Marshall said Tuesday.
The Shockers have won back-to-back games (both at home) and have gradually climbed closer to the middle of the conference standings. Saturday, WSU closed a win against Tulsa after battling back from an eight-point deficit. Progression, sure, but Marshall will hold back from crowning the team as having matured until they've closed out a game on the road.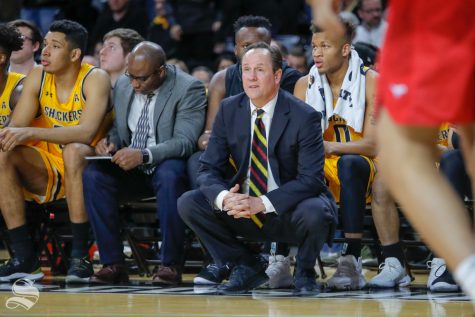 Leave a Comment
About the Contributors
Evan Pflugradt, Sports Editor
Evan Pflugradt is the former Sports Editor of The Sunflower.

Pflugradt past served as the publication's Editor in Chief, Opinion Editor and a reporter....
Joseph Barringhaus, Sports Photo Editor
Joseph Barringhaus is the Sports Photo Editor for The Sunflower. Joseph is a senior at Wichita State majoring in marketing with a minor in communications....