Lipscomb's late rally ends Wichita State's season in NIT semifinals
Lipscomb's Garrison Mathews' 3-pointers were painful.
Wichita State trailed 35-30 when Mathews hit a dagger 3-pointer over the Shockers' Markis McDuffie. Mathews already had 23 points, and now had the Bisons ahead by eight. He was scoring from inside, outside, and hitting every second-chance shot the Bisons had — and he was in McDuffie's head.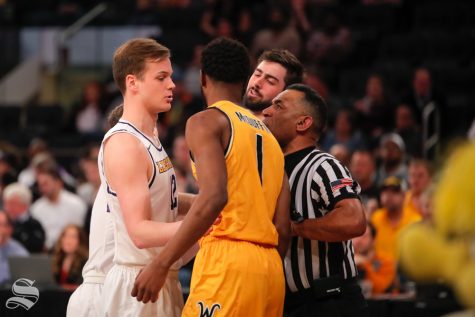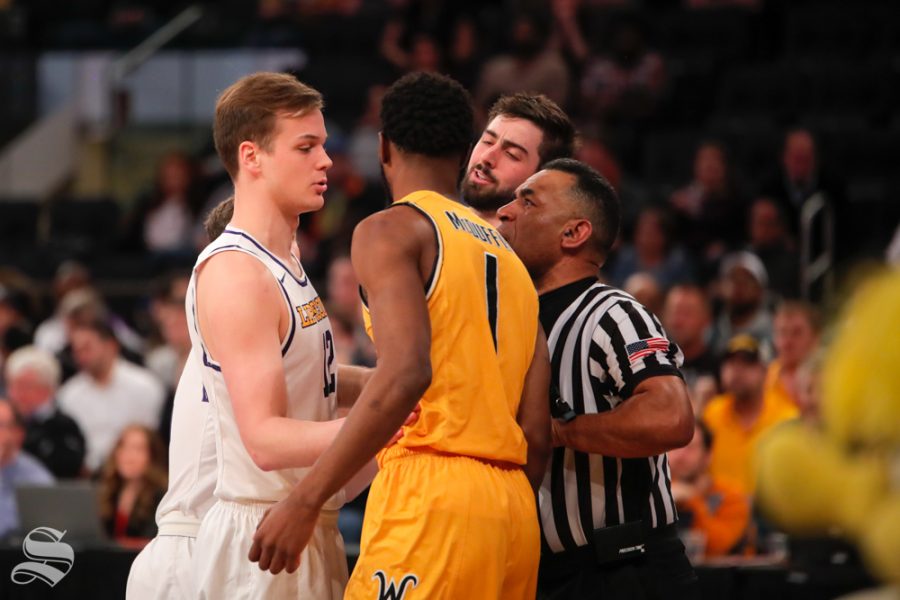 Gregg Marshall raced to McDuffie at the media timeout. He pulled him into his arms and started yelling. "You need to calm down. You need to calm down. Calm down," he barked at his four-year senior.
McDuffie struggled to fight frustrations. He turned the ball over, missed step-backs and was off the mark on nearly every 3-pointer he tried to take. It wasn't until Wichita State took an encouraging nine-point lead — its first of the second half — that McDuffie, and the rest of the Shockers for that matter, finally felt like there was a chance. Then, the Bisons stormed.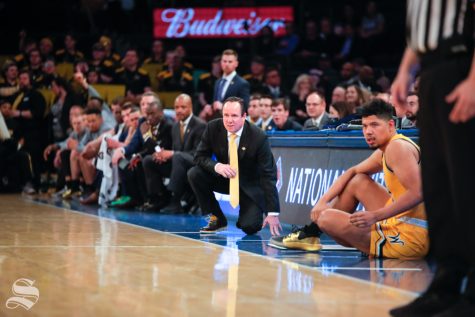 Wichita State lost to the Lipscomb Bisons 71-64 in the semifinals of the National Invitation Tournament Tuesday night in Madison Square Garden. Lipscomb took the lead from Wichita State with 70 seconds left in the game after Mathews hit a deep 3-pointer over the outreached arms of Wichita State's Dexter Dennis.
"He's a hell of a player," Dennis said of Matthews. "I tried to slow him down as best I can, but he made those shots."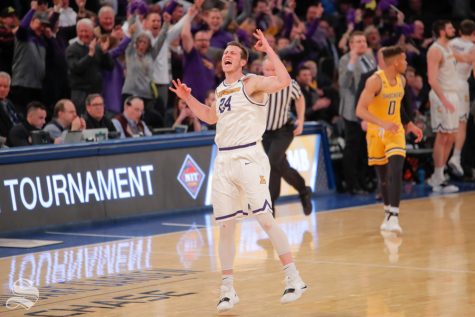 Lipscomb scored 14 unanswered points in the final 3:25 of the game. McDuffie finished with 12 points on 4-15 shooting and one made basket in the second half.
"I can remember a lot of nights where it just felt like the ball couldn't go through the rim, and tonight was his night," Dennis said of McDuffie's off shooting night. "It sucks, but that's how basketball is. We didn't want it, but that's how it goes."
The Bisons cut a double-digit to a five-point game with under four minutes left in play. Wichita State's Jaime Echenique was irate. A foul was called, but that wasn't the reason for his misery. Wichita State had won the game, and only time stood in the way. Then the Shockers went into a seven-minute scoring drought, and all of a sudden, the Shockers had to compete to win the game.
"That was a tough way to end the season," Marshall said. "We went stone cold."
The Bisons brought the score to 64-60 with 3:07 in play. Echenique was stopped with the ball in his hands and as the buzzer sounded for a shot-clock violation out of the timeout. That's when the Bisons cut it to 64-62.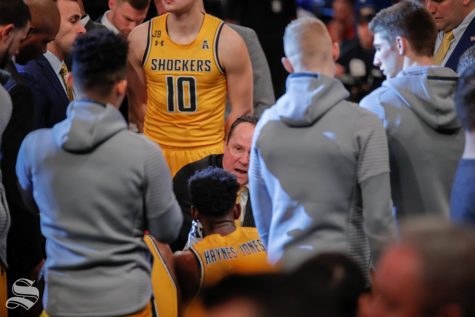 Marshall stood in awe. How did this one get away?
"It's hard to be disappointed with this group," Marshall said. "It's disappointing that we're not playing for a championship."
It was a tie game with two minutes left. McDuffie slipped on the court and traveled. Echenique was on the bench with four fouls. Mathews was poised for a big moment and he delivered, knocking in a long 3-pointer with 40 seconds left. The crowd was stunned. Lipscomb hadn't lead since early in the second half, and now they were seconds from stepping on the throats of Wichita State players.
Lipscomb was called for a 10-second violation getting the ball up court. Wichita State had one final shot to tie it. Wichita State freshman Erik Stevenson traveled trying to put up a 3-point shot to tie it. McDuffie was depleted, frustrated and upset.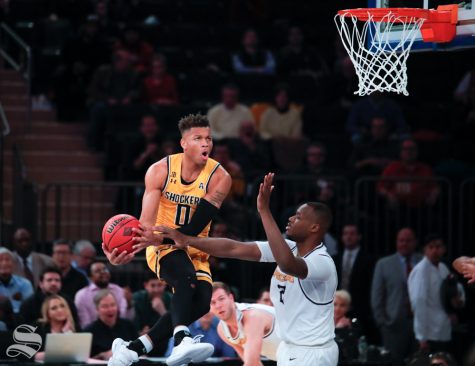 "I wanted to try to help these seniors get on the great farewell tour and try to win this game," Dennis said. 
It was early Tuesday morning, and Coach Gregg Marshall's words were starting to sound repetitive at that point. He simply couldn't say it enough: "Don't be surprised at the pace they run their offense."
Wichita State's opponent was intensely quick on its feet. To advance to the semifinals in Madison Square Garden, the Bisons needed to score 94 — and they did so in a flash.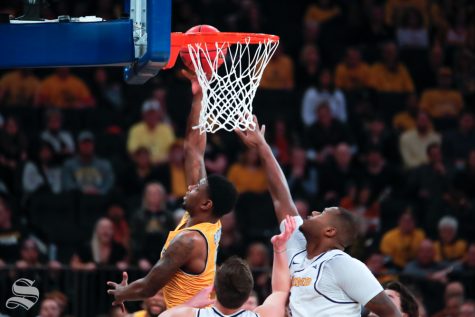 Lipscomb's Mathews, who scored 44 in the quarterfinals, wasn't willing to wait for anyone. He scored 10 of Lipscomb's first 14 points, putting the Shockers into a scare. Wichita State's well-traveled fan base was put to an intense silence.
Wichita State's only hope to stay in the game was to match Lipscomb's pace. Samajae Haynes-Jones challenged Lipscomb to a race, and the Shockers' intensity followed suit.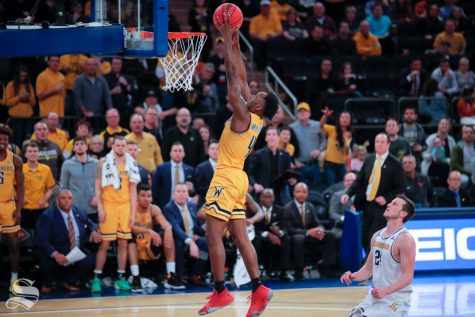 Haynes-Jones in transition put the Shockers ahead for the first time in the game. In the second half, Haynes-Jones broke free for a quick two-handed slam. Stevenson had one of his own a couple of minutes earlier when Wichita State led by 11 and had the game all but put away.
Mathews had 18 points by the half, and the Bisons held a 35-30 lead. Outside of Mathews, the Bisons had little scoring. Only Mathews and reserve Matt Rose had a 3-pointer.
It became clear: stop Mathews and advance to the NIT championship. Wichita State had decided its game plan would not be to slow the Bisons, but match its tempo. For a time, the Shockers did. Matthews outplayed the Shockers at his own game of transition baskets and quick-trigger 3-pointers.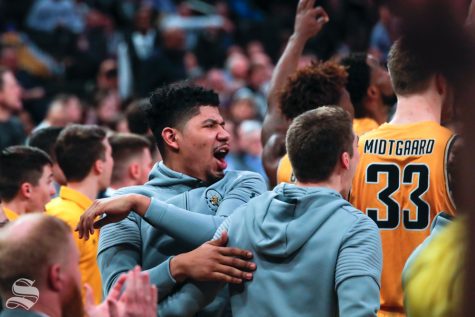 McDuffie and Haynes-Jones checked out of the game in the final seconds. In the locker room following the game, Haynes-Jones was processing the moment. A media relations liaison tried to pull him away for a press conference. Smiling, Haynes-Jones tried to hide his expressions. He still couldn't process that this was end of his brief two-year stint with Wichita State, the home team of the city he grew up in.
"I'm just reflecting on all of it right now," Haynes-Jones said, "from my high school year to right now. It's been a blessing."
McDuffie leaves Wichita State in the record books. He's just outside the top 10 of the program's scoring records. He has the third-most points of any Shocker in a single season. His jersey will one day hang in the rafters.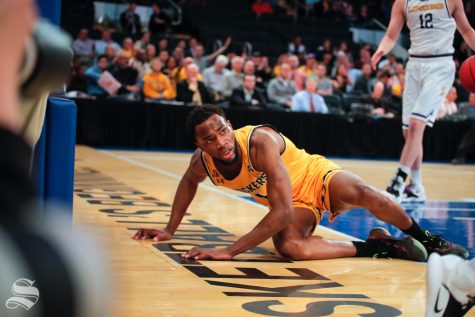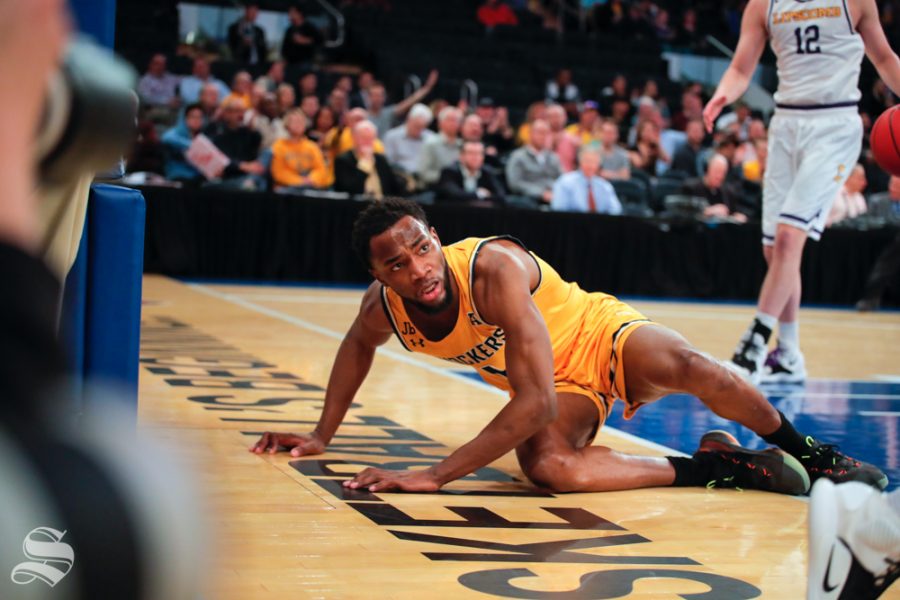 "I knew when I wanted to commit, I wanted to have no regrets — and I have none," McDuffie said. "I had no thoughts about transferring. I wanted to make sure that I'd be loyal to this school and this community."
Haynes-Jones, his roommate, praised McDuffie's ability to stay poised during adversity. When the team was three games below a .500 record, when the Shockers lost to Oklahoma by 32 and when it lost six of its first seven conference games, McDuffie stayed poised.
"He was our leader, our backbone," Haynes-Jones said of McDuffie. "He made me grow up in a lot of ways. He was always positive despite all the adversity in his life and with this team. He always stayed poised. It reflected on us in a great way."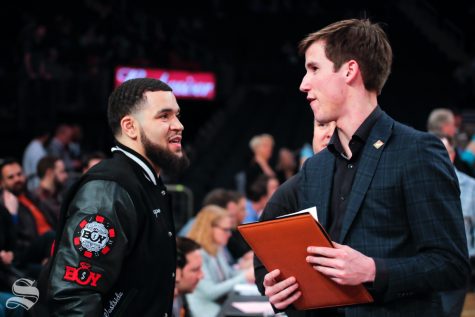 Leave a Comment
About the Contributors
Evan Pflugradt, Sports Editor
Evan Pflugradt is the former Sports Editor of The Sunflower.

Pflugradt past served as the publication's Editor in Chief, Opinion Editor and a reporter....
Joseph Barringhaus, Sports Photo Editor
Joseph Barringhaus is the Sports Photo Editor for The Sunflower. Joseph is a senior at Wichita State majoring in marketing with a minor in communications....