Panthers break nation's best home winning streak at Koch Arena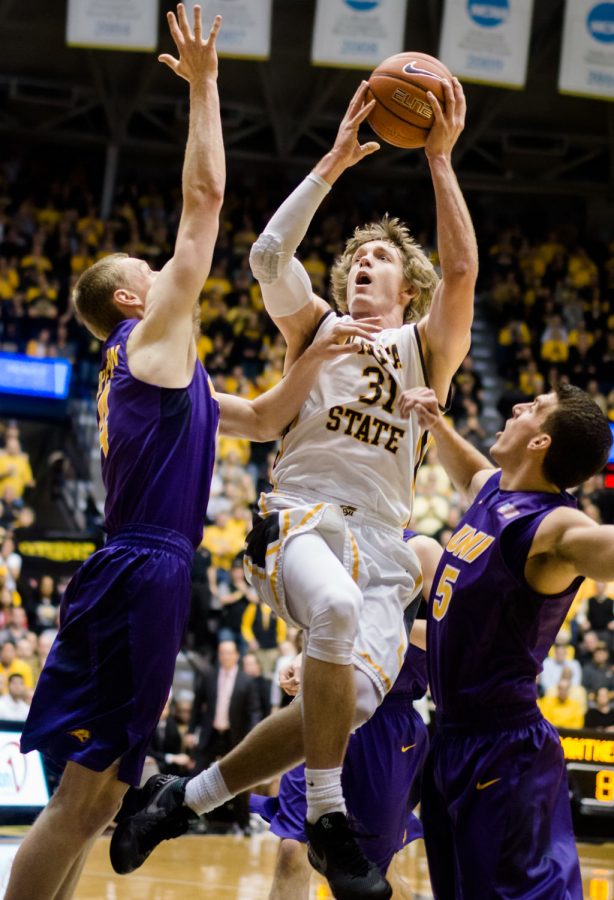 Northern Iowa guard Matt Bohannon has a knack for crashing parties.
Bohannon, now a senior, has claimed his fair share. The Panthers upset No. 1 North Carolina earlier this season and a month later they took down then-No. 5 Iowa State.
It's been an epic roller-coaster of a season for Bohannon, but one victory stood looming on his list: a win in Charles Koch Arena.
"Wes, Paul and I were talking earlier, we haven't won here," Bohannon said. "They had the nation's longest home winning streak, that adds even more to it."
The Panthers defeated Wichita State 53-50 on Saturday, ending the nation's longest home winning streak at 43 games.
"It takes a total group effort, a bunch of guys who care about each other and want to do it together," Bohannon said. "Today you saw nine guys who wanted it more."
Wichita State's duo of Ron Baker and Zach Brown mounted a quick four-point advantage over the Panthers, combining for 12 points in the first five minutes of play.
WSU forward Anton Grady came off the bench to contribute four points on back-to-back baskets, but the Panthers kept pace offensively.
With a one-point lead, Baker stepped back for a three-pointer, and the ball caught the bottom of the net and the Shocker Faithful present in Koch Arena intensely shook with delight — enough to compete with a  5.1-magnitude earthquake in northwest Oklahoma that rocked the Wichita-area.
Baker posted 12 first-half points. Under four minutes in the half, the Shockers held a one-point lead over UNI head coach Ben Jacobson's group. But foul efforts allowed the Panthers to come storming back.
A three-pointer from UNI sophomore forward Klint Carlson extended a 12-0 run over WSU as the first half expired. UNI held an 11-point advantage at the break, and Carlson led with 10 points on 4-5 shooting.
UNI senior Wes Washpun flushed a dunk early in the second half and the Panthers comfortably held a 15-point lead.
VanVleet looked up at the scoreboard and saw only one thing: his 43-game home winning streak slipping away. The three-year streak VanVleet helped build was not one he would willingly hand over.
VanVleet would pass to Markis McDuffie for a three-pointer, ending a six-minute Shocker drought. The senior point guard, VanVleet, then tossed in back-to-back three-pointers in ensuing possessions.
Washpun, trying to pull the momentum back in favor of his teamwas called for a travel at half court as the Shockers forced UNI to four turnovers in the span of three minutes. Gregg Marshall's team triumphantly stormed back with a 17-2 run to tie the game at 44.
WSU missed five attempts to take the lead.
"I knew if we could take the lead, this [crowd] would really support us," Marshall said. "We couldn't get one to fall down."
Four-minutes-and-32-seconds of scoreless basketball was ended by a three-pointer from UNI guard Wyatt Lohaus.
Lohaus would nail a step-back jumper on the next drive. The Panthers reclaimed a two-possession lead.
WSU trimmed down a late six-point deficit. With 2.8 seconds remaining, Conner Frankamp missed a three to send the game to overtime.
"[Conner] used the screen and curled. Down three, in that situation, it's what he's designed to do," Marshall said. "That's as good of shot as you're going to get."
Frankamp finished the game scoreless on five attempts.
Baker finished scoreless in the second half, missing seven shots and a three-pointer to tie the game with 10 seconds remaining.
"The numbers show, we didn't shoot the ball well," Baker said. "I was stressing it too much, trying to force it, getting frustrated … I didn't let the game come to me."
VanVleet, Baker and Frankamp combined for 22 percent on 36 shots.
"Shot-making is a great equalizer," VanVleet said. "When you make shots it helps cover up a lot of stuff. When you miss it exposes everything."
WSU missed 46 shots.
The Panthers won for their sixth-straight victory, advancing to an 8-6 conference record. UNI is now a game shy of second place in the Missouri Valley after starting the conference season with a 2-6 record.
WSU is back at the drawing board with a school-record 43 consecutive home wins now back to zero.
"We're disappointed … we're upset," VanVleet said. "We're putting ourselves in a tough situation going forward.
"Us seniors understand, there's no next year for us."
Baker said he and VanVleet intended for the record would stand long after their departure.
"For it to end early in our books is very disappointing," Baker said. "For us to lose like this at home, we feel disappointed in ourselves.
"We feel disappointed for letting Wichita down."
Back at square one, WSU looks for the start of a new streak. They host New Mexico State for a rescheduled non-conference game Monday.
"We want to get this bitter taste out our mouths as quickly as possible," Baker said.
About the Writer
Evan Pflugradt, Sports Editor
Evan Pflugradt is the former Sports Editor of The Sunflower.

Pflugradt past served as the publication's Editor in Chief, Opinion Editor and a reporter....