Sophomores post career-highs; Shockers slam their way to victory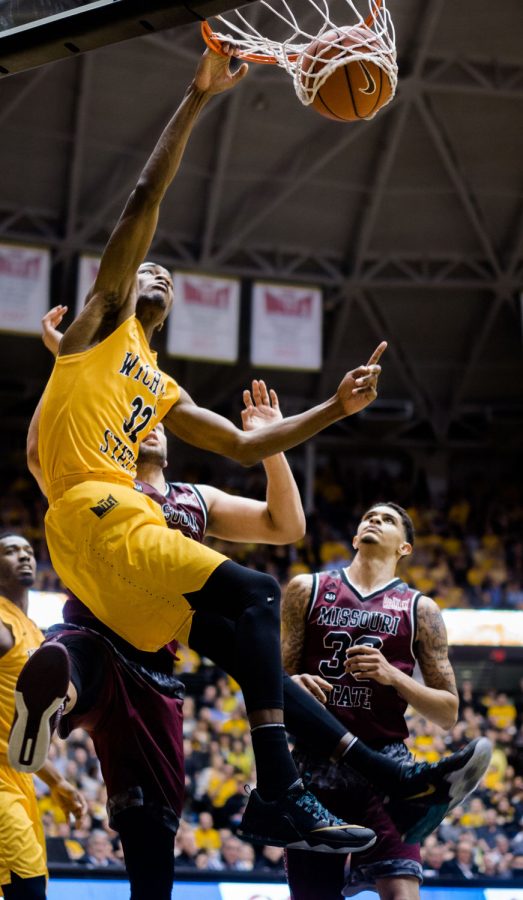 If basketball rims were alive, the cylinder in Charles Koch Arena certainly is nearing its grave after Thursday night.
The Shockers jammed a season-high 10 dunks as Wichita State defeated Missouri State 99-68.
"We turned up the energy on defense and got the building rocking tonight," sophomore Rashard Kelly said.
From the opening tip, the Shockers focused on attacking the rim, and 14 seconds into the game sophomore Shaq Morris opened the floodgates, slamming an alley-oop from Fred VanVleet.
WSU dunked seven times in the first half. Brown slammed three in the first half; he had a career-high 16 points. He stuffed the stat sheet tallying four of the Shockers' 10 dunks.
"I tell Zach before every game to go out there and have fun, no matter what goes on," Kelly said. "If we have fun everything else will speak for itself."
Brown stuffed his second dunk of the game to give him 13 first-half points. He scored nine straight points in the middle of a 19-4 WSU run that gave the Shockers a 20-point lead.
"That's really special," Brown said. "It's a special one for me, it's a special one for all of us."
Kelly also contributed a career-high 12 points. He scored on five baskets and slammed three dunks.
"I like to see an equal opportunity for everyone to showcase their talent," Kelly said. "I thought everyone did that tonight."
The Shockers scored 50 points in the paint, and posted a season-high 59 percent shooting percentage. They also scored 14 fast-break points and had 29 points off turnovers.
"It's rare you get a free flowing game like that in the Missouri Valley Conference," Marshall said. "In the MVC that game equates to an all-star game for the NBA."
Fred VanVleet and Ron Baker each scored 15 points. Baker scored 11 of his in the second half. Baker made all four attempts in the second half, including two three-pointers.
Morris snagged seven rebounds and scored eight points. He did not commit a personal foul through 17 minutes of play.
Show-stopping dunks swiftly piled one on top of another as the offense collected their highest numbers of the season. WSU shot 64 percent in the second-half and 57 percent from three-point range in that span.
"We enjoyed the fruits of our labor," Marshall said.
Marshall said he credits the offensive efforts to an aggressive defensive style, picking passing lanes and deflecting passes.
WSU had 24 deflections at halftime, a season-high.
The sophomore trio of Brown, Kelly and Morris combined for 35 points, 13 rebounds and five assists, giving Marshall a well-balanced boost of defense.
Brown has posted double-digit points in each of the last two games. In the two wins, he's shooting a combined percentage of 60 percent.
"I owe it to the older guys to do whatever I can on both ends of the floor to help us try and win it," Brown said. "I feel like it's time for all of us underclassmen to step up and do whatever we can to help them."
Wichita State captured win No. 20 on Thursday. The Shockers stand a two-game lead on the Valley. WSU can claim a share of the MVC regular-season title with a win Sunday against Indiana State or a loss by Illinois State will also give them a share.
About the Writer
Evan Pflugradt, Sports Editor
Evan Pflugradt is the former Sports Editor of The Sunflower.

Pflugradt past served as the publication's Editor in Chief, Opinion Editor and a reporter....