'You have to play for the name on the front of the jersey, not the back:' Dysfunction, lack of leadership, and a possible resolution. The Shockers are now fighting for their lives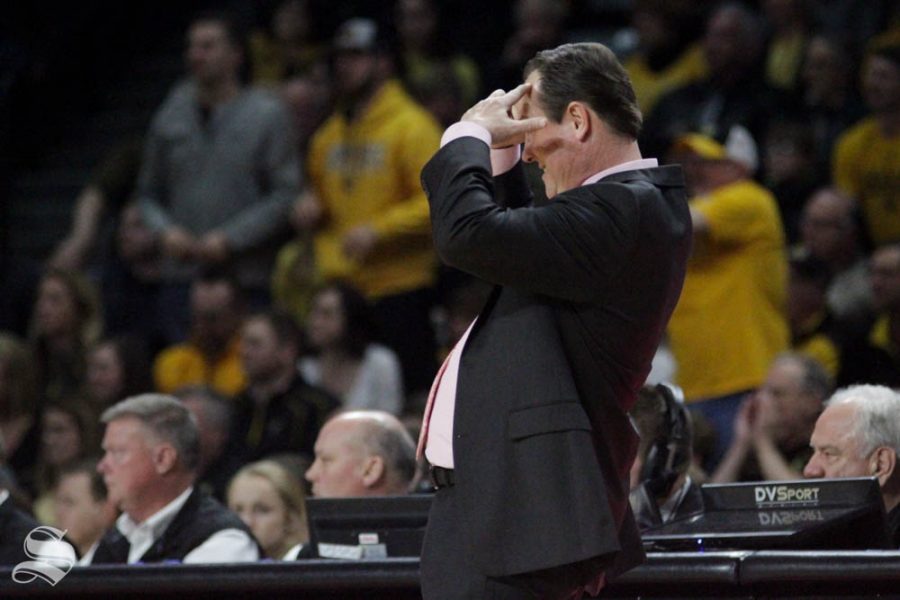 Within the past month, the Wichita State men's basketball team has run the gamut of highs and lows. The Shockers could seemingly do no wrong early in the season when they jumped out to a 14-1 start and defeated then-nationally ranked Memphis. 
After the game against the Tigers, little to nothing has seemed to go right for WSU. Now, the Shockers sit in sixth place in the American Athletic Conference with a 17-6 overall record. They're coming off of a 33-point loss to Houston on Sunday, the worst loss by margin Head Coach Gregg Marshall has ever suffered at this school.
Now, the Shockers are fighting for their lives.
–––
After losing in the National Invitational Tournament semifinals in New York City last season, Dexter Dennis was confident. He believed that even though the team was losing their two leading scorers, they would rally behind each other and play their way back into the NCAA Tournament this season.
"We're not going to be here (the NIT) next year," Dennis said after the 71-64 loss to Lipscomb. "I can almost certainly guarantee that."
It was a guarantee that seemed to be playing out favorably early in the year. The Shockers came out of the gate on fire, winning their first six games before dropping the Cancun Challenge championship to West Virginia, the now-No. 14 team in the country. But WSU responded, winning their next nine games and breaking into the national rankings at No. 16 in the country.
The Shockers' hot start basically had them solidified in the NCAA Tournament picture. ESPN's Bracketology had them as high as a No. 3 seed. They could feel it. It was right within reach — they just had to keep taking care of business. The Shockers have gone on to lose five of their last seven games.
The team is now on postseason life support. The brackets have WSU as one of the last four teams in the tournament. Any more "bad losses," such as one to Central Florida on Thursday, may put them on the outside looking in. After the flatlining loss to the Cougars, Marshall was shell-shocked.
"All I can say is that I've told them, 'You've got to get over your feelings,'" Marshall said on Sunday. "If you're worried about you and you're worried about how many points you're scoring or how many shots you're getting or how many minutes you're getting, then that's not healthy.
"We've got a lot of guys doing that. I feel that and I know that."
When asked about possible resolutions for the team's issues, Marshall was at a loss.
"I'll take all suggestions," he said.
With time ticking on the season, Marshall, and others around the country are wondering what's next for this young Shockers team.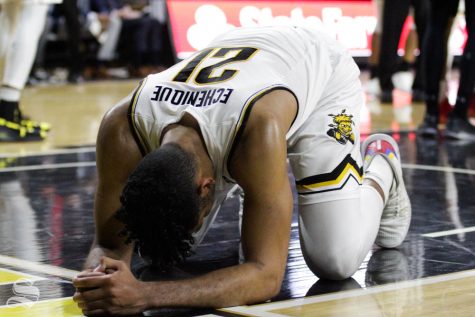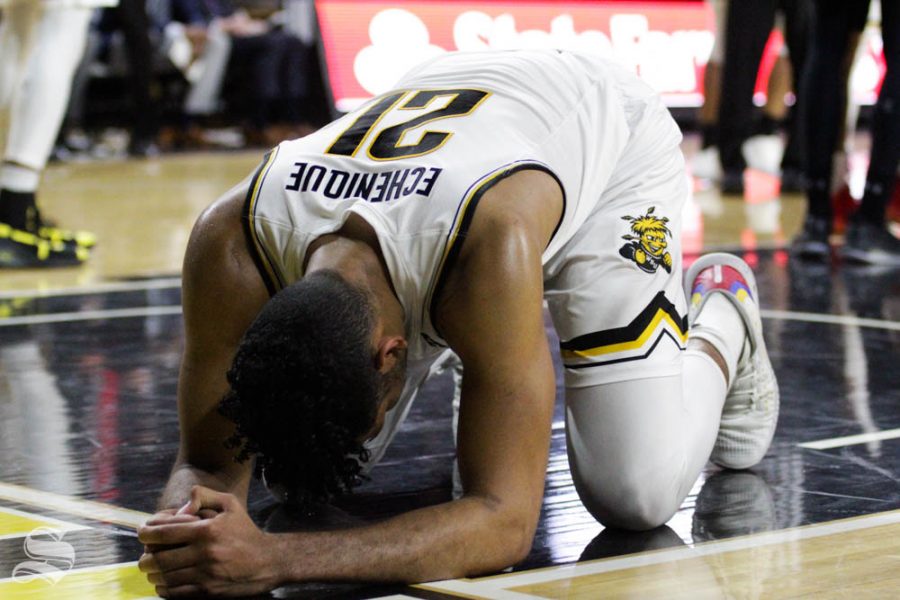 –––
Wichita State usually has Mondays off from practice. After Sunday's feverish nightmare, Marshall scheduled practice. 
It was a practice to clear the air. Earlier this month, after the first Houston loss, Marshall noted that things were going on behind the scenes that he wasn't familiar with – both on and off of the court. With things at a low, he felt like it was a good time for the players to get grievances off of their chests.
After pushing things out slowly with sprints, players started to talk. First was senior Jaime Echenique. Others followed.
"We got out some pent-up anger, jealousy, selfishness," Marshall said during his Monday radio coaches show. "Guys called each other out. Just the raw emotion that they spoke with — they were pointing out things that they didn't like. There was a tear or two shed and some very, very pointed comments."
Marshall gave no specific indication of what grievances were aired, but he said players voiced their concerns with quality of play, playing time, and each other. Marshall also said he appreciated the feedback, thinking it was cathartic for his players. He also went on to explain to his team that basketball truly is a team sport.
"You have to play for the name on the front of the jersey, not the back," he said.
Marshall then went on to tell his team to stop worrying about what's next after Wichita. He clarified that there is only one professional player on this team currently, which is Echenique, a senior. He made sure his message about this season was clear.
"Some of the rest of you will eventually be pros, but not next year," Marshall said. "You're either going to be here the rest of the year and into the future, or you're going to be somewhere else, but you're not a pro yet."
He thinks that the session will be beneficial moving forward. He believes it's the first step towards turning things around.
"We all came out of it feeling cleansed," Marshall said. "So I hope that it's done."
However, at the end of the day, it's still up to the players to perform in order to win.
–––
One of the main issues the team has struggled with recently is a lack of leadership. Players like Tyson Etienne and Jamarius Burton have, at times, shown interest in trying to pull the team together. So has Echenique. According to Marshall on Tuesday in his weekly press conference, Echenique has been the lone leader that's been vocal both on and off of the court.
"I think Jaime Echenique is doing a lot of the talking. He was the one that piped up first, yesterday and was the strongest and it makes sense," Marshall said. "It's his last go-around so he can't waste this opportunity. He doesn't want to go without playing in the NCAA Tournament as a college basketball player. He's only had two years, but he has a chance and wants to make the most of it. So, he was the most emotional."
"I guess he had some pointed comments he had to make then, he kind of appealed to the younger guys to look around to stop looking just at yourself in the mirror, look around at others and try to figure out what we can do for them, not just you."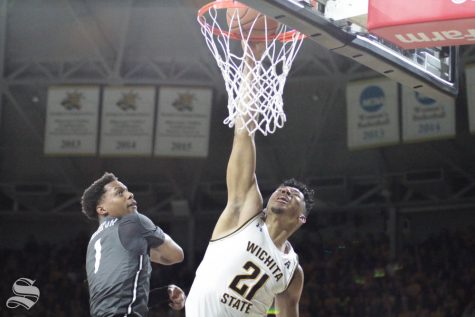 Echenique isn't the only one fighting for his life on Thursday to have a shot at making the NCAA Tournament, it's the whole team. Now on the bubble, it's time for WSU to start winning again if they want to recapture clarity with their NCAA Tournament aspirations.
How does that get done? By playing with emotion. The last month has been filled with lack of energy, players bickering on the court, and missed shots. Marshall wants to see that change.
"Well, what I'd like to see is for us to play better, play with more emotion, play with more energy, play with more toughness, play like you actually want to win the game instead of just showing up," he said. "So that's what I'd like to see, I'm not sure what to expect. You can talk about all you want but you have to do it."
Even though the schedule gets easier, even ESPN's Basketball Power Index has changed their outcome prediction for Thursday's game. They now have the Knights winning with a 51.5% chance. As Marshall would put it, the road doesn't get easier.
"Four weeks, four at home, four on the road. We'll take off to Orlando tomorrow, a Central Florida team that played us tough here. We knew that going in," he said.
"There's no nights off."
About the Contributor
Marshall Sunner, Sports Editor
Marshall Sunner is the Sports Editor for The Sunflower. Sunner is a sophomore majoring in communications with a journalism emphasis. He was born and raised...