Shocker bowling finishes in second at national championships
Wichita State's bowling finished second place at the national championship in Addison, Illinois last weekend.
On the men's side, the club went undefeated in their Thursday and Friday matches, advancing them to the final round. 
After the Shockers defeated William Penn in a 4-2 victory, WSU remained undefeated the remainder of the Thursday and Friday matches securing a second consecutive and 23rd overall trip to the title finals. However, the Shockers fell short to Wisconsin Whitewater. 
The Shockers did not leave without a victory. Junior Alec Keplinger was named the 2022 National Collegiate Bowling Coaches Association Most Valuable Player. 
On the women's side, after losing round seven to Sam Houston State, 4-2, WSU needed to secure one more victory to make it to the final rounds. Staying calm, cool and collected just as they had all season, the team finished round eight in a 4-2 victory.
WSU needed the extra match to advance to the finals after Sam Houston State knocked off the Shockers, 4-2, in round seven. With everything on the line, the Shockers remained calm and trusted their championship instincts gained from a season ago to prevail in round eight, 4-2. 
But ultimately the Shockers fell to Stephen F. Austin, 3-0, while failing to repeat from last year's national championship.
Leave a Comment
About the Writer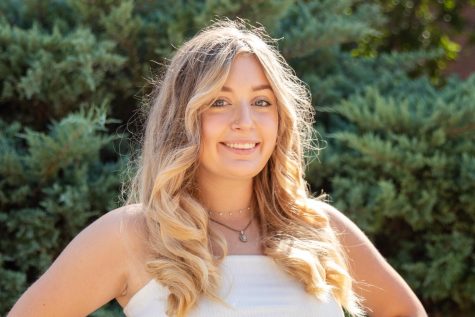 Rachel Rudisill, Former Photo Editor
Rachel Rudisill was the photo editor for The Sunflower in Fall 2022. Rudisill majored in journalism and was a staff photographer before becoming photo...