'Just stay together and win the game:' Men's basketball rallies together for second conference win
Despite being down 41-27 at halftime, the Shockers came back and won their second conference game of the season against Tulsa 73-69 this afternoon. Last week, the men's basketball team found themselves in a similar situation against South Florida where they had to comeback from a 14 point deficit with just over 17 minutes left to play. 
With a loss to Tulsa in the first round of the American Athletic Conference Tournament last season, the men's team was looking to correct the mistakes they made against the Golden Hurricane last season. This included being able to defend Tulsa guard Sam Griffin, who is averaging 15.7 points this season.
Head coach Isaac Brown said his team started off the second half defending and rebounding at a high level and executing every play that was drawn up during a timeout huddle against Tulsa.
"I think we gotta learn from this game and the South Florida game because you can't allow teams to get comfortable and I don't think our defense at the start of the game is like where it needs to be," Brown said.
At one point during a timeout, Brown asked his team who was going to step up and guard Griffin. Senior point guard Craig Porter Jr. put the responsibility on his back. In the second to last defensive possession of the game, Porter came up with a crucial block against Griffin. Porter's block led to a layup that put the Shockers in the lead.
"I mean I defended him in a crucial moment when it mattered, when I feel like he had his all time confidence…Like I said earlier I know most of his moves playing against him the last two years so really just taking that initiative," Porter said.
Sophomore guard Xavier Bell came into the game towards the beginning of the second half and provided some offensive help off the bench.
"He was big for us tonight," Brown said. "If he don't come in that game and make those big plays, we don't win that basketball game."
With about eight minutes left in the second half, Bell made a two point jumper in the paint, a free throw and a three pointer to put the Shockers down by only five points (58-50).
"Being ready when your number is called, whether that be early in the second half or maybe two minutes left in the second half," Bell said. "It doesn't matter."
Junior guard Jaykwon Walton led in scoring with 19 points and recorded two steals. Walton and Porter said when Brown laid into the team about not being too lax on defense, that helped change the momentum of the game.
"He's going to get on us," Walton said. "Just stay together and win the game. That was the most important [thing]."
The Shockers are 2-3 in the AAC. They will play at Memphis on Jan. 19 at 6 p.m. Memphis is 2-3 in the AAC and beat Cincinnati 78-58 this afternoon. Last season, they lost in the second round of the NCAA tournament to Gonzaga 82-78. The game will be broadcast on ESPN 2 and KEYN 103.7 FM.
Leave a Comment
About the Writer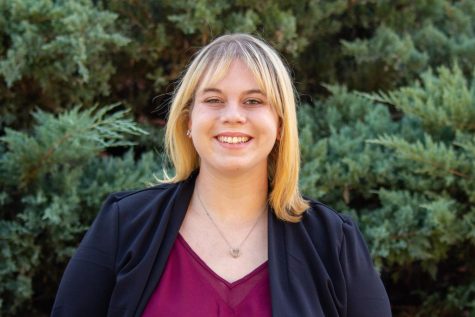 Emmie Boese, Reporter






Emmie Boese is starting her fourth year on The Sunflower's staff. Boese previously served as sports editor and opinion editor. Boese is majoring...