Cheer team faces challenges as program recovers from pandemic, deals with lack of university support
Although the cheer team regularly supports university sports teams, some members feel that they don't get that same support back.
On game days, the cheer team can be found under the basket, rooting for the basketball team, but their work extends past that. They practice six hours a week, do community appearances and fundraise.
"They have very heavy schedules," head cheer coach Shalayne Richmond said. "They are students first. They have to work a part-time job, most of them. Some of them even have full-time jobs."
Despite their efforts, the cheer team has faced many challenges, including budget cuts due to the COVID-19 pandemic.
Richmond said this underfunding hurts the team's goal to compete nationally.
"We are appreciated to a certain extent, but the appreciation does not necessarily show in our budget," Richmond said. "Wichita State hired me knowing that my expectation is to go to nationals … but we don't have any Wichita State funding to make that happen."
For the first time since 2019, the cheer team will compete nationally on April 5-9. They plan to participate in the National Cheerleaders Association (NCA) Nationals in Daytona Beach, Florida.
Tami Cutler, the spirit squad administrator, said it costs $50,000 for both the cheer and dance teams to attend. The Athletic Department budget previously provided some funding for nationals, but according to Cutler, that small amount was cut during COVID.
Now the cheer team must fundraise all expenses for nationals.
Anna Degrado, a third-year cheerleader, said fundraising is difficult while balancing busy schedules and receiving minimal scholarships.
"We're still having to do all of the work to raise the money that we need for our squad while also tackling school, work, and practice and games," Degrado said.
To raise funds, cheerleaders run the concession stand during men's basketball games, sell T-shirts, make community appearances and solicit donations.
Alia Michaelis, a third-year cheerleader, organized the T-shirt fundraiser. While Michaelis found it valuable working with the athletic department on the fundraiser, she was frustrated they needed to raise funds to compete, unlike other athletes.
"A basketball player on the team does not have to do that," Michealis said. "The university would have to do that for them.
In addition to fundraising in the school year, Richmond said the cheer team participated in the NCA cheer camp last summer. There, they earned a silver paid bid. That award gave them a heavily discounted registration fee for nationals and two free hotel rooms
The cheer team doesn't get a discount for flights, food or apparel. Richmond said music licensing fees and choreography can range in the thousands. A donation covered music fees, and to save costs, the coaching staff asked a friend to help with choreography.
Even with the cheer team's efforts, Degrado said their underfunding has the greatest impact on attending nationals.
"At the end of the day, the whole point is to go to nationals and do competitions," Degrado said. "We can't do that if we're underfunded."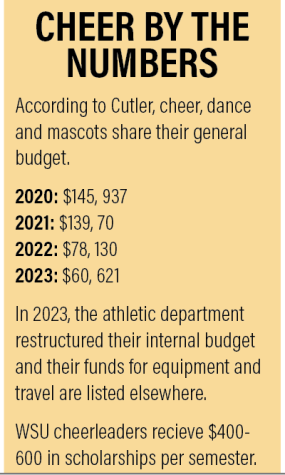 Beyond the budget: Challenges at WSU and nationally
The cheer team's lack of support extends past pandemic-related underfunding. Some members said their sport is underappreciated in general.
"Cheerleading itself has always kind of been in this constant battle for recognition as an actual sport and an asset to the university," Michaelis said. "It's a lot of fun, so that's why we do it, but I think everyone would agree with me in saying that they feel underappreciated."
A WSU cheerleader from 2005-2007, Richmond said the university's relationship with cheer hasn't changed much since then, but cheer is now under Athletics instead of Student Affairs.
Richmond also noted that cheerleading's difficulties are not limited to WSU.
"I have friends (at other cheer programs) who have the same struggles and have other struggles as well," Richmond said.
Currently, cheer is not an NCAA sanctioned sport. The Wichita State Athletic website reflects this: instead of cheer being under the "Sports" tab, they are found under "Fan" and then "Spirit."
"Cheer and dance teams are very different in the sense that we do not have wins and losses," Richmond said. "And we don't produce an income for the school."
That lack of NCAA recognition contributes to some challenges the cheerleaders face. Degrado said she doesn't mind that cheer isn't considered a sport, but it does lead to less support.
"We motivate, we encourage, we shake the hands of donors for our university," Degrado said. "There's just so much that we do that the definition of 'sport' doesn't encompass … However, that does come with its consequence of us not having that sport funding and those respects that sports get."
Michaelis said the minimal scholarships don't reflect the cheerleaders' work.
"We do a lot of marketing for this school and like talking to donors and being at this corporate event and that corporate event," Michaelis said. "Even for game days, we don't necessarily bring in the money for ticket sales, but the atmosphere that people are paying for, we add a lot to that."
Michaelis and Degrado also expressed frustration that cheerleaders can't study in the Student Athlete Success Center. Open since October 2020, the facility is "devoted to the academic and athletic development of students in Wichita State's sports programs."
"We were the only sport —and I will say sport— to show up at the ribbon cutting of the opening of that Student Athlete Center and to shake the hands of the donors," Degrado said. "That was us –in uniform. And I think that's quite sad."
The cheer team's lack of access to the center stems from not being NCAA sanctioned.
Cutler wrote in an email that student athletes from NCAA sponsored sports can access the center; spirit squad members can meet with their athletic trainer and get their headshots taken there.
Specifically, the Student Athlete Success Center helps athletes meet NCAA eligibility for academics.
"We track the eligibility of our student athletes for NCAA purposes," Gretchen Torline, director of Athletic Academic Services, said. "So that's our goal there (at the center)."
Silver linings
While navigating difficulties, the cheerleaders also encountered positives. Last fall, they gained a locker room after losing theirs during the pandemic.
This spring, the cheerleaders received their first new uniforms in seven years, Richmond said.
According to Cutler, the dance team also lacked new uniforms for a few years.
"(The uniforms) take a beating washing them," Cutler said. "It's important to get those updated regularly … They're on TV during games and you want them to look their best and portray Wichita State in the best light."
Only overseeing the spirit squad for two years, Cutler wanted to ensure they received uniforms regularly. She created a schedule, intended to rotate between dance and cheer each year.
Both Richmond and the cheerleaders said they were grateful for the new uniforms.
"You feel new and shiny because it's a new outfit," Michaelis said. 
Practice can present its own challenges. In the Heskett Center, where the cheer team currently practices, the coaches strain their voices over the running fans and activity. They lose this space when rented out for "domestic needs" or the Shocker Track Club, Richmond said.
Then the cheer team must transport nine mats across campus via trucks or trailers, careful not to tear them.
But Richmond said working with others in Heskett is a silver lining.
"We have built those relationships to where we appreciate the people who are using Heskett, and they appreciate us," Richmond said. "There are some positives, but it would be very nice to have some sort of facility where we weren't maneuvering."
Richmond is also hopeful. She and Cutler discussed the program's concerns with Saal, and while she said cheer is not at "top of the priority list," she expects Saal "will do great things."
Richmond noted Saal's past experiences with cheer programs are beneficial.
"He comes from (University of) Kentucky, which Kentucky has an amazing cheer program, so he's got some experience there," Richmond said. "And he also comes from another program … more community-based, more game day. So he has seen both ends of the spectrum for cheerleading."
According to Richmond, Saal was the first athletic director to visit the cheerleaders at practice. He even gave the team his personal phone number.
"That made us feel loved, and that made us feel seen and cared for," Degrado said.
While Degrado appreciated the visit, she said she doesn't expect the change in athletic directors to improve their situation.
"It's not necessarily about the athletic director himself, but more so an institutional issue where the university's eyes are just not in our direction," Degrado said.
Though the cheerleaders may be frustrated by the lack of support, they still enjoy what they do. For Degrado, giving back at community events makes the experience.
"A lot of people see cheer as just a pretty face," Degrado said. "But we truly want to make a difference in our community, especially Wichita, and that's probably my favorite part of being a cheerleader."
The cheerleaders are also excited to compete at nationals, a first for many at the collegiate level. The seniors who cheered for four years only competed as freshmen at the 2019 Universal Cheerleaders Association Nationals.
"It's a dream come true for a lot of the students and myself," Richmond said.
Leave a Comment
About the Contributors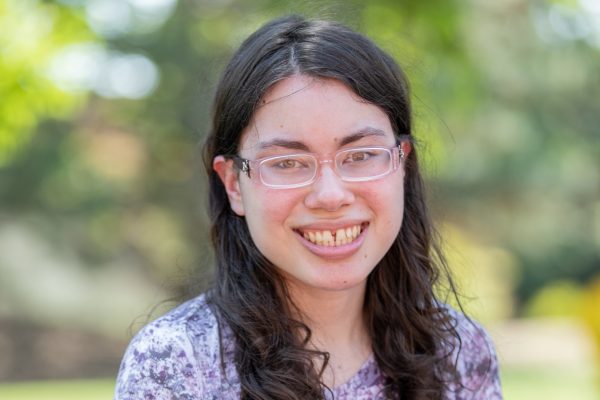 Courtney Brown, Investigative News Editor
Courtney Brown is the investigative news editor for The Sunflower. Brown previously worked as a reporter and assistant news editor.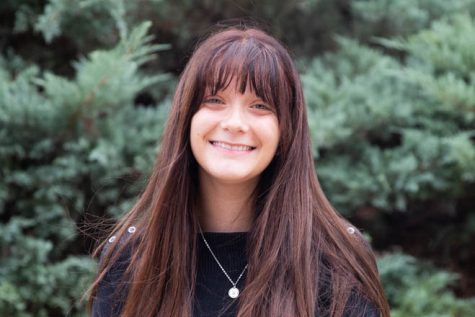 Madeline Bell, Former photographer











Bell was a photographer for The Sunflower. Bell absolutely loves slasher films; she says the more blood, the better. A goal of hers...