With her environmental health and safety background, Julie Rose Stroud hopes to improve Wichita as mayor.
A Wichita State alum, Stroud works at Evonik Industries, a chemical company, as an environmental health safety and quality manager. She said she decided to run for mayor to help ensure Wichita's public health and safety, as well as preserve the city's resources and increase sustainability.
Stroud's previous work experience includes at the Kansas Department of Health and Education, where she ensured industries complied with environmental regulations. She also was a drinking water laboratory technician for the City of Wichita.
Stroud also lobbied on Capitol Hill for water infrastructure funding in 2018, which she said helped bring about Wichita's new water treatment plant.
Stroud said these experiences would benefit her as mayor, especially for preparing for instances like the Union Pacific Railyard at 29th and Grove, the source of contaminated soil and groundwater that has impacted several of Wichita's historically Black neighborhoods.
"I know a lot about drinking water and keeping our water safe and in compliance with the EPA," Stroud said. "And I can essentially plan for the future in terms of the industries that we do have."
Stroud said the city needs a dedicated environmental health and safety department, as well as partnerships with different industries to ensure "we're all on the same page in terms of 'we share the same environment, and we should protect it as much as possible.'"
Stroud said she hopes business partnerships would prevent events like at Cheney Reservoir, where a City of Wichita employee fell in the pumping station and later died.
To improve the economy, Stroud said she would promote young business owners and bring in more businesses focused on preserving Wichita's resources.
Mental health and social services
Stroud said she hopes to allocate more funding for social and mental health services, especially in at-risk communities. She said she would reallocate funds from the city's budget or work toward legalizing marijuana and draw from subsequent taxes.
According to Stroud, partnerships with schools, county and state services would make mental health resources more available. She also hopes to develop plans emphasizing mental health and therapy for single pregnant women.
Stroud's additional goal is to improve the foster care system.
"It's in dire need of help," Stroud said.
If elected, Stroud would focus on preventing children from entering foster care, providing resources to families in poverty and helping kids gain skills and enter the workplace.
Improving education, helping at-risk youth
Stroud said she would promote education to improve issues like environmental health and safety, economics and money management. She said she would partner with public schools and local businesses to provide students with hands-on experience outside the classroom.
"I think the more we know about the different things around us, the better able we are to contribute," Stroud said.
Stroud also mentioned addressing the juvenile justice system, strengthening partnerships with nonprofits focused on rehabilitation and helping at-risk children gain opportunities. A poet and musician, Stroud said involving children in arts can be beneficial for this.
"I think a big part of enabling people to rise above the hard time or get them out of a gloomy situation is through art and through sports," Stroud said.
Reducing homelessness
Stroud discussed her aim to reduce homelessness. Growing up in inner-city Wichita, she said she used to fish by the river, where she met many people who were homeless.
She also volunteers on Sandwich Saturdays at churches with Ponder This, a group that hosts spoken word events.
While Stroud said Wichita's Homelessness Task Force is a good first step, she would like to focus more on prevention, as well as establish more defined, measurable outcomes.
"If there are 50 people who need emergency help today, how many providers will be available, and for how long will they be able to render those services?" Stroud said. "Will the services be measured based on effectiveness? 
To develop the riverfront, Stroud said she would draw on Wichita's "rich culture" to establish a tourism site.
"It's a special place of my heart because I literally come from that area," Stroud said.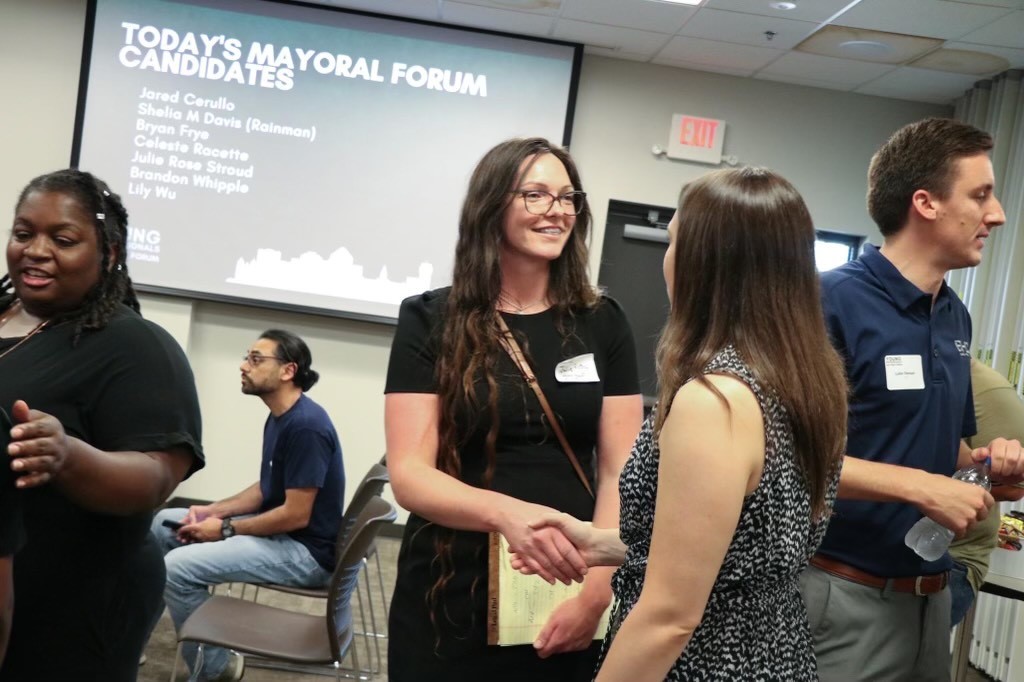 Cultivating appreciation
Stroud said her "greater passion" is ensuring people from all walks of life feel appreciated. She said she would listen to the community's ideas, a trait she developed from working in environmental health and safety. 
"When people know that their job is important and that they are appreciated, they tend to do a better job," Stroud said.
As a working single mother on food stamps, Stroud earned her bachelor's in biological and biomedical sciences from Wichita State. The first-generation student was also a McNair Scholar and a Kansas IDeA Network of Biomedical Research Excellence Scholar.
Stroud said her broad experience — ranging from aerospace, pharmaceuticals, plumbing, and custodial work — would foster connections with constituents.
"I think my wide variety of experience … enables me to connect with people and empathize with them and understand the challenges that they face," Stroud said.
Joe Walker, who worked with Stroud while she was the environmental health and safety manager at Yingling Aviation, described Stroud as intelligent and bubbly, with "her head on straight" regarding issues she's concerned about.
"For the city of Wichita mayor, they need a fresh new figure, fresh new ideas, and I think she would bring that to the table," Walker said.
Stroud is one of eight mayoral candidates. According to KMUW, Jared Cerullo, Shelia Davis, Bryan Frye, Tom Kane, Celeste Racette, Brandon Whipple and Lily Wu are running in the Aug. 1 primary.
Mayoral elections are on Nov. 7. For more information on Stroud, visit her website or Facebook page.