Founder of Save Century II initiative Celeste Racette running for mayor
Before founding Save Century II, Celeste Racette began her career in politics as an advocate. Now, she's running for mayor this fall, along with a crowd of other candidates.
When Racette attended the first Riverfront Legacy Master Plan meeting in 2019, which would allow individuals to ask questions about the future of Century II Performing Arts and Convention Center, she said she quickly realized that officials were not taking any questions from the public. 
"This was merely a public relations effort to sell citizens on this $1.2 billion development without any input, without any voice, and without any vote, and that's wrong," Racette said "Taxpayers should have some say about expensive economic development."
That is when a group of citizens, including Racette, began Save Century II, a grassroots effort dedicated to ensuring that Century II remains a vibrant part of the Wichita community. 
Her efforts with Save Century II proved to be successful after a 17,265-signature petition would not allow the building to be demolished. Following this, Racette promised herself that she would be a watchdog over taxpayer funds and city spending.
Racette worked at the Federal Deposit Insurance Corporation (FDIC) in various roles for 25 years, including as a bank examiner and investigation specialist, chief internal auditor and accounting officer.
"It's time for someone who has a background in finances … (to) run for office and manage our finances with the help of city staff," Racette said. 
Racette said she is stunned by the lack of "smart fiscal management," a contributor to what she thinks is Wichita's biggest problem: the economy.
"We've taken on a large amount of debt that is not on the books; it's off the books," Racette said. "The only place where this debt is noted is in a tiny, tiny footnote in the financial statements." 
After calculating the city's debt, Racette says that the amount is coming up on the Kansas State Legislature statute of limitations.
"That's sort of frightening to me," Racette said. 
If elected, Racette also hopes to shift the attitude at city hall that has the citizens' best interest in mind. The candidate for mayor said she wants to build public confidence after a 2022 community survey collected data that showed only 32% of residents felt great or excellent confidence in Wichita's government.
"I hear the neighborhood folks telling me that they're suffering with the quality of life and with public safety, and you can't fix those things without money," Racette said.
When Racette speaks to Wichitans, she said they know what they want and are aware of what happens in their backyard. 
"I think part of it is that people are smart, they know that there's something going on in city hall," Racette said. "It's it's all about the developers and not about quality of life and their public safety, and that's what upsets people."
Racette said she aims to shine a light on where Wichitans are being taken advantage of, referencing a Wichita Windsurge game where she purchased a $16 beer. She said she was shocked when she looked at her receipt and saw that she was charged a hidden 8% tax fee. 
The 8% tax fee was the "ballpark development fee," which was imposed on popcorn, t-shirts and other purchases by the owners of the Wichita Windsurge. 
"I filed a complaint with the District Attorney's Office and Jason Roche (assistant district attorney at Sedgwick County) investigated my complaint and immediately told them to cease and desist because that was illegal," Racette said. 
Although the money could not be returned to each person that had been overcharged, Racette said $60,000 was split among six charities. 
"I'm really proud of that, that's an example of being a watchdog," Racette said. 
Racette received an accounting degree at Kansas State University and received her master's at Wichita State. 
While in college, Racette met her friend Sue Willey, who is now her volunteer coordinator. 
"I've never ever really volunteered for a campaign like this before, but Celeste and I are longtime friends. I've known her for over 40 years," Willey said.  
Willey said that when Racette had told her about wanting to run for mayor, she said she would help in any way she could. 
"That's why I'm here – is I'm supporting her because I think she's the right person at the right time," Willey said. 
Racette is one of the eight candidates running for mayor. According to the KMUW, Jared Cerullo, Shelia Davis, Bryan Frye, Tom Kane, Julie Rose Stroud, Brandon Whipple and Lily Wu are set to run in the Aug. 1 primary.
Mayoral elections are on Nov. 7. More information about Racette can be found at https://celesteforwichita.com/.
*A former version of this story stated that Anthony Gallardo was running for Mayor, which is no longer true. This story has been updated to reflect who is currently running.
View Comments(1)
About the Writer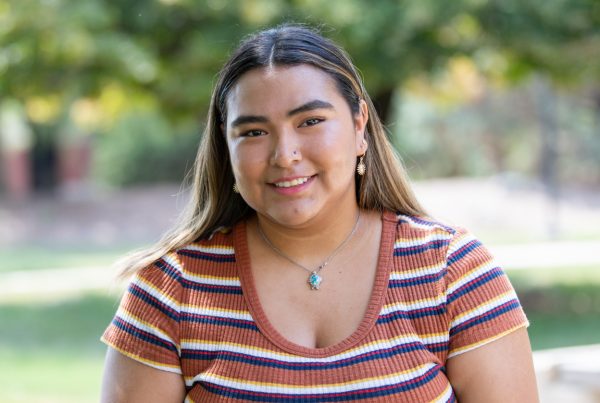 Melanie Rivera-Cortez, Sports Editor














Melanie Rivera-Cortez is the sports editor for The Sunflower. She is a senior pursuing a degree in journalism. Rivera-Cortez...