Former TV reporter running for Wichita mayor
Lily Wu announced her candidacy for mayor on April 2, coinciding with her 30th anniversary of living in Wichita. 
Before announcing her run for office, the Wichita State alum previously worked as a reporter and news anchor for 12 years. This is Wu's first time stepping into politics.
"I've really enjoyed my career in journalism," Wu said. "I feel like right now is a perfect opportunity for me to give back and make a difference. I'm 38 years old and I am now in this phase in my life where I feel like I can serve in that capacity."
Wu spoke fondly of her time at Wichita State and the opportunities that came from it.
"I think the mayor's role really is being the ambassador and leader for the city of Wichita," Wu said. "I've had that opportunity (to lead) thanks to a lot of the experiences I had at WSU."
Wu graduated in 2007 from WSU with a degree in international business and integrated marketing communications.
After graduating, Wu got her master's degree in Hong Kong as part of a Rotary Ambassadorial scholarship she received. As part of the scholarship, she worked as an ambassador for Wichita in Hong Kong, where she gave presentations to clubs around the world on behalf of Wichita.
Elizabeth King, former president of the Wichita Rotary Club and current CEO of the WSU Foundation, originally suggested Wu apply for the scholarship.
"(Wu) is very bright, very inquisitive and a natural leader," King said. "She considers me one of her mentors, and that's a real privilege because she's just an extraordinary person."
Wu has maintained her involvement with WSU since graduating. She is currently a board member of the Barton Business School Advisory Board and the Steve Clark YMCA. She also has stopped by the Elliott School of Communication to talk to students about her experience as a journalist. 
Kevin Hager, an associate communications professor at the Elliott School, has previously asked her to come to speak with students and give them advice.
"She's always a very positive, interesting, caring person in the classroom setting … and (able to be) blunt at times when that's what students need to hear," Hager said.
She talked about how her background influenced her life and career choices, and how she feels that career experience will help her in the role of mayor if elected. When Wu moved to the United States at the age of 8, her family didn't speak English. She spoke about her experience learning English to act as her family's translator in second grade. 
"I decided that because my parents obviously didn't speak English either, I would want to take that leadership role,"  Wu said. "I could be their main translator, and to this day I still do that."
Wu said translating for her family has aided her career as a journalist, and she thinks it will also help if elected as mayor.  
Wu said her journalism career started by watching local news to learn English as a child.
"I always considered (local news) my out-of-classroom teachers," Wu said. "And so I've always had this aspiration of someday being like my out-of-classroom teacher, so journalism was in the back of my head this entire time."
Wu got her start in journalism in high school, when she attended East High.
"That's part of the reason I say I'm 'all of Wichita'… because I've grown up all around this community," Wu said.
Larry Hatteberg, former KAKE news anchor for 51 years, "opened the door" for her, helping her get a job at Channel 10, which was her first job as a professional journalist. She was with KAKE for nine years before moving to KWCH, where she has worked as a news anchor for the past three years
"I name these names, not to drop names, but to emphasize that people have helped me along the way," Wu said. "They've opened doors for me and then showed me the opportunity, and I'm just really grateful for that."
She is involved in volunteer work with local organizations like the Wichita Asian Association, Storytime Village and Sunlight Children's Services.
Wu is the director of the Miss Asian Scholarship Pageant at the annual Wichita Asian Festival, where she mentors contestants. Wu has been involved with the Wichita Asian Association, which hosts the event since she was a freshman in college.
"I've had an opportunity to serve in many capacities with the Asian festival," Wu said. "That has helped in connecting with the community and understanding the community. Civic engagement is your own way to make your home a better place."
With less than seven months until the mayoral election, Wu is running on four campaign points: public safety, strengthening the economy, restoring trust in city hall and bringing the community together.
'Public Safety'
Wu shared some of her plans to improve public safety in Wichita, including recruiting more police officers, referring to the numerous vacancies in the Wichita Police Department. An independent assessment of the WPD found that bad publicity and an unhealthy work environment made it difficult to fill vacancies in the department.
"That's too many (vacancies), so we need to work on how to attract people into the profession and also retain people in the profession of law enforcement. So that's going to be a priority," Wu said.
Adding the story of her father's catalytic converter being stolen while he was at work to illustrate why she believes Wichita needs more officers working in a preventative role, as well as the necessity of reactive measures after a crime is committed. Wu said having officers in a preventative role helps community building. 
'Strengthening the economy'
Wu said she plans to strengthen Wichita's economy by attracting people to the area and retaining those who already live in the city. During her time at KWCH, Wu worked on stories that highlighted both small and large businesses in Wichita and how they got their start.
"One of the things that I'm hearing is a lot of need for talent. You see those 'now hiring' signs, you see the need for people to work," Wu said.
Wu also noted that the city should think "regionally" about Wichita by supporting surrounding towns and cities because they are closely connected, and what's good for those cities is good for Wichita.
'Restoring trust in city hall'
Wu said Wichitans have lost trust in city hall and local government. In a 2022 community survey, just 32% of residents felt great or excellent confidence in Wichita's government.
To help restore that trust, she said she wants to communicate openly to residents of Wichita what the city government is doing.
"When citizens don't see how their tax dollars are being utilized, trust starts eroding," Wu said. "We need to do, as elected officials, a better job of communicating 'what is it that city government does?' 'How are your tax dollars being used?'"
Wu thinks that, to restore trust in city government, local representatives have to work with the community. 
"Restoring trust in city hall really has to do with a change in leadership," Wu said. "I think what we need right now is a leader and an ambassador, like I mentioned, that helps bring back the trust (between residents and city representatives). We need to have that trust and a relationship is really based around trust, so we need to restore that critically."
'Building a united community'
Wu plans to restore trust by prioritizing community voices and feedback to build a united community.
She hopes that younger people will get involved politically. Less than 10% of the Wichita population voted in the last mayoral primary, and she hopes young people seeing these low numbers will realize that being involved in local politics is a way to have their voices heard.
"I really want to engage more young people, and hopefully, especially here at WSU, I know there are lots of young leaders that want to speak up and I want them to get engaged," Wu said.
She plans to seek out those who are often overlooked, such as immigrants and first-generation Wichitans, to have their voices heard. She said she values hearing others talk about their immigrant experience as well.
"I want more people to voice that about themselves. Each of us has a story to tell," Wu said "I think if more people would openly share their stories… that will bring more inclusivity to our community."
Wu said she wants to hear from all members of the community from all backgrounds.
"Building a united community is about bringing voices that often don't get asked to be part of the table," Wu said. "I want to engage all voices in Wichita."
Several other candidates, some also being WSU alums, have entered the race for mayor as well.
According to the Wichita Eagle, the other declared candidates are Brandon Whipple (current mayor), Jared Cerullo, Sheila Davis, Bryan Frye, Thomas Kane, Celeste Racette, and Julie Rose Stroud.
Aug. 1 is the Wichita primary election and Nov. 7 is the mayoral election. You can find voting information at sos.ks.gov.
More information about Wu can be found at lilywuformayor.com.
*A previous version of this story inaccurately named Wu's high school. This story has been updated to reflect the correct school.
View Comments(1)
About the Writer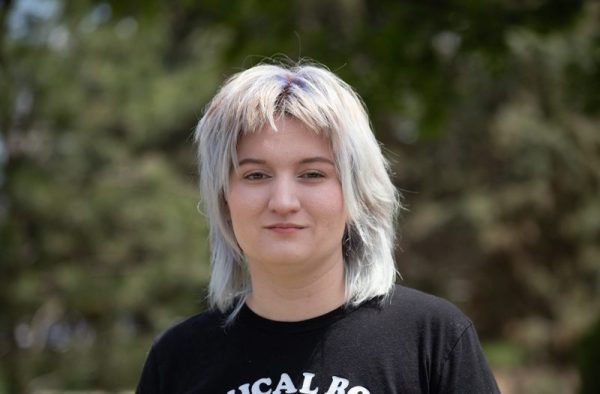 Sarah Beauchamp, Former reporter
Beauchamp was a reporter for The Sunflower.