Officer accountability: the crux of the matter
Former police officer brings message of police reform to WSU
Former St. Louis police officer Reddit Hudson said a police officer's badge is a lot like the mask in the Jim Carrey movie "The Mask."
Whoever puts on the mask has their personality traits "magnified 1000 times." If you are a kind person and put on the mask, you'll be extra nice. If you are not so nice and put on the mask, you become a monster.
"A badge is literally the same thing," Hudson said. Hudson worked as a police officer for five years. He quit because of the injustice he witnessed. He now works for the American Civil Liberties Union and the NAACP and is a co-founder of the National Coalition of Law Enforcement Officers for Justice.
At an event sponsored by WSU's Office of Diversity and Inclusion Friday, Hudson spoke and led a discussion of police accountability and reform to an audience of about 30 people.
"We are in a moment of crisis," Hudson said. "Well, it's not really a moment — it's just now coming to a larger public awareness. You can look at the zero accountability in the aftermath and wonder how we got here."
Hudson said when he talks of institutional, systemic racism, it's not a personal indictment of every white person or white police officer.
"You didn't personally make this system," Hudson said. "We were born into the reality of America. It's been part of our reality since the nation's genesis. Our responsibility is to acknowledge the reality fully."
Hudson touched on a multitude of officer-involved incidents, including Michael Brown, Freddie Gray and Alton Sterling, and pointed out that each of these incidents stems from a lack of police accountability.
"The relationship between police and communities — all marginalized communities — that's where the crux of the matter is," Hudson said.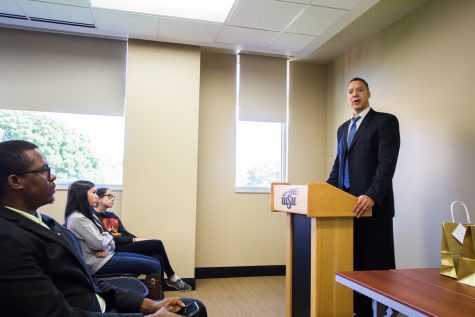 Hudson said officers must be held accountable for a trusting relationship to develop.
"When you shoot Alton Sterling in his chest in front of me, let me see you arrest the police," Hudson said.
Hudson said during his police service, neither he nor any of his former colleagues witnessed or recalled a black officer shooting an unarmed white person.
"Ever, in half a century," Hudson said. "So maybe that fear thing — I don't know — I know that it shows restraint is possible. It shows people who have had training respond and react in vastly different ways."
Hudson said people who apologize and say "it's just that 1 percent" of officers need to come up with a better excuse. He said research shows 15 percent of police officers in major cities do the right thing and 15 percent abuse their authority.
He said the remaining 70 percent give the most influence in every situation.
One audience member asked how a black man should properly respond to police officers who are threatening. Hudson said it's difficult.
"There's very little you can do besides try to stay alive in that situation and not escalate it," Hudson said. "There's another way to impact the process, too: voting."
Debbie Ojeda-Leitner, a graduate student studying community psychology, asked what literature to recommend to white people to help them better understand race.
"The Constitution," Hudson said plainly.
Audience members agreed about needing more discussions similar to Hudson's.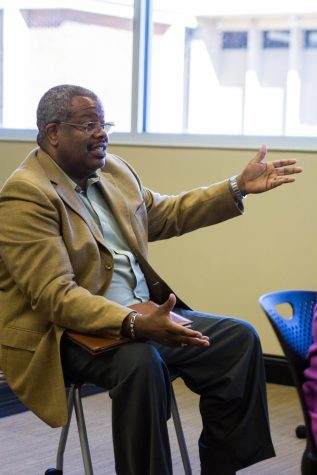 Local pastor Darren Williams said he felt encouraged by Hudson given the "criticalness of the issue."
"Every sector of the community needs to be talking about this, so I'm encouraged by a former officer taking the position to work on justice for this issue," Williams said.
Djuan Wash, a WSU freshmen who participated in Wichita's First Steps community-cop BBQ, said he felt Hudson did a great job.
"Having a discussion about race and police in America, especially in today's context, is incredibly important," Walsh said.
Kristine Wise, a senior studying psychology, said Hudson's talk solidified her beliefs.
"The other day, I was at the Brown, Black and Blue Discussion (featuring WPD officers of color), and I felt this was a little bit more in line with my personal beliefs," Wise said. "I think a lot of people would benefit from hearing him speak."
One of Hudson's most resonant messages recounted details of an incident in Ferguson, Missouri in 2009.
"Let this sink in: (A Ferguson man in 2009) was charged with destruction of property," Hudson said. "What was the property? They charged him, literally, in writing, with bleeding on these officers' uniforms. That's the environment in which Mike Brown was gunned down.
"Our responsibility is to acknowledge the reality fully, then remake it into the stated ideal that we have — equal treatment under the law."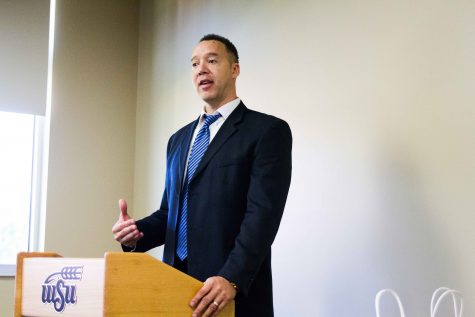 About the Contributors
Andrew Linnabary, Digital Managing Editor
Andrew Linnabary is the 2018-2019 Digital Managing Editor of The Sunflower.

He is a senior studying journalism and minoring in English. Linnabary is...
Hannah Roberts, Photographer
Hannah Roberts is a photographer for The Sunflower. Roberts is a senior majoring in entrepreneurship and minoring in communications. She was born and...