The plains have eyes: Zombie paintball attraction hits Augusta
A militarized black school bus approaches a graveyard.
Fourteen paintball guns aim out the windows.
"Some of these zombies have been in the ground for a very long time, so they're hungry – don't let them on the bus, okay?" the driver says over the intercom.
Suddenly, two zombies jump out from behind the graves – and the carnage begins.
"It sounds like a machine gun with everyone shooting at the same time," Jeremy Aandrud said.
Aandrud is one of the project managers at Wichita Zombie Shoot, a Halloween paintball attraction in Augusta, Kansas, that gives attendees a chance to light up zombies with glow-in-the-dark paintballs.
For $25, attendees are given 100 paintballs to shoot at zombies. An additional 100 can be purchased for $10.
Aandrud said the idea of a 'zombie paintball' attraction was conceived in August.
"It's what happens when you get a couple guys sitting around that are bored for five minutes with too much beer," Aanrud said with a laugh. "We were stupid enough to follow through on it."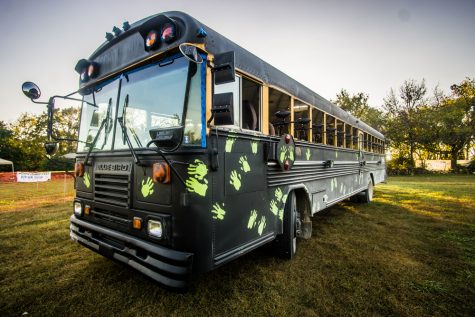 The bus's route, which is laid out on an old Augusta golf course, is comprised of seven different stations, Aandrud said, each with its own design and zombies.
"We've got a military scene, a graveyard scene, a western scene, a carnival scene and some other scenes that are supposed to be a surprise," Aandrud said.
Pyromaniacs take note – there is a flamethrower scene.
"It's especially cool because you don't see the zombie until the flames, and then the zombie's right there in your face," Aandrud said.
"(The flamethrowers) are kind of addictive once you start playing with them, like, 'Yeah, I'm in charge of the KISS concert,'" Aandrud joked. "Our zombie did have a full head of hair before he started playing with these."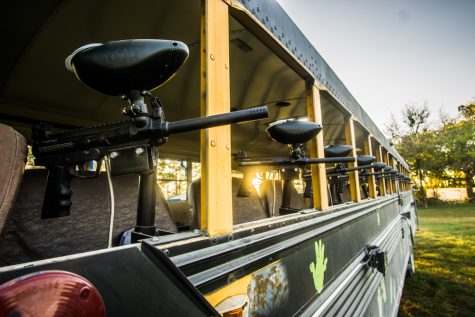 Each scene takes about 30 seconds, with the whole route taking about 15 minutes, Aandrud said.
At the beginning of the bus's route is a "static target," Aandrud said, composed of dolls and teddy bears. It's a chance to make sure everyone's gun is properly working.
"When we get to the zombies we want to make sure everyone is getting their money's worth and our zombies are getting hurt as much as possible," Aandrud said. "The first night we went by the static target – you ever see the movie 'Apocalypse Now?' It's like what you'd think it'd be like being in the helicopter."
Augusta local Karen Lippoldt said she tried the attraction with her six-year-old grandbaby and had so much fun she had to come back.
"This was the first time she's shot a paintball gun, so she was excited," Lippoldt said. "We've never done anything like this. The first night had a couple of kinks, but they were very accommodating."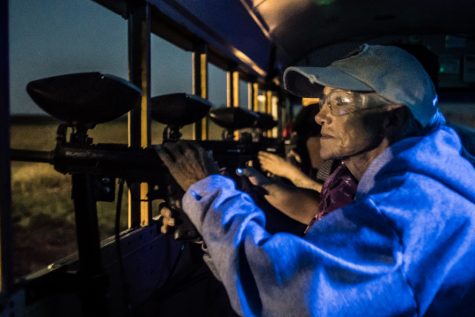 Augusta locals Taylor Biggart and Amanda Clark said it was the best 'zombie paintball' attraction that they've been to.
"I didn't think it would be nearly as cool as it was," Clark said.
Project manager Brendan Gelinas said he heard about similar attractions on the east coast, and thought it would be an awesome idea to bring to Augusta.
He and his crew spent around $50,000 to fund the attraction. The attraction's profits are donated to the Scottish Rite Charitable Trust.
Gates open at 6 p.m. Friday through Sunday every weekend through Halloween. Ticket sales end at 10:30. More info is available at wichitazombieshoot.com.
Manny De Los Santos
About the Contributor
Andrew Linnabary, Digital Managing Editor
Andrew Linnabary is the 2018-2019 Digital Managing Editor of The Sunflower.

He is a senior studying journalism and minoring in English. Linnabary is...