Students reflect on favorite costumes
Students at Wichita State have celebrated Halloween dressing up in costumes to memorialize their favorite characters as kids. Many of the costumes worn were characters that the students looked up to as children.
For freshman Alec Taylor, Halloween was spent worshiping his fantasies, which allowed him to dream of being that character in the movies.
"I love Captain America. He was my favorite hero of all time, so it just made sense (to dress like him)," Taylor said. "Plus, I'm blonde and so is Chris Evans, so we are basically both Captain America."
Taylor wore his Captain America costume on Halloween when he was a child and wore it for his spirit weeks at his high school. Taylor said he never felt the way he did toward any other costume than when he dressed as his comic book idol.
"The costume was special because I finally got to be my favorite hero," Taylor said. "Even if it was just for one night, I had always wanted to be looked up to like him."
Having her favorite character being from Kansas, this was one of the main reasons that junior Taylor Shinn looked up to Dorothy from The Wizard of Oz. When she was six years old, Shinn dressed up as Dorothy for a Halloween parade that her father was involved in.
Shinn recalled wearing the blue and white dress at the parade along with carrying a stuffed animal of Dorothy's dog Toto. Shinn said that she never felt more excited to wear any other costume for Halloween.
"I was proud that my favorite movie character was from Kansas," Shinn said.
Junior Ashlin Bohl reflected on her favorite Halloween costume from the children's television show, Sesame Street, where she dressed up as Elmo for years.
When Bohl went out trick-or-treating in her neighborhood, she pressed a belt on her costume that said different Elmo phrases. She thought it was an amazing add on.
"I would walk around carrying my little stuffed animal Elmo while wearing my costume and pushing that button," Bohl said. "I remember going door-to-door and instead of saying trick-or-treat, I would just push that button and let Elmo do the talking."
Once Bohl grew out of it, she gave it to her little brother to wear, she said.
"I wore it for a few years until I finally grew out of it and passed it down to my little brother," Bohl said. "He also loves it."
Leave a Comment
About the Writer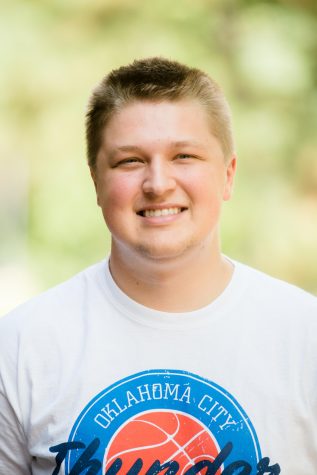 Grant Cohen, Former reporter
Grant Cohen was a reporter for The Sunflower. Cohen majored in communications with an emphasis in journalism with a minor in sports management.