Shockers run away with Herm Wilson Invitational
It was a record-setting weekend for Wichita State University's track and field teams as they won the 2017 Herm Wilson Invitational held Friday and Saturday in the Heskett Center.
The Shockers put up stellar performances all around, highlighted by accomplishments from Kelsey Slawson, Rebekah Topham, Joe Harter, Zach Loesch, Cody Sheck, Nikki Larch-Miller, Taylor Larch-Miller, Natalie Halfman, and Martiesha Caines in their respective events.
Topham's blistering mile run of 4:46.19 broke the Heskett Center and Herm Wilson Invitational records.
Slawson also put her name in the record books. Her winning throw of 49 feet 10 inches in the shot put set a Wichita State record.
Overall, the men's team finished with a total of 175 points. UMKC followed with 136 points, then Oral Roberts University with 75 points. North Texas rounded out the competition with 60 points.
On the women's side, the Shockers finished with 206 points. Once again, UMKC finished second. Oral Roberts and North Texas finished third and fourth, respectively.
The Shockers next competition will be on February 10th and 11th, when they travel to Pittsburgh State University for the Indoor Gorilla Classic.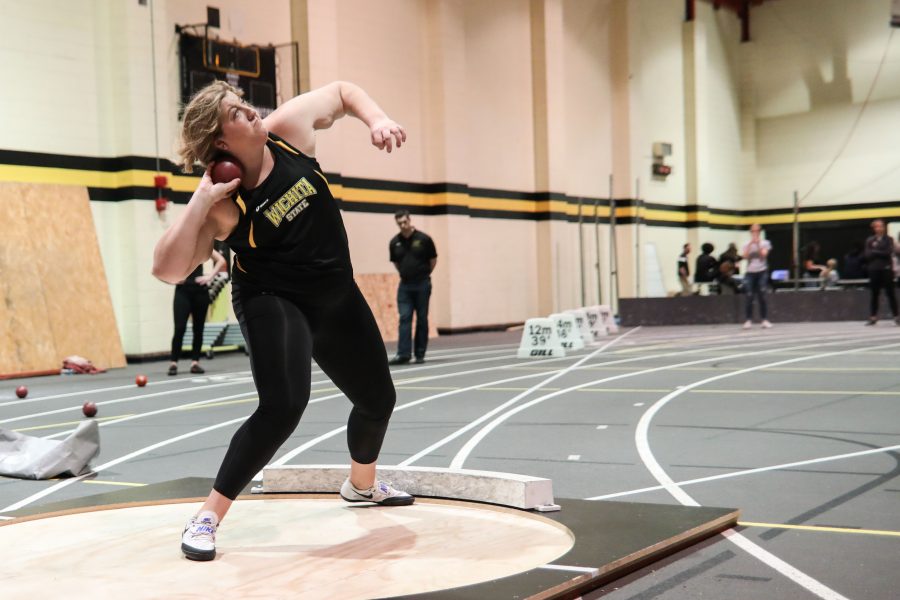 For more, refer to the gallery:
https://thesunflower.com/13809/sports/photos-shockers-track-and-field-leave-competition-in-the-dust-at-herm-wilson-invitational/
About the Contributors
Hannah Roberts, Photographer
Hannah Roberts is a photographer for The Sunflower. Roberts is a senior majoring in entrepreneurship and minoring in communications. She was born and...