ODI program coordinator takes on role as assistant director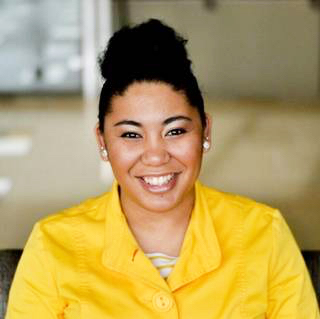 Danielle Johnson's time working in the Office of Diversity and Inclusion extends back to her days as an undergraduate at Wichita State.
As a psychology major, she worked in the office, which was then known as the Office of Multicultural Affairs.
"I had a lot of opportunity to grow through that office as an undergrad," Johnson said.
She graduated from WSU in 2010 and returned to work at ODI in 2013 as a program coordinator. As of the New Year, Johnson has a new title: assistant director of ODI.
"I needed someone else to help make the executive decisions and keep things moving in the office," ODI Director Alicia Sanchez said.
As program coordinator, Johnson was in charge of handling programming for the office, including bringing in guest speakers for special events. She also advised some student groups and helped with retention efforts by the office.
In her new role, she will still do her work as a program coordinator as the office looks for a replacement. She said the plan is for ODI to have six full-time staff members: director, assistant director, a retention coordinator, a program coordinator, an administration/marketing coordinator and a graduate teaching assistant.
One of Johnson's main goals is to look for grants to help with funding for the office.
"Obviously the state is not giving us any more money," she said. "So being able to fundraise, being able to bring in more dollars to support our programs, to grow our program, is something that's really important to me."
Sanchez said having someone else at the table to look for more funding opportunities will help the office grow.
"Everyone's competing for the same dollars," Sanchez said. "We're looking at where are grant opportunities so that we can have external funding and then hopefully show the university with data and different measures and outcomes that there truly is a need so that we can find potentially some university funding as well to help with the office growth."
In addition, Johnson hopes to bring in more quality programming to serve students. ODI often prides itself on being able to pull off more than 100 programs a year, she said, but she wants to have more intentional programs.
"I want to be able to see more quality programs that actually help meet the needs of our goals and the campus strategic plan," Johnson said. "So not just programming just to program any more."
Ultimately, Johnson and Sanchez both hope to grow ODI with the new position.
"We want to have that home away from home feel," Johnson said. "Another tagline we use in our trainings and programs is 'lean into discomfort.' We're at a time where it's high discomfort, but we want to facilitate dialogues and create spaces where people can ask those uncomfortable questions and learn and grow from each other."
About the Writer
TJ Rigg, Reporter/Copy Editor
TJ Rigg has worked for The Sunflower since August 2012, when he started as a general assignment reporter. Eventually, he added additional responsibilities...