The Flats at WSU announces leasing options, students weigh in on prices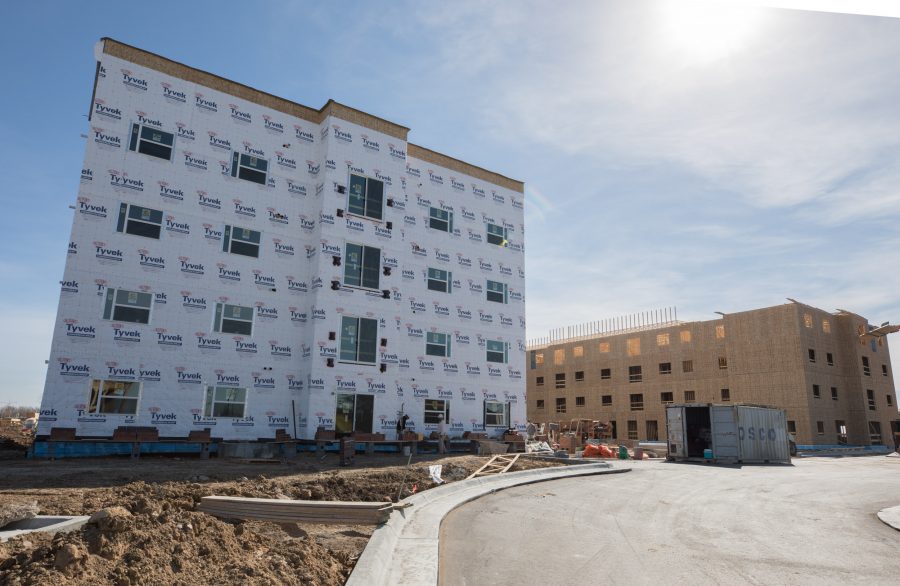 Students looking to live in The Flats at WSU may need to search for a part-time job — or two.
The 112-unit apartment complex, constructed on Wichita State's Innovation Campus, is expected to open for residents on Aug. 1, ahead of the fall semester. Friday, the university announced leasing options for prospective residents, and the rates are creating a stir between students.
Rates for a one bedroom are listed at $939 per month. Basic amenities, not including electricity, are said to be included.
Residents will also be required to pay an additional $50 per month for a reserved parking space on the property; for $75 residents can upgrade to an underground parking space.
To apply, prospects are required to pay a $100 application fee and an additional $900 deposit.
The Flats at WSU, are said to be a student housing complex catering graduate and undergraduate students sophomore level or higher. Students will have preference as tenants, followed by WSU employees and then employees of companies located on Innovation Campus, according to a university release.
Last year, more than 1,500 students were surveyed by the firm Brailsford & Dunlavey to determine "the additional student demand for housing units on the Innovation Campus in the context of WSU's strategic goals."
The 94-page study concluded that 81 percent of the surveyed students were satisfied with their living arrangements.
The study concluded the private rental market in Wichita provides low cost, amenity-rich options for students. Of all factors considered, students concluded that the biggest factor was total cost of rent and utilities.
Off-campus students spend an average of $533 per month on rent and utilities, the study said.
Additionally, the study suggested that students would pay $746 or more per month to live in a new residence hall.
"We look to keep the price as low as possible while providing a great place for students to live on campus," said Lou Heldman, vice president of strategic communications, in January 2016.
Competitive Rates
The official website for The Flats at WSU claims the new complex "offers the apartment lifestyle with amazing amenities at competitive rates."
Tenants of The Flats at WSU can expect to pay as little as $783 per person, per month, not including electricity or parking for a four-person shared apartment. A three-person costs $809 and a two-person is listed at $835 per person.
But how competitive are those rates?
Shocker Hall, which opened in 2014 offers private one bedroom rooms as well as two, three and four-person shared suites.
A one person private room with a bedroom starts at $4,325 per semester, or $8,650 for the academic year. Divided out to a monthly rate for nine months, the cost is more than $960 per month with all amenities included. A meal plan, which is required for residents of Shocker Hall, is not included in this rate.
Meal plans start at more than $2,000 per semester for residents of Shocker Hall.
Students can also occupy Shocker Hall for the summer, where rates start at $2,174. If a student were to lease a private one bedroom for the full academic year and the summer, they would pay more than $11,557, still more than $960 per month.
Across 21st St., residents can choose Fairmount Towers. There students have the choice of a one room, or a two person shared room. A one bedroom is listed at $2,950 per semester, or $5,900 for the year. Divided out to a nine month academic calendar, and residents will pay slightly more than $650 per month. This rate does not include the meal plan, which is available at a discounted rate compared to residents of Shocker Hall.
Here residents can pay as little as $500 per semester for on-campus spending money, a requirement for all residents.
Tall Oaks apartments, a private complex located across 21st St. and Oliver, has one bedroom apartments — 738 sq. ft. — listed at $625 per month. They list two bedrooms — 932 sq. ft. — at $725. Water and trash are paid for, while the occupant is responsible for electricity.
At 29th. St. and Oliver, 2909 offers two and three-person suites. All units are fully furnished and rates start at $455 per month, per resident, for an 800 sq. ft. unit. A three bedroom starts at $375 per month, per person for a 1,200 sq. ft. unit. Amenities such as water and electricity are included in the rate.
Students React
Wichita State students took to social media Friday morning to weigh in on the pricing.
Student Body President Joseph Shepard said there was no student advisory committee consulted for the pricing of the apartments. The apartments, however, are privately financed and are not funded by any student fees or university funds.

Loading ...
About the Writer
Evan Pflugradt, Sports Editor
Evan Pflugradt is the former Sports Editor of The Sunflower.

Pflugradt past served as the publication's Editor in Chief, Opinion Editor and a reporter....