Beach: 'Get Out' has some hits, some misses
"Get Out" is a gripping movie experience that is definitely not for everyone.
The film is the directorial debut of Jordan Peele, half of the comedy duo Key and Peele. He is one of comedy's biggest names and many were torn when they heard he would try his hand at a horror movie.
The plot centers around Chris, played by Daniel Kaluuya. He is black and has been in a relationship with a white woman for several months. She is set to have him meet her parents at their estate for the weekend.
Chris asks his girlfriend Rose, played by Allison Williams, if they know he is black and she tells him no, assuring him that isn't necessary. As seen in the trailers, Chris was in for a rude awakening when he arrived.
To address the film's many positives first, Peele does a good job for his first time directing. He blended suspense and humor nicely to create an exciting film that's conversation worthy.
Next up is Kaluuya. He does a fantastic job in his first lead role in a feature film. He reacts so realistically to the awkward situations he is put in.
Another huge plus was the inclusion of Lil Rel Howery. He plays Chris's best friend Rod, a TSA employee. He is home for the weekend taking care of Chris's dog and they have multiple phone conversations as Chris experiences strange things while he's away.
Howery is the heart and soul of this film. He is absolutely hilarious and adds a much-needed comedic element to a potentially disturbing film. Peele's writing shined through in his character for sure.
The acting in this film had everyone, including myself, on the edge of his or her seats. The story comes to a head in a hurry and there are some notable twists and turns that make for a noteworthy ending.
Alright, time to address the film's negatives. There are a fair share of them.
From the first few minutes I did not like Rose's character. Williams is over the top in the way she talks to Kaluuya.
I couldn't find much reason about why Chris was with her. Her character had no depth and her level of acting just was not on par with Kaluuya and some others in the cast. I rarely ask for a movie to be longer, but I wish this movie gave more background about their relationship in the beginning to provide some context about why Chris was going to meet Rose's parents.
Another flaw was the pacing during the first two acts. It wasn't boring, but not much was happening either. It was advertised as a horror movie and there are a few jump scares, but nothing more in the first 70 minutes.
My biggest criticism resides in the way the race issue was addressed. Yes there are people who are racist. Yes black people still feel objectified in our modern day society, but in "Get Out" some of the symbols and dialogue were over the top.
I'm not to say there aren't people of color that actually feel like Chris did in this film. However, the way it was written and acted put me off. There were too many times where I said to myself: "That's ridiculous."
It is a horror movie to an extent so there is going to be some unrealistic elements, but I think "Get Out" is too stuck between trying to be a portrayal of modern society and being a supernatural nightmare.
As of Saturday "Get Out" had an unheard of 100 percent rating on Rotten Tomatoes. It will drop into the 90s soon, but I think critics are a little wrong.
It's not the most accurate of realistic portrayal of race I think and too much of the plot was given away in the trailers, but the payoff is still better than expected. "Get Out" is worthy of being seen in theaters, but beware — it might not be your style.
Final score: B-
View Comments(1)
About the Contributor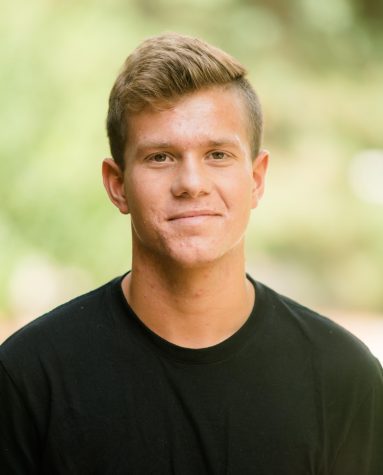 Nick Beach, Former reporter
Nick Beach served as a reporter for The Sunflower. Beach served as a sports reporter and columnist, as well as a movie critic. Beach is from the coastal...