'Get out of the Kansas mindset'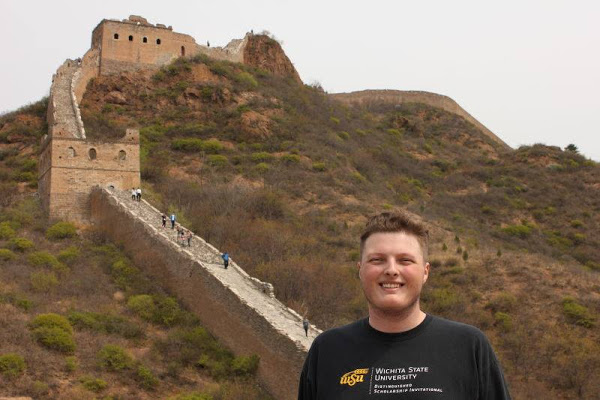 For many Wichita State students, studying abroad is becoming a more realistic option.
This semester, there are 31 Shockers who are or will be spread throughout Germany, Spain, Japan, Morocco and seven other countries.
Ann Burger, associate director for study abroad and exchange programs, said the university has been seeking to provide more programs in which students can participate.
"[That's] more than we've ever had in a fall or spring semester," Burger said. "So we're excited to see the increase in students who want to study abroad and also increasing the number of places they can go."
What is learned while studying in another country extends beyond the classroom, it goes with you to the workplace, Burger notes.
"Probably one of the hugest advantages for students, too, is just making themselves more marketable after they graduate," Burger said. "It's something to kind of get their foot in the door."
Natalie Lash, a junior majoring in international business and accounting, is currently in San Sebastian, Spain.
"I had never traveled outside of the United States before this," Lash said. "I came from a family that definitely did not have the abilities to go on vacation to Europe or anything like that."
Studying in Spain has provided Lash with the opportunity to move beyond her perceptions of the world.
"I just kind of wanted to have a chance to see the world and see other people's opinions of things and just kind of get out of the Kansas mindset," Lash said.
Derick Holmes, a junior studying business management and human resource management, will be leaving for Berlin, Germany to study at the Berlin School of Economics. Holmes said he heard about studying abroad through a friend and decided to attend an informations session.
"I didn't really think that study abroad was something I could afford or something that I could take a whole semester off to do," Holmes said. "But after going to the information session, I kind of realized that it was kind of made for me and it would work in my schedule."
Holmes said he and his friends have put together a list of the places they want to go and the things they want to do while in Europe.
"We kind of made a bucket list of things we wanted to do while we were there," Holmes said. "Drinking a glass of wine underneath the Eiffel Tower or fill in the blank."
While Europe is a popular continent to visit, some student choose to go further east.
Matthew Butler, a senior majoring in international business, studied in Guangzhou, China.
"I definitely wanted to get outside of my comfort zone," Butler said. "Experience something really different, immerse myself in a completely new culture."
Butler said he looks to his time studying abroad as being a chance to develop as a person as well as a student.
"It helps build confidence and independence," Butler said. "Really helps develop your character and who you are as a person."
One of the issues with studying abroad is the amount of money required to travel. Burger notes that there has been an increase in scholarships through Wichita State.
"Currently, the majority of students who apply for one through our office are receiving anywhere from $500 to $1,000 in a scholarship," Burger said.
Burger said she's excited about the increase in interest in studying abroad.
"Within the last couple years the word's been spreading more and that's one reason why the programs have increased the numbers," Burger said. "It's just become more of a buzz on campus."
Leave a Comment
About the Contributor
Sam Belsan, Reporter
Sam Belsan is a reporter for The Sunflower.