One last trip to St. Louis
Wichita State seniors reflect on their final trip to St. Louis.
Thousands of Wichita State fans travel to St. Louis each year to support the Shockers in the Missouri Valley Tournament. From alumni to parents to students, the crowd at the Scottrade Center is a sea of black and yellow.
Among the many students who make the trip are the members of the band, the cheerleading and dance team and the staff of The Sunflower.
For some of these students, this is their last time in St. Louis and the beginning of the end of their time at Wichita State.
Wyatt Vieux, a senior majoring in marketing, has been part of Shocker Sound, Wichita State's pep band, since his freshman year. For him, music is a major part of what's made his time at WSU memorable.
"Music has been a huge part of my life throughout high school and when I was really young," Vieux said. "Being able to carry that musical experience throughout college in an exciting way, being able to travel, has been a huge blessing."
With all the traveling comes a large amount of time spent with the other band members.
Tyler Axe, a senior studying music education, views the tournament as an opportunity for the band to develop relationships because of how much they are around each other.
"One of the big things I think I'm going to miss is going to be all the band members," Axe said. "This is the most time we get to spend with each other, so it's fun, it helps us bond."
Jeremy Thomas, a senior majoring in music education and member of Shocker Sound said his favorite part of Arch Madness is the camaraderie of the band.
"We're a lot closer to the fans than usual and they start to pick-up and react and get a good feel for us more and more," Thomas said.
Thomas said he has enjoyed his time as a member of Shocker Sound and the weekend has provided him with an opportunity to look back at the special moments from past years.
One of those moments was WSU's 76-70 victory over Gonzaga in 2013. Gonzaga was a No. 1-seeded team in the NCAA Tournament.
"My favorite game was the Gonzaga game when we took down Goliath because we put ourselves on the map," Thomas said. "What they didn't show on TV is that the team comes over to the band and we all dance and play and you get to see Gregg Marshall do dance moves I never thought he'd be able to do."
Lauren Pool, a senior majoring in marketing, is one of the cheerleaders who travelled to St. Louis. She hasn't been to the tournament before this year, but she said she's been able to gain many new experiences.
"My favorite part is interacting with all the fans and all the pep rallies we've been doing," Pool said. "I'm going to miss being on the court supporting my favorite team."
Pool noted that her favorite experience this season was competing at the College National Championships this January; the cheerleading team took third place.
Going to the tournament can be a costly endeavor.
For Hannah Roberts, a senior majoring in entrepreneurship, traveling to the tournament is something she couldn't do if she wasn't a photographer for The Sunflower.
"It's an experience I wouldn't be able to have otherwise," Roberts said. "It's an incredible experience to be able to cheer on the Shockers throughout the tournament.
"I'm watching history."
Roberts sits along the baseline capturing hundreds of photos each game.
"Being able to be courtside and photograph so many amazing moments next to well known photographers has been a neat experience," Roberts said. "It's just a blessing to be able to be here."
Three games in three days makes the weekend seem short. Vieux said he's done all he can to enjoy the tournament.
"I've been kind of taking it slower and really taking this experience in because I know it'll be my last time around," Vieux said.
Leave a Comment
About the Writer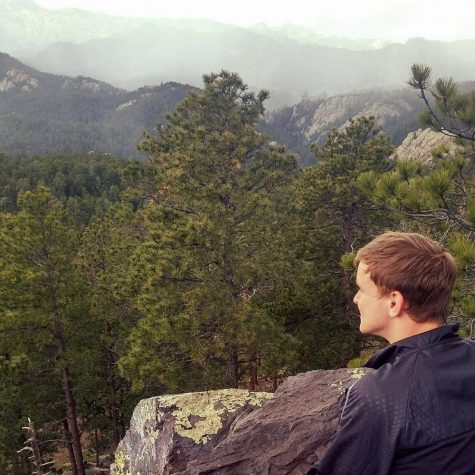 Sam Belsan, Former eporter
Sam Belsan was a reporter for The Sunflower.