Sleep easy, the Shockers are in the NCAA Tournament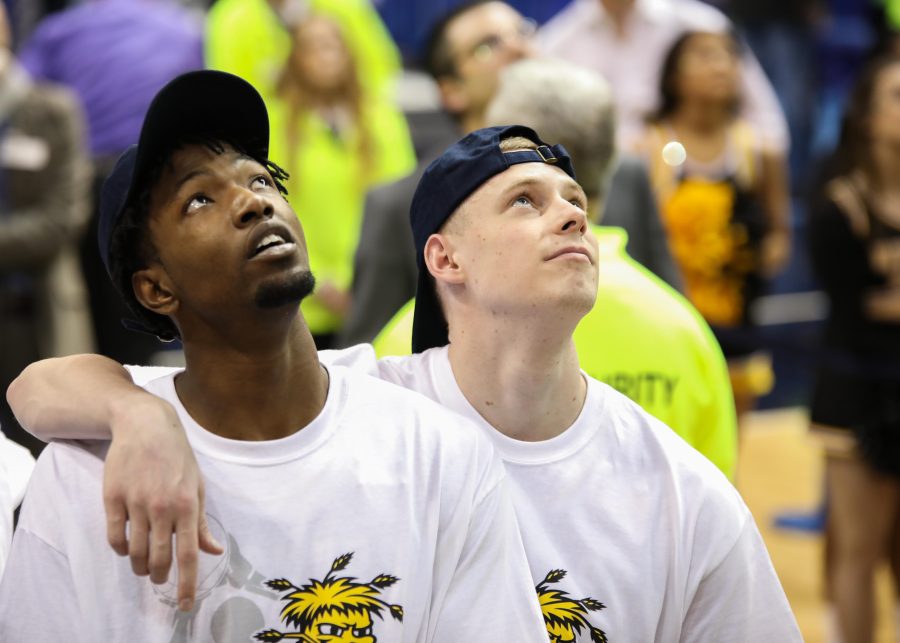 This time last year, Gregg Marshall was clinging to his TV every second he was off the basketball court. He was on the bubble — the colloquial saying for those on the outside looking in.
No matter the level, it seemed like Wichita State could only be considered dreamers, hoping others would clear out and make room for a party crasher.
Not this year.
Marshall and the Shockers laid those sleepless nights of mystery to rest with one of the tournament's first automatic entries, winning the championship of the Missouri Valley Conference tournament.
The debate is over. The Shockers are in for a sixth straight NCAA Tournament appearance — four of which have been earned through at-large bids.
Marshall told the Wichita Eagle's Paul Suellentrop that he was disappointed that he didn't get a chance for an at-large solely to poke fun at CBS bracketologist Jerry Palm, who has a reputation of leaving the Shockers out of the Tournament.
"I'm disappointed that I don't get the opportunity to get an at-large, so that I can stick it to (Palm)," Marshall said.
Still, the bracket conspiracies rise. The Shockers are in riding a 15-game winning streak. But in the NCAA Tournament, where will they go and what seed will they be?
Here's what the experts think:
ESPN's Joe Lunardi has the Shockers listed as an eight-seed in the Midwest bracket. He previously had them listed as a nine-seed in the same bracket. They would face eight-seed Virginia Commonwealth in the Round of 64 before advancing to a potential face off with top-seeded Kansas. Both games would be played in Tulsa.
Palm of CBS lists the Shockers an 11-seed in the South bracket. They'd play six-seeded Southern Methodist University in Salt Lake City, Utah.
Chris Dobbertean of SB Nation puts the Shockers in the South as a nine-seed. They'd meet eight-seeded Michigan for a spot to possibly play top-seeded North Carolina.
"I don't know if it matters how many games we win; we still have guys like Jerry Palm saying we're not going to be in the tournament if we lose (Sunday)," Marshall told the Eagle.
But that's a concern for a different, non-30-4 Wichita State team.
"You don't have to wake up every day and wonder," senior Zach Bush said.
Shaq Morris said this week is stress free. The team can focus on the things that would stop them from going far in the tournament, like in years past.
Bracket seedings are determined mostly by the RPI. Currently, the Shockers are listed No. 27 in RPI. They can move up some should some of their previous opponents this season win important games this week.
Tulsa defeating Tulane in the AAC Championship would offer a boost. So too would Oklahoma defeating Texas Christian on Wednesday and Long Beach State defeating Hawaii. Even Saint Louis defeating Duquesne on Wednesday would make for a jump.
In theory, higher RPIs warrant a better seed.
In the past, though, the Shockers haven't always had the seed they felt they deserved. Even with 30 wins in his pocket, Marshall thinks the possibility of being seeded higher than they deserve could be a reality.
"I think we're a four or five seed," Marshall told the Wichita Eagle, "which means we'll probably get a six or seven."
With a 24-8 record last season, WSU was one of the last four teams into the Tournament. They went to Dayton, Ohio, for a play-in game against Vanderbilt. They ranked No. 49 in RPI.
In 2015, with a 28-4 record, the Shockers marched into the Tournament with a seven-seed. They ranked No. 17 in RPI. And a year before, they headed into March with a 33-0 record and No. 4 in RPI. They earned a one-seed that few analysts were proud of.
When they went to the Final Four in 2013, they were a nine-seed and pulled in an at-large bid with the No. 38 RPI ranking. In 2012, a No. 15 RPI ranking and 26-5 record landed them a five-seed.
No matter where the Shockers land, Marshall can sleep at night knowing he's defeated the critics, notably Palm, in his "rebuilding year."
About the Writer
Evan Pflugradt, Sports Editor
Evan Pflugradt is the former Sports Editor of The Sunflower.

Pflugradt past served as the publication's Editor in Chief, Opinion Editor and a reporter....