Gregg Marshall may give Dayton head coach Archie Miller the sweats
First there was Sean. Then there was Archie.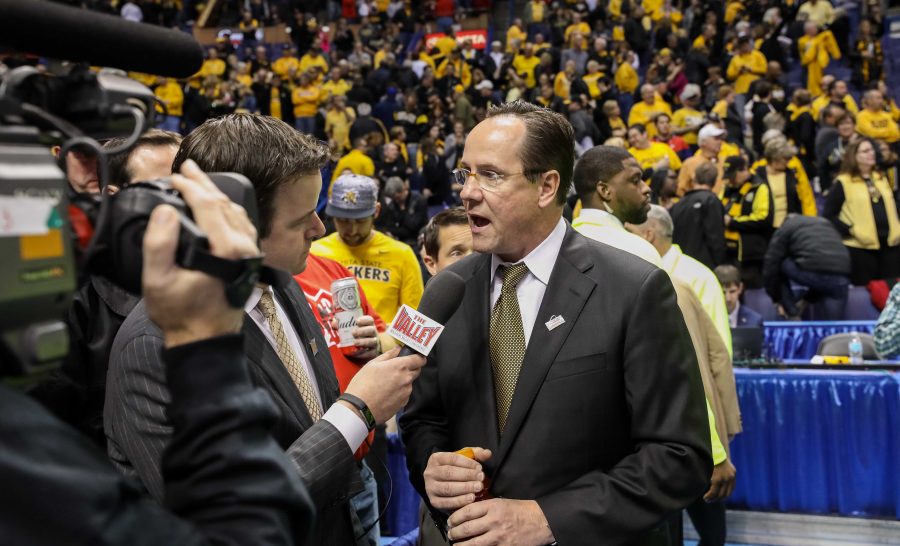 First there was Sean.
Arizona head men's basketball coach Sean Miller has had his bouts trying to reach the NCAA Tournament's Final Four. Four times he's fallen just on the outside in the Elite Eight.
Last year, Miller had his concerns rise when No. 11 seed Wichita State defeated Vanderbilt in the play-in round in Dayton, Ohio. When the two met in Providence, R.I., Wichita State head coach Gregg Marshall and company ran away with an early first half run. By halftime, Arizona had handed over too many turnovers for comfort along with a 12-point Wichita State lead.
Miller, bothered by the lower-seeded Shockers' success, famously sweat through his shirt forcing a change at halftime. Wichita State sent Arizona packing as they steadily improved to a 6-3 record against teams seeded better than them in the four seasons.
Then there was Archie, younger brother to the Arizona head coach.
"Archie Miller has been one of the top young coaches in this business for a long time," Marshall said. "He's built that program. He's been loyal to them. And they continue to be really, really good."
Dayton head coach Archie Miller will meet Wichita State in the first round of the tournament, hoping to stand a better chance than his older brother did a year ago.
Wichita State has only passed met Dayton in passing. In November 2015, a faltering Shocker team struggled off the court in Orlando as the Flyers flew into the championship of the AdvoCare Invitational.
Marshall and Archie Miller never met like either thought they would've. The Flyers finished as the runner-up; Wichita State lost three straight.
Last year, Dayton, a mid-major, worked their way up the Atlantic 10 conference to reach the NCAA Tournament. A potential bracket buster as a No. 7 seed, they were upset by No. 10 seed Syracuse, who advanced to the Final Four — only the second 10-seed to do so in 30 years.
Dayton and Wichita State each possessed a history of busting brackets and upsetting the perennial programs of college basketball. The Flyers, by the way, have a record of tormenting the unwritten tournament guidelines, upsetting No. 6 seed Providence last year and No. 6 seed Ohio State, No. 3 seed Syracuse and No. 10 seed Stanford in 2014. Sunday, tournament's selection committee paired the two together for the mid-major end all. Within the hour post selection show, assistant coaches pulled up a season's worth of data on Miller and his Flyers, who return as a No. 7 seed for the second straight year.
Marshall, who watches basketball routinely, hasn't seen much of Dayton. Last year, while on the road at a Holiday Inn Express, he watched Dayton pull off a come-from-behind victory in overtime on the road at Davidson. It was enough to show him the competiveness in the Flyer's program.
In the center of the national spotlight, the selection committee is facing all sorts of questions as to why Wichita State (30-4) is a 10-seed. They finished No. 19 in the AP polls, No. 8 in KenPom. Marshall doesn't care to raise questions. He's done the math. He knows 20 teams divided by four regions doesn't equal a 10-seed.
"That's OK, that's been the way it's been for a long time," Marshall said.
Wichita State enters Friday a six-point favorite — similar odds that the Shockers were presented with a year ago against Arizona.
An underdog as 10-seed Wichita State is on paper, Marshall doesn't seem to mind it.
"It's all I know," he said.
Friday will be the winner-take-all of the mid-majors, a chance to advance to the Round of 32 for the second straight year and another chance to turn up the heat on another Miller brother.
About the Writer
Evan Pflugradt, Sports Editor
Evan Pflugradt is the former Sports Editor of The Sunflower.

Pflugradt past served as the publication's Editor in Chief, Opinion Editor and a reporter....